As Islamophobia continues to grow, not just with the regular people but also sadly with certain world leaders, one of the best ways to repel this evil is by opening the doors of mosques and other houses of Allāh to the public.
Each year, the Dawah Committee of Kowloon Masjid organises an Open Day. The last time they did it more than 1,000 people came.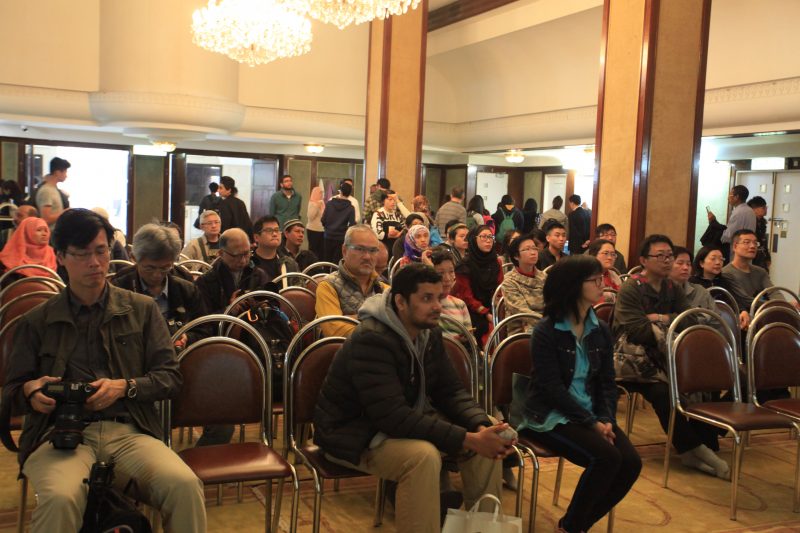 On Sunday, the Open Day was again much appreciated by the people of Hong Kong. More than 800 visitors came to the Masjid as there were numerous healthy discussions whilst other activities to experience too.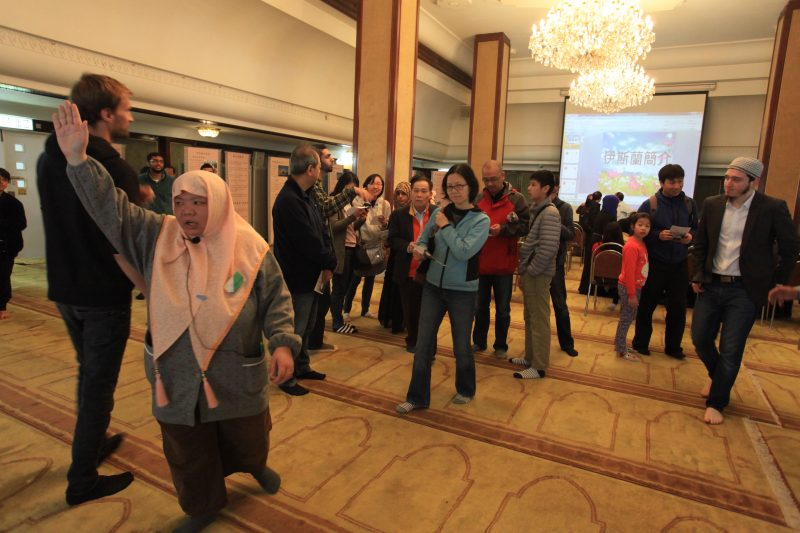 The visitors were introduced to the concept of Tawheed in Islam which is the belief of pure monotheism, i.e. the Oneness of God.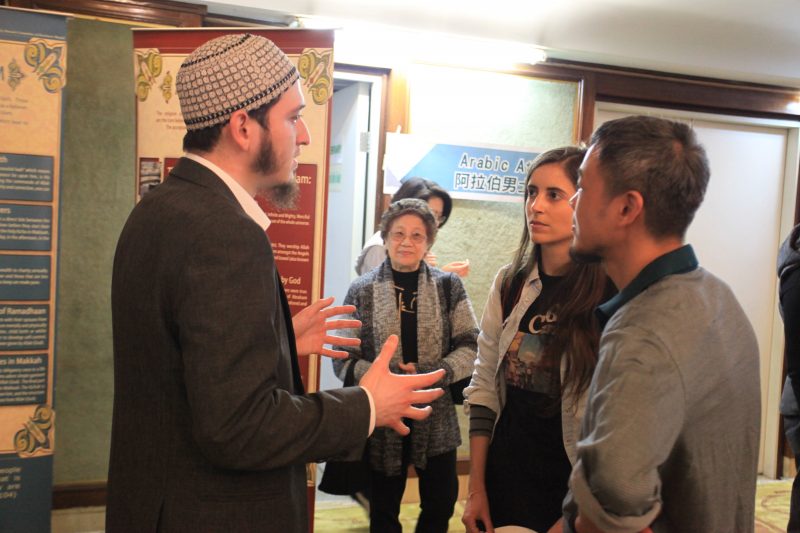 Alongside this, the basic tenants of Islam, the history of the Masjid and addressing common questions related to Islam e.g. why Hijab, why cannot eat pork, etc, were all undertaken too.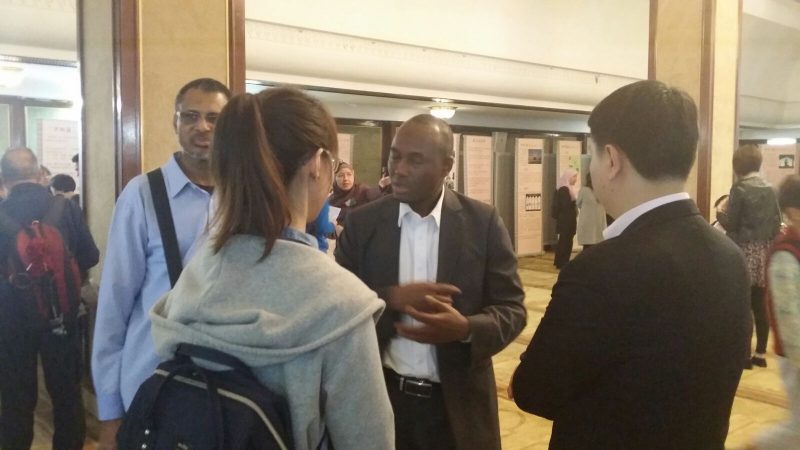 The local Chinese Hong Kongers were naturally the main group of attendees but there were non-Muslims from other parts of the world too who were either visiting Hong Kong or are foreign workers. They comprised from different faiths including Atheists, Christians and Buddhists.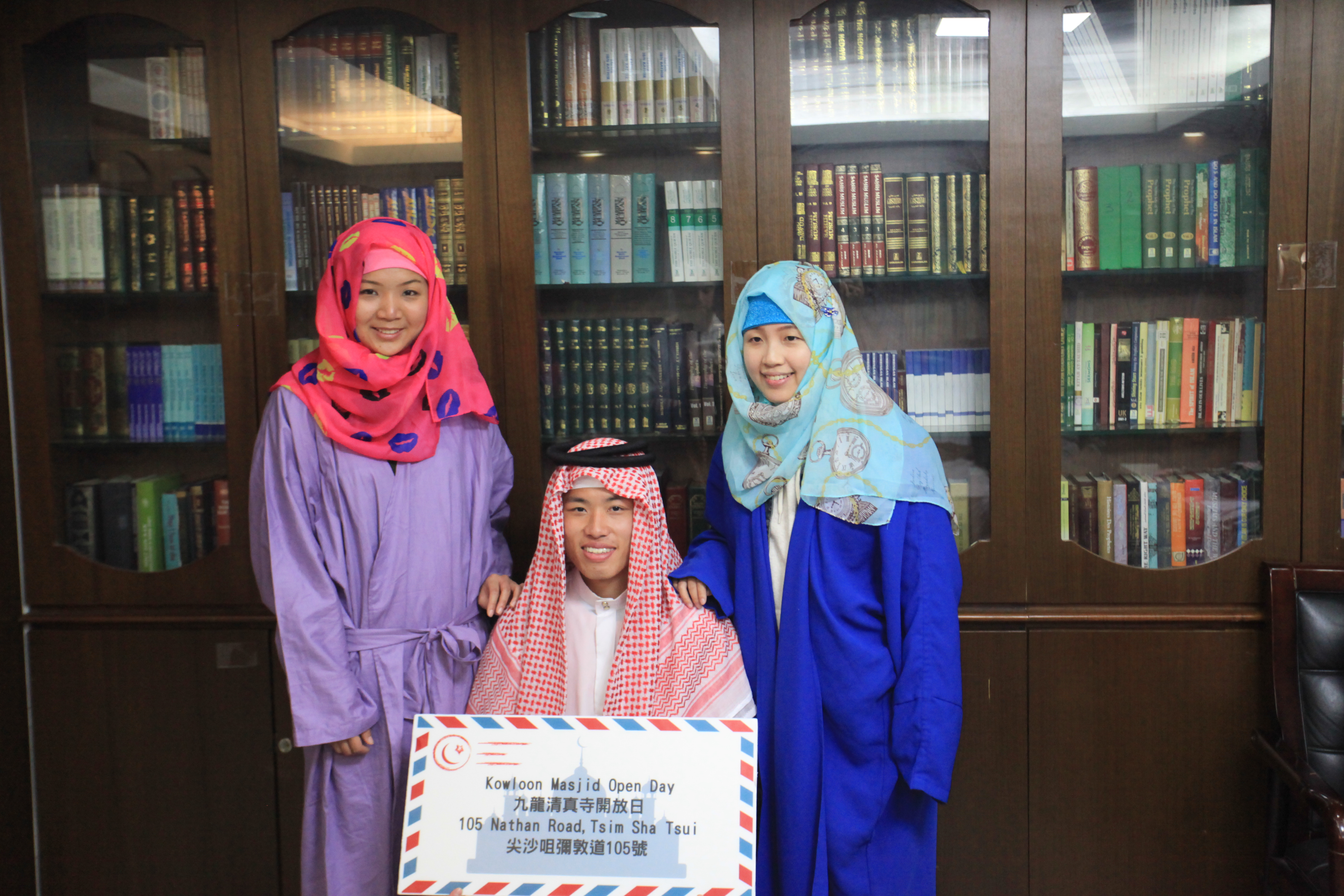 It was lovely to see feedback as below from those who attended:
"I did learn something and have more understanding about Islam."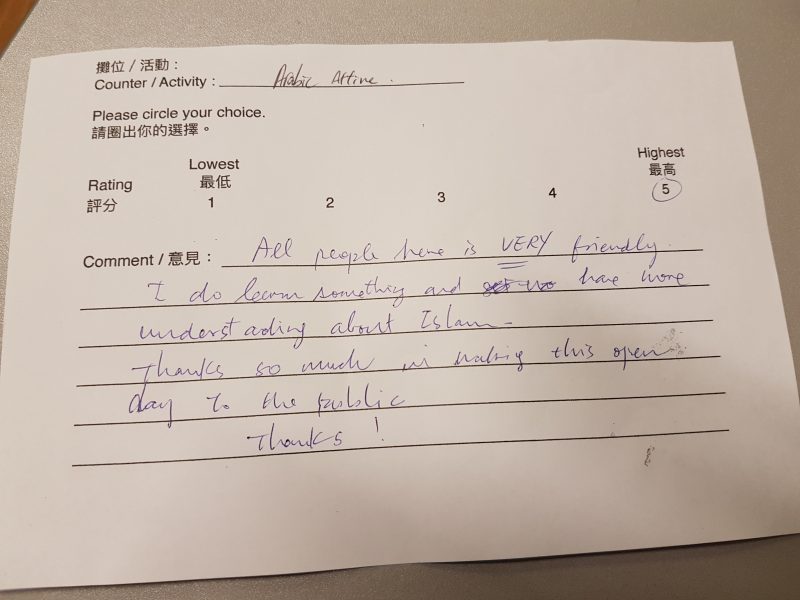 "Everyone is very nice and helpful, my impression to Islam has changed."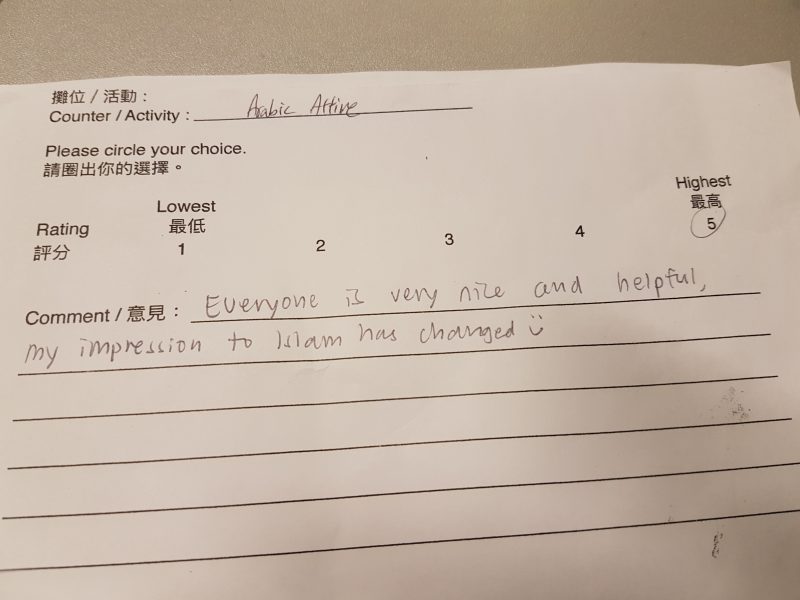 "More open days to show the culture in Hong Kong."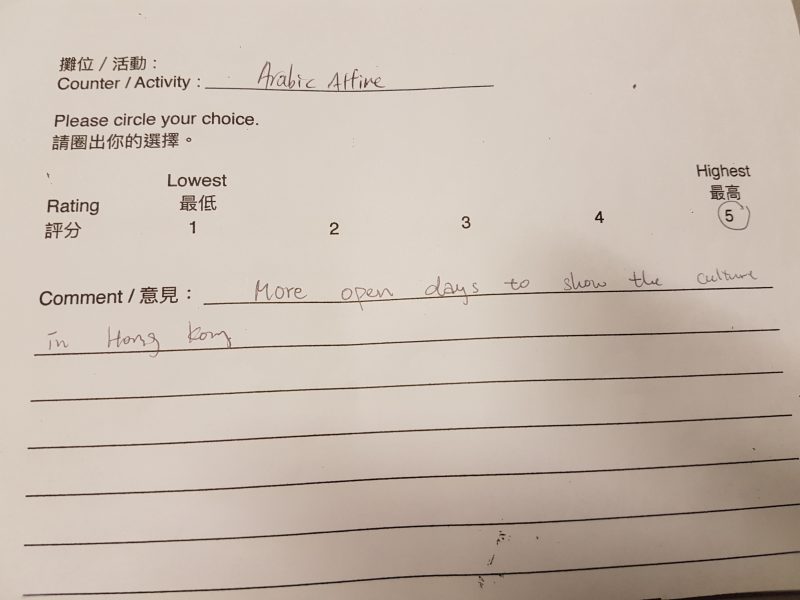 The average rating given by those who completed the written feedback form was 4.86 out of 5 marks.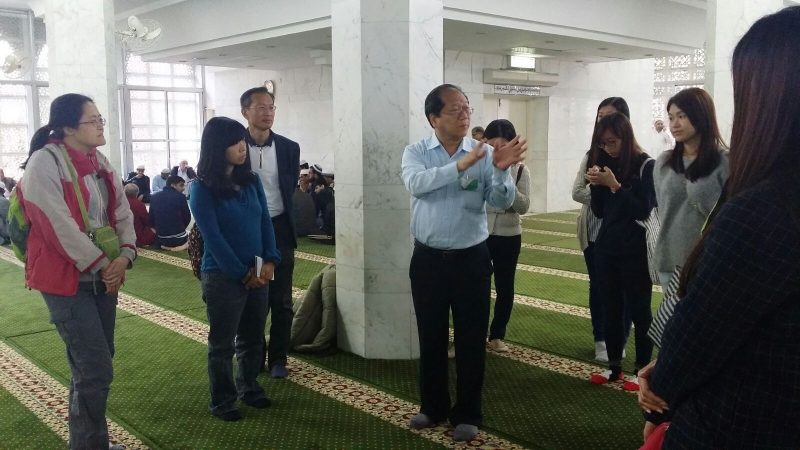 Around 40 Muslim volunteers, men and women, from the Kowloon Masjid and also from outside the masjid, including those from Muslim Council of Hong Kong and Serving Islam Team (HK), came together to bring about a vibrant atmosphere in welcoming the guests while attending to their different needs.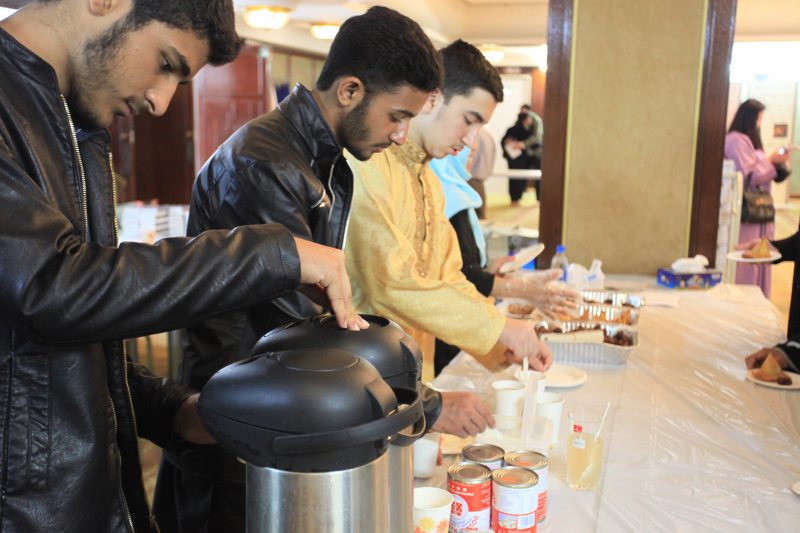 It was great to see a good number of volunteers, mainly students, present also from Islamic Kasim Tuet Memorial College yet again.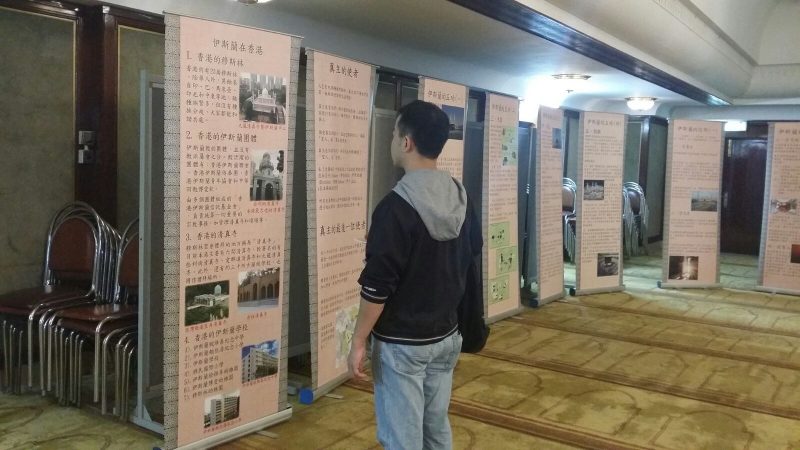 Along with displaying various Islamic banners entailing a number of Islamic beliefs and principles, there was also a hijab try-out room, an Arabic name calligraphy stall and of course appetising refreshments including samosas and tea.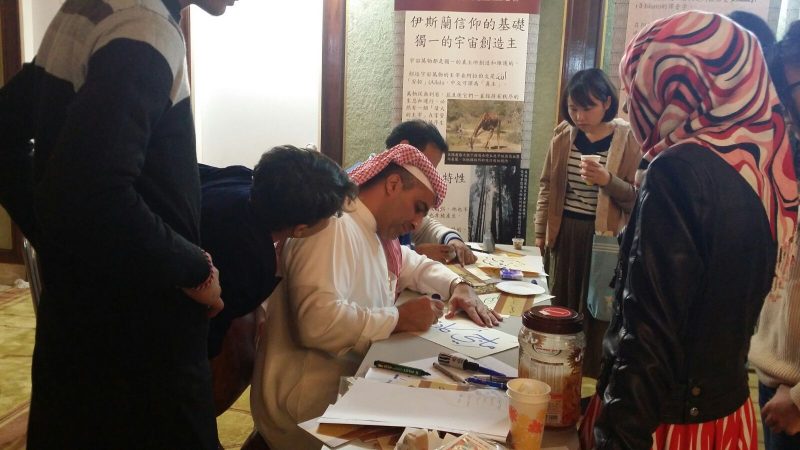 "Invite (mankind, O Muhammad) to the way of your Lord (i.e. Islam) with wisdom (i.e. with the Divine Revelation and the Qur'ān) and fair preaching, and argue with them in a way that is better. Truly, your Lord knows best who has gone astray from His path, and He is the Best Aware of those who are guided"
[Qur'ān 16:125]
Such events are undoubtedly always a success no matter which part of the world they may be and it goes without saying there needs to be more of them on a regular basis.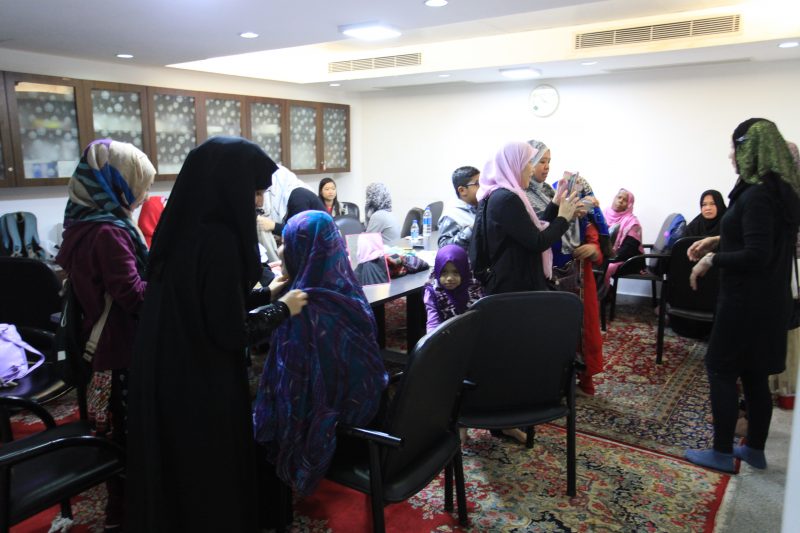 "And who is better in speech than he who [says: 'My Lord is Allaah (believes in His Oneness),' and then stands firm (acts upon His Order), and] invites (men) to Allah's (Islamic Monotheism), and does righteous deeds, and says: 'I am one of the Muslims.'"
[Qur'ān 41:33]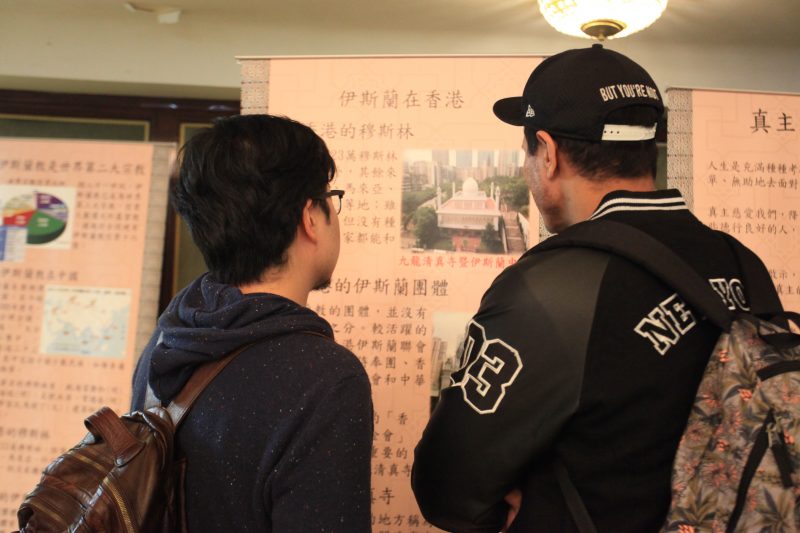 We ask Allah to accept this service from the volunteers, keep them motivated to continue this deed and guide those who received the message.