As the new school years are about to start across Hong Kong, we thought it will be interesting to catch up with those Hong Kong Muslim students who attained not only top results in the 2020 Hong Kong Diploma of Secondary Education (HKDSE), but also managed to get entrance into top universities in Hong Kong.
A number of Muslim students studying at IKTMC (Islamic Kasim Tuet Memorial College) attained some splendid results, Alhumdulilah.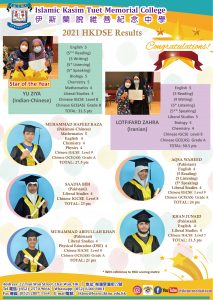 Similar to previous years, Muslim Council of Hong Kong interviewed our bright stars of the future to find out more about this success from them. Ziya Yu was the best achiever bringing home an amazing 31.5 points!
Two other students, Zahra Lotfifard got 30.5 points and Muhammad Hafeez Raza got 27.5 points, both managing entry into top universities, whilst many others, as can be seen by the poster attached, accomplished top results.
We caught up with Ziya, Zahra and Raza to explore their journey and their future.
1) How did you manage to attain such excellent results?
Ziya: 
First and foremost, it was with the help of Allah that allowed me to attain the results that I got. Alhumdulillah.
Secondly, I think it's important to keep on studying every day.
Being consistent is key.
This is to keep the knowledge fresh in your mind, so that you don't forget.
Third of all, time is precious, especially if you're a DSE student. So wake up early, get that coffee and start studying. Although I would get demotivated at times when I wake up late. That's because I felt that I already wasted so much time sleeping. But I would remind myself it's better late than never.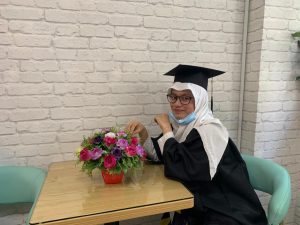 Zahra:
With the help of school teachers. They were all very supportive and always took out extra time to answer our questions during their rest time and arrange extra classes for us.
My parents were also extremely supportive and helpful.
They provided adequate space and good environments or me to focus on my studies.
Raza:
Do the best, and Allah will do the rest.
Thanks to my teachers at IKTMC, my family and friends. They have been supporting me through my ups and downs.
2) Did you face any difficulties and how did you overcome them?
Ziya: 
I faced lots of difficulty in the beginning, especially with Chemistry and Maths. Alhumdulillah, one of my math teachers (Mr.Lau) used to hold after school classes everyday so we could improve our maths. Which I believe has really helped me a lot.
Whereas for Chemistry, I realised I need to put a lot of effort if I actually wanted to improve. So, I started studying the Chemistry textbooks at home.
And whenever I had a question, I would go to my Chemistry teacher in recess and ask him because I was determined to improve.
Zahra:
Biggest difficultly was the pandemic as we didn't have proper classes for almost 2 years. It was hard for me to focus on online classes and I often got distracted.
Waking up early was another difficulty, as were having afternoon classes and didn't need to wake up early like usual.
I was able to overcome these difficulties with the help of my friends, as we often called each other early in the morning to make sure we are up and studying.
And I tried to increase my focus in class by turning off my phone and putting it away to avoid distraction.
A lot of concepts that were difficult to understand through online class were also made clear with the help of extra classes held by some of our teachers.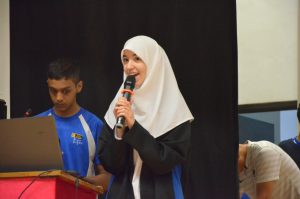 Raza:
When I was in junior secondary, I failed several subjects and hardly got promoted. I lost my motivation in study.
But my family never blamed me; they encouraged me to overcome my difficulties step by step.
One of the steps was to join Islamic Kasim Tuet Memorial College in senior secondary and Alhumdulillah, after successfully getting enrolled, I saw my academic results improve greatly.
3) Do you think it's important for Muslims to consistently strive to get such results in Hong Kong?
Ziya: 
Yes, it definitely is important. Not only is it a huge benefit for yourself, but to the community as well. It'll help represent the Muslim community or ethnic minorities(EM).
Since there are quite a few cases of discrimination against EM or Muslims in Hong Kong.
But hopefully by more and more Muslims striving to get good results will slowly reduce the discrimination that we receive.
Zahra:
Yes. We young Muslims are the future leaders of the Islamic community in our society, as well as an inspiration and role model to younger Muslims.
A consistent attitude and desire to strive for excellence is good character and important for a prosperous future.
We should try our best to spread a positive image of Muslims, especially in this day and age of widespread negative media about Islam.
Our achievements as Muslims can have great impact on how the world overall views Islam, Islamic life style and mindset.
Raza:
Yes, it is the responsibility of every Muslim to glorify Allah with the talents given to him.
I feel that this is part of our mission on this earth.
4) What are your future plans?
Ziya: 
I plan to study in science related field at HKU.
Zahra:
I hope to be medical professionals or work in the biomedical industry.
Raza:
I am planning to complete my engineering degree and I will be committed to serving the Muslim community. InshaAllah!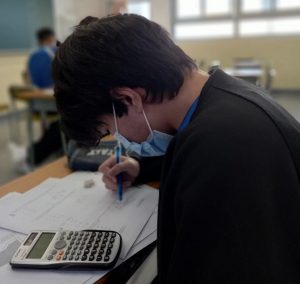 5) What's your advice to the future F.6 students especially those from the ethnic minority in Hong Kong?
Ziya: 
If you try hard enough, you'll make it. Make use of the help available to you. Don't waste time because that will be your biggest regret.
Study, but also remember your priorities like salah/namaz/prayer.
I pray that you guys get the success you dreamed of
Zahra:
Don't compare yourself to others. Work hard for yourself to see improvements in you. Compare your work with your own previous work.
Don't let how local students are performing in their school impact your motivation to study hard!
It's never too late to start and when you start, don't give up.
Raza:
I believe that 'perseverance' is the key to achieve. Whenever you want to give up, remember,
'It always seems impossible until it is done'.
Besides, it is important to build a good foundation in Mathematics. It helps a lot in your further studies.
MCHK along with all Muslims in Hong Kong and worldwide wish all the best for our shining stars of tomorrow and also to say to those who didn't receive good results to not feel down but to believe in Allah's plans and keep giving their best.