Final year undergraduate student at the renowned University of Hong Kong, Hammad Ali Faizi – yes, a Muslim – was awarded with the most prestigious student accolade in Mechanical Engineering for the year 2015-2016 – IMechE – Best Student Design Project.
Hammad, along with his project partner San To Chan, both under the supervision of Professor Anderson Shum took part in the two stage cut throat competition where students from all over Hong Kong and Macau participated. Initially based on the quality of the research paper, Hammad and San To, were placed into the top 5 groups and later they were crowned the champions through their exuberant final presentation held at Hong Kong Polytechnic University. We at Muslim Council of Hong Kong caught up with Hammad.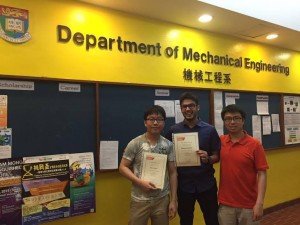 Interviewer: Q.1)
AsalamoAlaykum Wa Rahmatullahi Wa Barakatuhu brother Hammad. Firstly, massive congratulations again for this amazing achievement! I'm sure your parents and family must have been really proud of you! What was their reaction? And do tell us more about your background please.
Hammad:
Walekum Asalam Wa Rahmatullahi Wa Baraktuhu. Thank you so much for your warm words and commendations. I am truly gratified. Yes, my parents felt exulted. And to receive an elusive award, the best project award across Hong Kong in Mechanical Engineering, was a cherry on top for them.
Oh, I come from a small family residing in Karachi, Pakistan. Ironically, I have a younger brother, who is also in Hong Kong with me. He is pursuing his Bachelor in Civil Engineering from University of Hong Kong as well.
I feel it was the best decision to come to Hong Kong for my undergraduate studies.
I secured a Distinction in GCE A Levels; being adjudged with the 3rd Best Average grade in Sindh, Pakistan. Because of that, I received a hefty scholarship to join HKU; which I accepted without any hesitation. But to convince my friends and family to study in Hong Kong was a big challenge. Since many in Pakistan do not know the boom in the Education sector in Hong Kong. Hong Kong is young in the field of Higher Education within the likes USA, UK, Canada and Australia. But how it is paving its way in the Frontiers of Science and Technology is marvelous. You just have to observe and grab the opportunities here.
Interviewer: Q.2)
You certainly have done that. It does give us great pleasure to know a Muslim has achieved this, considering the negative image which is often portrayed of Muslims and Islam being backwards and uncivilized. Have you ever faced this type of hostility? And how have you managed to balance your faith with your studies?
Hammad:
I have to give credit to the locals of Hong Kong. They are always nice to me. Never ever in my four years over here, have I faced any sort of discrimination or hostility. In fact, before coming to Hong Kong, I thought what if I had to say my prayers in an unknown location. But it is so simple; you can just choose a quiet corner off the road and offer your prayers. As per my experience, I do not find the Islamophobia in Hong Kongers. And I hope it persists. May God bless Hong Kong.
What I am today is only because of my Lord. How can I forget my Master, my Lord, who made me; blessed me and gave me whatever I wanted in my life. So I always have Him in my mind; consciously or semi-consciously; even if I am bogged down in tons of activities. And what is the best way to remember your Lord then? Indulge yourself in extra worship.
Interviewer: Q.3)
Ma sha Allah that's quite heartwarming. So Hammad, what did you actually win the award for? I mean what made what you did so special? And kindly please keep it simple for us simple, non-scientific folks.
Hammad:
Alhamdulilah, by the will of Allah, I won a very prestigious Mechanical Engineering Project Award from the Institution of Mechanical Engineers (Hong Kong Branch); IMechE Hong Kong- Best Student Project Award. It was a very competitive award.
For my final year project, along with my local partner, San To Chan, I came up with an innovative idea to tackle a long persisting issue in a Semi-Conductor processing industry. We solved a ten year old problem that had been bothering companies in Hong Kong like ASM Pacific Technology in dispensing of sticky fluids for semi-conductor applications. These companies were so desperate to solve the issue that they hired top consultants from USA as well. But all down the drains. So we took up the challenge and Alhamdulilah came up with a promising solution.
In fact our idea is so novel yet simple that it can be integrated in 3D printing applications and food processing industries as well. The impact of our work turned out to be a massive one.
Interviewer: Q.4)
Sounds amazingly scientific! It reminds me of how the early Muslims used to be the pioneers of science, inventions and technology. It shows when we live in a safe place like Hong Kong and are provided with a good platform to unearth and develop our talents, we can indeed become forerunners of the society again. Hammad, what's your plans for the future?
Hammad:
Honestly, I have long thought about the contribution of early Muslims in the advancements of science and technology. It is unparalleled. But I feel saddened by the fact, that in the Modern world, Muslims are far behind in this race now.
Actually, I want to try my bit in restoring the pride we once had. Therefore, to become one of the pioneers in Science and Technology again, I feel the need to get trained by the pioneers themselves. In lieu of that, I am flying to USA to get my PhD training in Mechanical Engineering.
In sha Allah, after getting well trained, I plan to setup R&D departments in Pakistan. We are in real need of that. I hardly know any company that has a R&D department in Pakistan.
Interviewer: Q.5)
My prayers and I'm sure the prayers of all the Muslims around the world are with you and with all of our youth who are striving hard to practice their faith whilst putting their best in the academic field too. What pieces of advice would you give to the youth, specifically Muslims and even the ethnic minority, who at times keep their expectations too low?
Hammad:
I would say keep yourself focused. I need to admit that it is quite hard to study in Hong Kong considering all the different temptations scattered here. But if you know what is set as right and wrong; things would pave up for you beautifully. Hong Kong would provide you with tons of opportunities, please avail them. Alhamdulilah, I managed to grab a few and I am very much proud of that. You can do the same.
Thank you so much for this and I wish you all the best for your future endeavors. May Allah continue to guide you and reward your parents for bringing up such a wonderful son!