Inna lillahi wa inna ilayhi raji'oon.
Shocking news was reported that Jo Cox MP of the Labour Party in the UK has been murdered after she was shot in the head and stabbed multiple times by a Britain First supporter. Our thoughts and prayers are with her family.
The question is, why is her murderer not being referred to as a terrorist or the attack as a terrorist attack?
Neighbours in the vicinity of the terrorist attack heard the far right terrorist call out Britain First's name a number of times.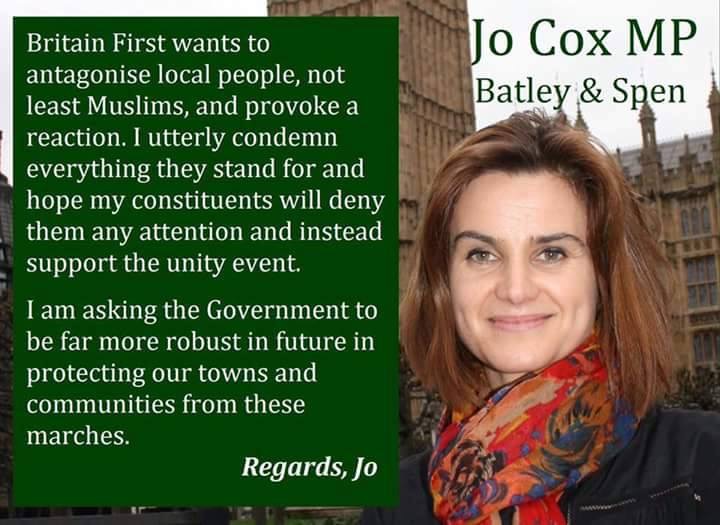 Jo Cox MP did a lot to challenge Islamophobia and publicly supported many Muslim organisations, mosques and Muslims across the UK to help eradicate it. Furthermore, she was well-known for despising Britain First.
Last week, Britain First went to Wales on a weekend retreat to train their supporters in hand to hand combat at a terrorist training camp.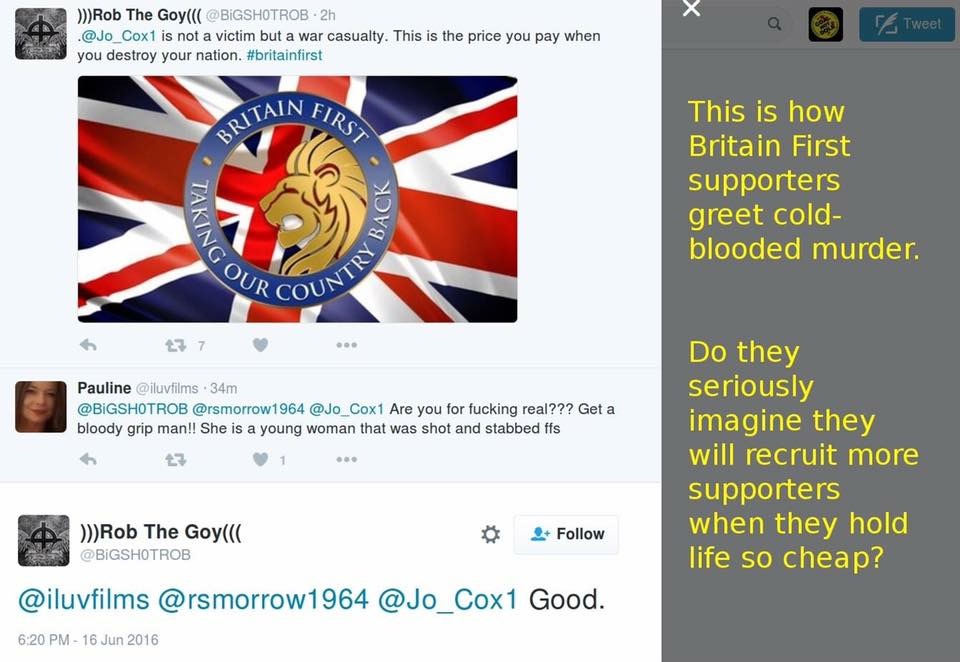 Now the question is – Who is really to be blamed for the cold-blooded murder of Jo Cox?
The people that should be made to answer for the death of Jo Cox are not the likes of Britain First and other fascist groups in the UK. Rather, it should be journalists and news editors from right wing racist newspapers like the Daily Mail and The Sun, as well as neocon politicians and other racists who are part of the powerful establishment. They have played a big part in her death by indoctrinating the masses into believing that ethnic and religious minority groups in the UK, like Muslims, are their enemy; something Jo Cox spent a lot of time challenging.
Jo was a huge supporter of ethnic minority rights in the UK and was also pro immigration. She spent a lot of time supporting Muslims at home and abroad, in places such as Syria and Palestine. She was even planning on doing a fundraiser event with the charity organisation One Nation to help the thousands of people inside Syria. One Nation has since set up a donation page in her memory. Such activity was despised by right wing racists who hated the fact that an intelligent working class white woman was standing up for the rights of groups they were encouraged to hate. This has been further supported by news from her husband who explained that she had been receiving hate mail and death threats from racists for over three months.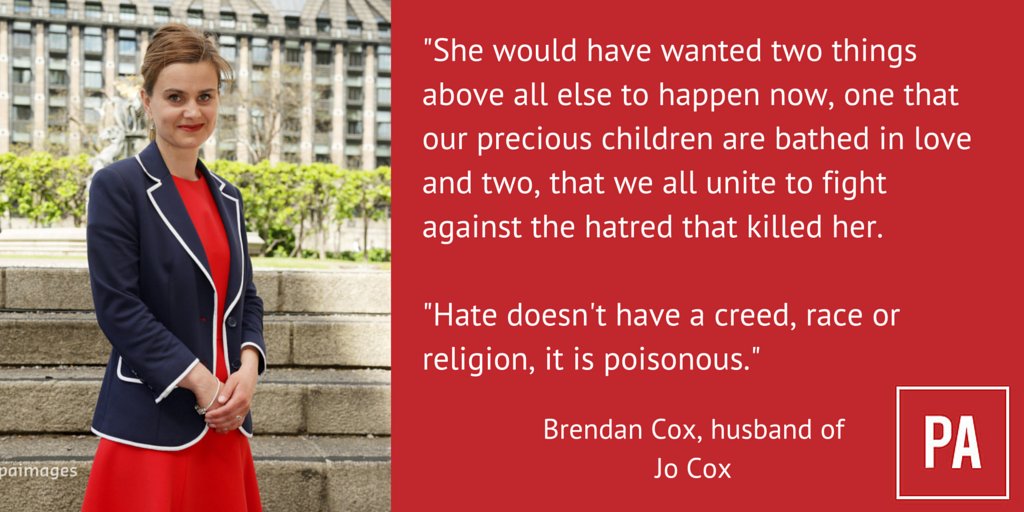 Fringe groups like Britain First, PEGIDA, and the EDL should be hated for the bigoted views they espouse to their followers, however, they are just the "fall guys" in this murder and a manifestation of the propaganda war that has existed and continues to exist with great verve in Britain today against Muslims and immigrants.
The likes of the Daily Mail, The Sun, The Times, The Telegraph and politicians who reinforce state sanctioned Islamophobia through legislative policies are to blame for Jo Cox's murder. They are the ones that have given the likes of Thomas Mair the ammunition and encouragement to hate Muslims in Britain, by repeating lies and disproportionately exaggerating their faults through politicised rhetoric and through the mass media. As a result, this has led to attacks against them and anyone like Jo who has challenged the establishment's and right wing media's negative portrayal of them in the UK.
This was laid bare yesterday when a terrorist was brainwashed into believing the lies that the media and politicians have been disseminating to the masses about Muslims, culminating in the murder of one such individual who fought for their rights within our society.