| "Drop at the turn please!"
| "Sure!"
| These two conversation between a Red Van passenger and the driver sounds very local. The difference is, this driver, with heavily local accent, is a Pakistani.
| Hong Kong has only 4 Minibus drivers who are Pakistani, Jony is one of them.
"See you at Flower Street!" On the phone is a fluent Cantonese speaker, it is not possible to identify the person on the other side of the phone being a foreigner at all. On the day of interview, looking from afar, on the Red Van was a line written in Urdu, that made me know that this must be Jony's Red Van.
In the afternoon on that day, the reporter went onto the van, Jony played with his beard while greeting us, "Help yourself and take a seat please!"
And there it goes, the Red Van, Jony told us his journey from the boss of a restaurant to a Red Van driver.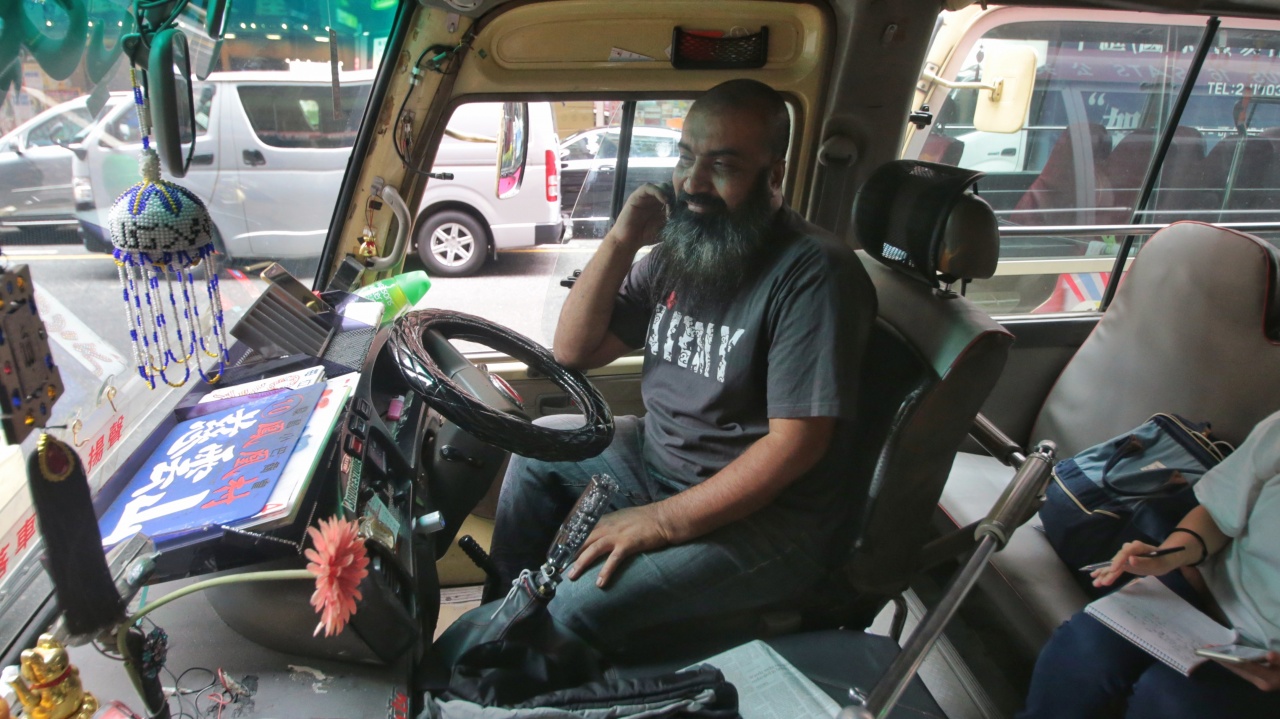 43 years old, Jony does not only speak fluent Cantonese, he can also read and write some Chinese. At the age of 16, I came to Hong Kong to meet my father, "My whole family are Pakistanis, Papa has gone to Hong Kong in 1960's." Jony has established his root in Hong Kong, there is not much difference in his upbringing between you and me, what makes you admire him is that he said that he only used up one year's time to learn to speak Cantonese.
In the past 27 years, he has worked as a dumper truck driver, construction site worker, boss of a cleaning company, boss of a Curry restaurant, taken a test for taxi driver. However, because of no good cooking skill, afraid of cleaning work incessantly, finally he join the family of Red Van Drivers.
"If people can make tasty curry, then they run a restaurant, but I don't even know how to cook."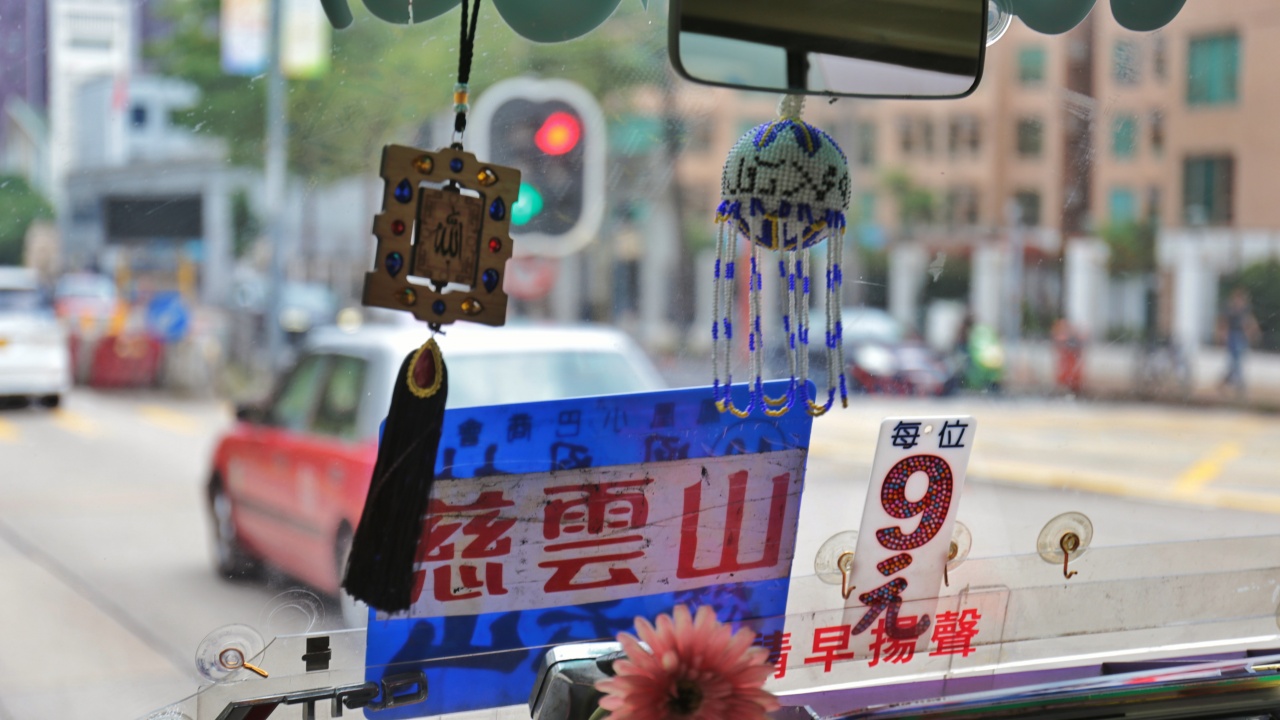 Opened a Curry Restaurant before and worked at a construction site worker
Even though he has spent more than $300,000 for decorating the restaurant, Jony decided to close it down.
"Cleaning work is very busy, no rest time in two years, dumper truck driver is a difficult job."
Finally he became a Red Van Driver.
He got his driver licence after he came to Hong Kong, he does not like to drive a taxi, because minibus is more spacious, he is a big guy, it feels more comfortable to him. "Listen to the radio, lessen the boredom." Red Van is a local means of transport, drivers are mainly local people, there are only 4 Pakistani minibus driver, how did he join the profession?
Substitution for 7 days became substitution for 8 years
"My friend asked me to substitute him for 7 days, it turned out that I worked for 7, 8 years!" Jony said that in 2008, he took up a friend's shift, and then he bought his friend's van, 6 days a week, 14 hours a day, rainy days and sunny days, took the passengers to their destination.
"In Hong Kong, if you are willing to work hard, you won't starve to death!"
What once made me proud was "Hong Kong Spirit", he also understands that.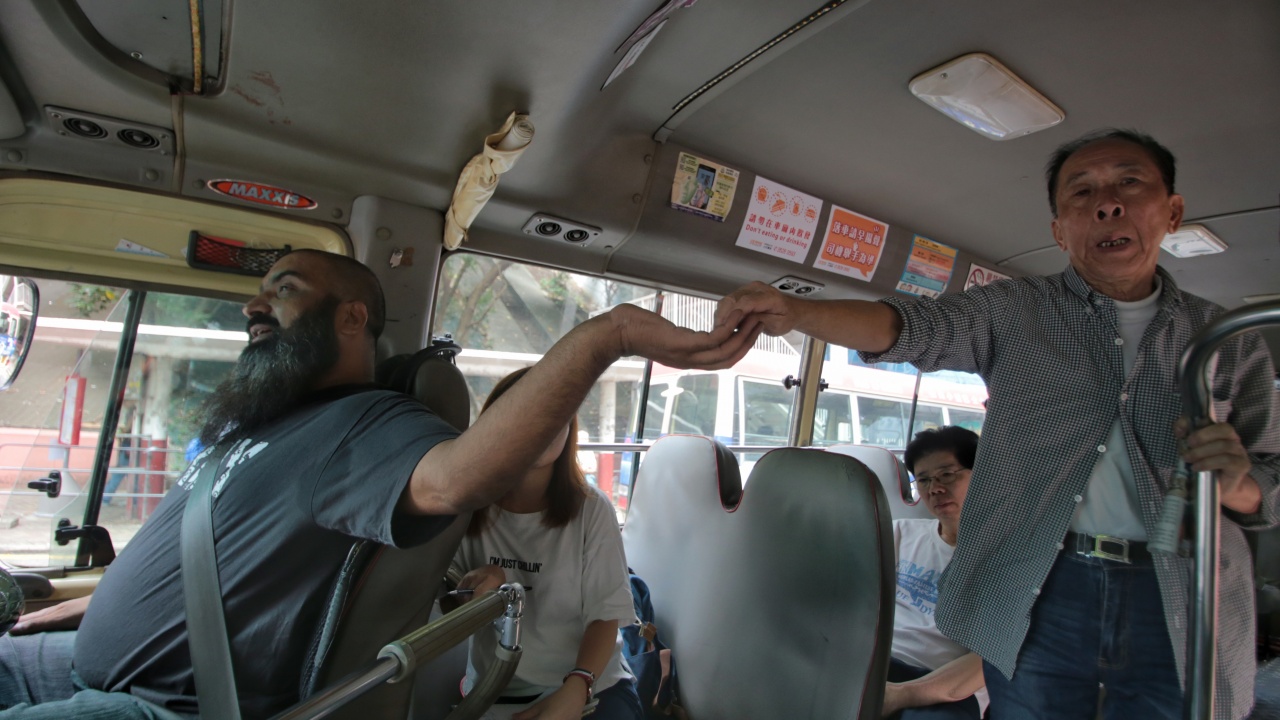 Rule of the profession – $100,000 to join a route, $1,000 for protection.
It is not just about getting a license in order to be a Red Van Driver, beside the rule of paying route money, protection money, which are controlled by underworld society, there is also station fee.
Route money, allegedly, costs tens of thousand, those refused to pay will not be able to drive through some specific route, protection money costs about 1,000 a month, what is amazing is that the station signs that were put in front of the van, like "From Tsuen Wan to Mongkok, Kwun Tong to Jordon" entails some station fee, one costs about several ten of thousands, those who has paid will be given a station sign for recognition.
The signs that are placed at the front of Jony's van means several tens of thousand of dollars.
"I drive different routes, it depends on the hour of the day."
From 12:00 pm onwards, his first journey is from Mongkok Flower Street to Tze Wan San.
"There is no MTR at Tze Wan San, so more passengers!" He smiled, after gas fee, one day can earn about 2,000 dollars.
From Mongkok to Tze Wan San, not many passengers can identify him as a foreigner driver. Mr Lau frankly said that it was his first time to hire a Red Van driven by a Pakistani,
"His Cantonese is very good." Jony smiled and said that some frequent passenger would give him food.
"Cannot speak foul language, cannot smoke, cannot watch women." Jony observes the rules of the Fasting Month.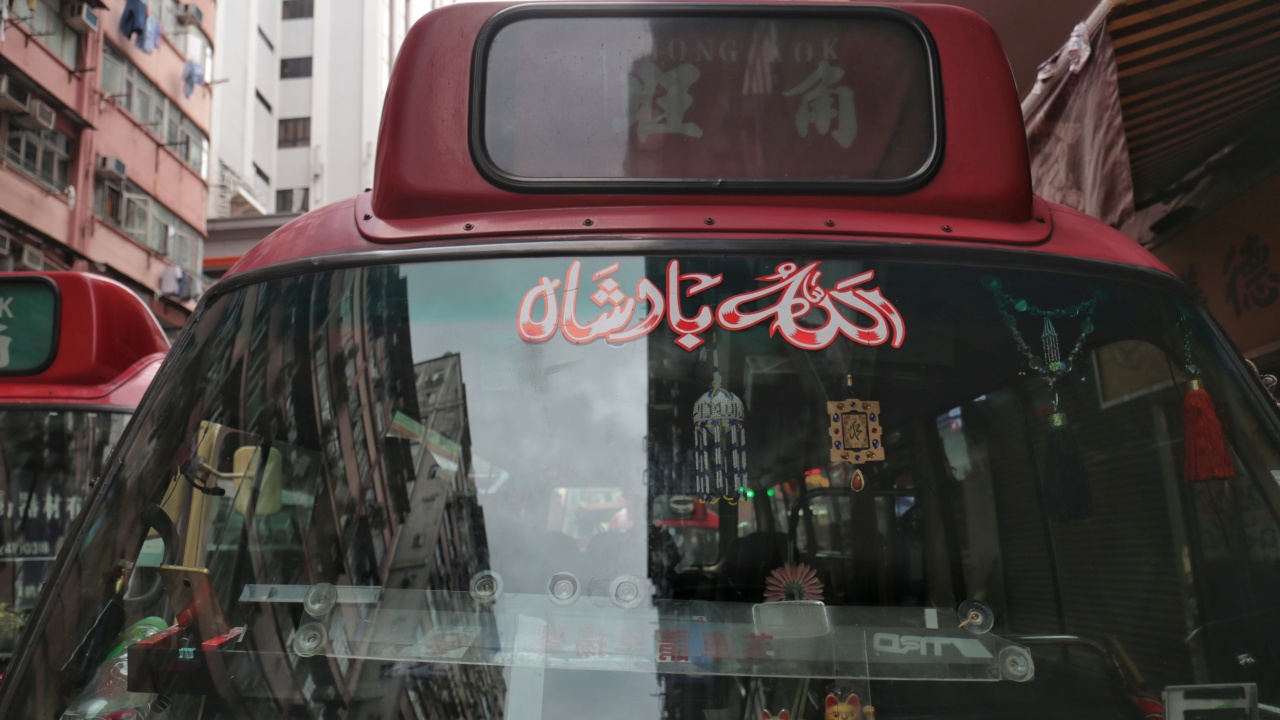 Hong Kong is not an Islamic city and a minibus driver has to work irregular hours, so how to earn a living? Jony frankly said that so many years in Hong Kong, his eating habit has changed, "When starving, shall I not eat?" There are many different Islamic decorations on his van, the sign written "Allah" at the front of the van, and a purple and white wind bell, on it the word "Peace" is written, below it is a pink flower, it makes the minibus look nice.
In spite of working hard, being a Muslim, Jony has not abandoned the fasting on the Fasting Month, in order to pray attentively, from 4 am until sunset, he does not eat and drink, he smiled while saying,
"Cannot speak foul language, cannot smoke, cannot watch women." Besides, he has to pray at the Masjid upstairs every week.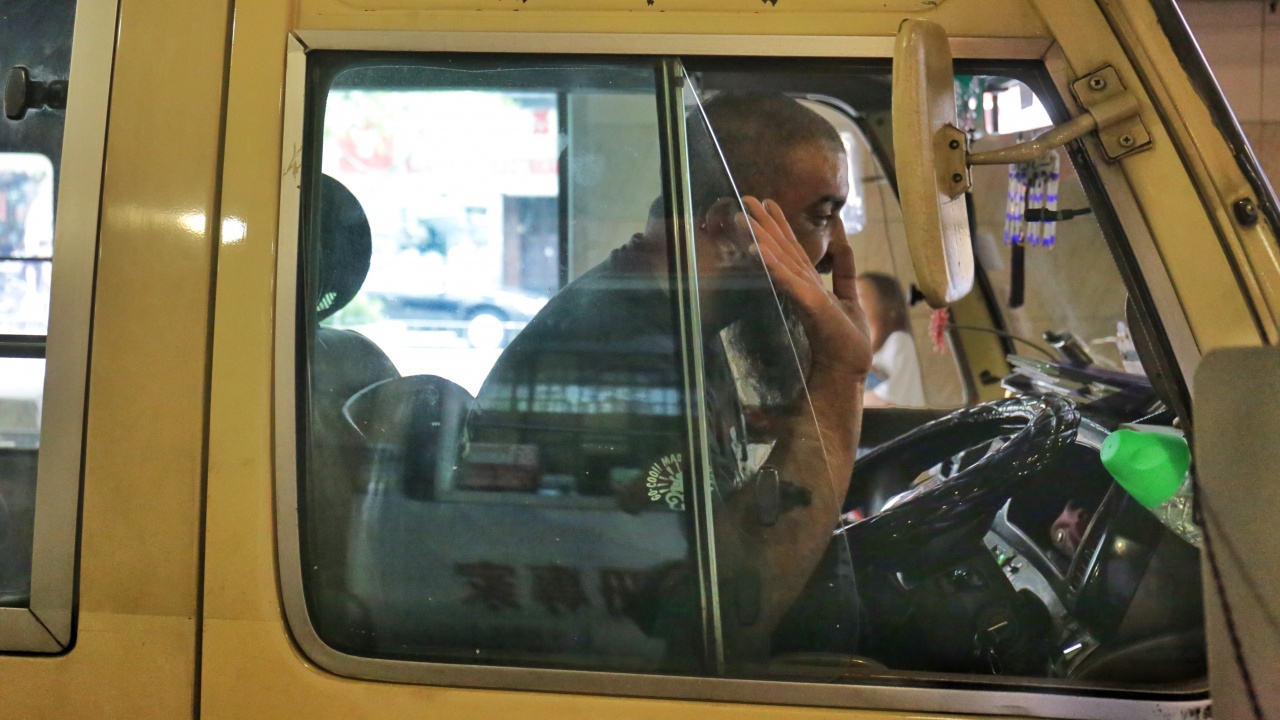 Jony's wife is a HongKonger, when asked how they met, he gave a shy look, "She is a neighbour." The wedding was conducted in the Islamic way at Wan Chai Mosque, "One way is enough, no need to celebrate one more time in the Chinese way, too much trouble."
They have two daughters after marriage, led a happy life. Interaction in the family is Cantonese and Urdu mix.
Jony has strong ability in language, he learnt Cantonese within one year, and he has a cheerful character, knows many friends.
"I have brought my two daughters back home (Pakistan) before, but will not settle there, don't know what to do back home (Pakistan), not accustomed to the place anymore."
Jony does not consider going back to Pakistan for permanent settlement.
Source:  HK01