Sonny Bill Williams has spoken out over the controversy created after he wore a jersey hiding two of New Zealand Rugby (NZR) and the Blues' major sponsors.
Sonny Bill Williams lodges 'conscientious objection' after jersey alteration Williams took to the field for his Blues debut last weekend with tape covering the collar in order to hide the BNZ logo. His left sleeve was also rolled up in order to obscure the Investec logo.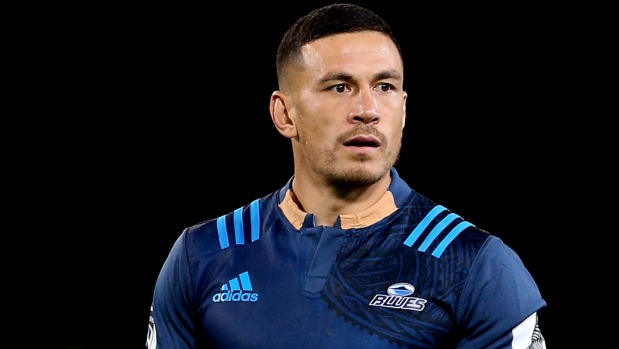 Read: Sonny Bill Williams covers up bank's logo on his jersey due to Islam's stance against interest
He will now be wearing the Plunkett, a charity organisation, as the sponsor on his special jersey as reported by Stuff.
In a statement provided by NZR to the media, Williams said this was due to his religious beliefs as a practicing Muslim. He said:
"I want to be clear that this is nothing personal against the BNZ or Investec.

My objection to wearing clothing that markets banks, alcohol and gambling companies is central to my religious beliefs and it is important to me to have been granted this exemption.

Looking forward to supporting a children's charity on my blues jersey.@PlunketNZ

— Sonny Bill Williams (@SonnyBWilliams) April 12, 2017

As I learn more and develop a deeper understanding of my faith, I am no longer comfortable doing things I used to do.

So while a logo on a jersey might seem like a small thing to some people, it is important to me that I do the right thing with regards to my faith and hope that people respect that.

I know I'm not perfect. Every day I work hard to become a better person.

I want to thank the Blues and New Zealand Rugby for working with me through this matter over the last couple of days and respecting my religion and accommodating my request."
Both the BNZ and South African company Investec are said to be sympathetic towards Williams' cause.
Williams will reportedly be permitted to wear an exclusively designed jersey without the BNZ and Investic logos.
New Zealand Rugby has clarified that all player contracts include a clause which permits them to opt out of promoting alcohol, tobacco, finance, and gambling companies, as well as banks.
Sonny will instead be using Plunket as a jersey sponsor in place of the BNZ and it was a move unlikely to cause upset as it is a national non-profit organisation providing care and support for parents and pre-school children. Plunket is also a partner of BNZ.
Plunket chief executive Amanda Malu said the BNZ had put the idea to Williams and his manager on Wednesday. BNZ is a principal sponsor of Plunket, and the bank had been "keeping us front of mind", she said.
"As a charity we rely on the support and goodwill of our partners and this is another demonstration of collaboration in action."
Williams is a father of two and Malu welcomed his decision to wear the Plunket logo for the remainder of the season, calling it a "real honour". Malu said:
"By taking up BNZ's offer of replacing its logo with ours, Sonny Bill is helping Plunket remind parents that our services are here to support mums as well as dads."
"Sonny Bill's decision to wear Plunket's brand is a real honour. A lot of families will be watching this weekend and we're proud to be there supporting Sonny Bill as a dedicated father and role model for Kiwi kids."