Muslims have naturally been helping the Rohingya. Here we have a heartwarming story of a team of volunteers from a Sikh organisation Khalsa Aid that reached Bangladesh-Myanmar border Sunday night to provide relief to the tens of thousands of Rohingya Muslim families fleeing Myanmar.
Speaking to The Indian Express over phone, Amarpreet Singh, managing director, Khalsa Aid, India who has reached Teknaf, a border town in Bangladesh where the refugees are living in the camps, said that condition at the border was "miserable to say the least".
"It was our first day here today and we did a pre-assessment before launching a major relief operation.
We had come prepared for providing relief to some 50,000 people, but there are more than three hundred thousand refugees here.

They are living without water, food, clothes and shelter. They are sitting wherever they can find a corner. It is raining, but people do not have anywhere to go. It is miserable to say the least.
We will be providing them langar food (community kitchen) and shelter. We are arranging tarpaulins but since the number of refugees have overwhelmingly exceeded our preparations, it can some time to make arrangements."
Read Also: Turkey's first lady visiting Rohingya Muslims in Bangladesh as the country sending 10,000 tons of aid supplies
He added that there were huge camps at Teknaf and each one was crowded beyond its capacity.
"A camp can accommodate at least 50,000 people but in most of them there are more than one hundred thousand refugees. But we are committed to run langar here (community here) till the crisis is not over.
The priority is to not let anyone sleep without food. Children are roaming without clothes and begging for food.
Those who do not get space in camps are sitting along roads in hope of getting food from someone," he added.
Read Also: In solidarity with the Rohingya, 16 Hong Kong Muslim organisations and public sent a powerful letter of condemnation to the Myanmar Consulate in Hong Kong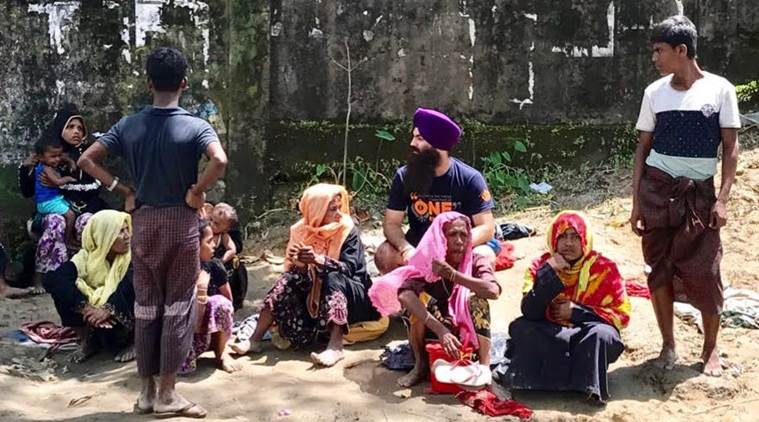 Another team of Khalsa Aid volunteers is expected to reach the border town Teknaf in coming days to assist in the relief operations, said Amarpreet.
Khalsa Aid team is now serving langar and water to the refugees.
"Teknaf is almost 10 hours ride from the capital Dhaka from where we are ferrying all the material needed to prepare langar.
Connectivity issues and rain are creating hindrances but we are trying our best to provide food to the maximum people at the earliest. The langar will continue here till crisis is not over and refugees continue to reach the border," he added.
Jeevanjyot Singh, a Khalsa Aid volunteer from Jammu & Kashmir who is also in Teknaf, said that refugees started from Myanmar by foot almost ten days back and then reached Teknaf through boats. He said,
"They are in an extremely bad state as of now. They have nowhere to go.
We have spoken to some families and they have told us that after crossing thick jungles on foot in Myanmar, they crossed border through boats and then resumed journey on foot.
Most of them have traveled for more than ten days. Since then, children had no food or water. They are in dire need of food and water."
Myanmar led by its state counsellor Aung San Suu Kyi has been rapped by the United Nations for gross human rights violation against the tribe of Rohingya Muslims and as per UN estimates, 2.70 lakh Rohingya Muslims have already fled to Bangladesh and even more are trapped at the border.
Please donate towards Rohingya Crisis Relief Aid which is hoping to provide short term relief of food, water and clothes while also long term which is to provide sanitation and shelter homes.