In the wake of the disgusting terror attack in Christchurch, New Zealand, people from all walks of life within the community have pulled together.
On this occasion, that includes members of one of New Zealand's most notorious gangs as reported by LADBible. May Allah bless them with hidayah.
Prime Minister Jacinda Ardern arrived at Hagley College in the city to console the families of some of the victims of the shooting.
At the same time as the PM was there, members of the Mongrel Mob, wearing branded jackets, vests, and t-shirts, were spotted.
The gang greeted mourners and appeared to console some of their fellow attendees.
After the visit, Ardern travelled to a hospital at which 39 people are being treated from injuries. She also visited Canterbury refugee centre and wore a black headscarf as a mark of respect.
The shooting was carried out by far-right terrorist Brenton Tarrant.
Tarrant – an Australian citizen – live-streamed chilling footage of the attack as it was in progress. He was arrested by police afterwards.

The whole community mourned the death of the 49 people. Credit: Getty
A man claiming to be one of the Mongrel Mob, which has members across New Zealand, earlier posted on Facebook how the country had been left 'deeply scarred' by the terrorist attack.
Tanielu Fatu posted: "Our Muslim families and communities do not deserve such a violent and ruthless attack to be carried out upon them."

"This militant strike of a monster has displayed a sheer lack of respect for a place of worship and for those who perished in the most horrific way imaginable to mankind."
An incredible thought-provoking message of appreciation by a revert Chinese Muslim to the Christchurch mosque terrorist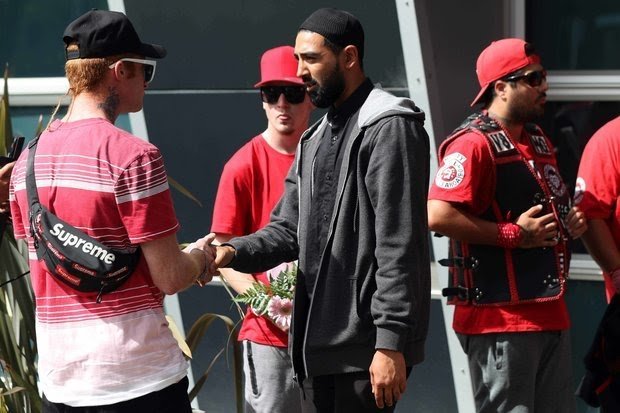 On Saturday, Ms Ardern said that her main goal and focus was to return the bodies of victims to their families in order to allow them time and space to grieve properly.
She also spoke with families who are trying to locate missing relatives after the sickening attack.

New Zealand's Prime Minister Jacinda Ardern. Credit: PA
Ardern said: "Hagley Park, very much the focus on them was being able to access their loved ones.
"Front of mind for them, of course, is fulfilling their religious expectations and that is burial."
She continued: "At the meeting at the refugee centre, their community leaders shared the same sentiment that has come through from New Zealanders generally that,
"This is not the New Zealand they know.
"This is not the New Zealand that has welcomed them and that it is not a reflection of the New Zealand they know, and that sentiment came through very strongly."
As well as speaking with the families of the dead, the Prime Minister spoke to survivors from the attack. The two mosques were full as the attacks occurred just after Friday prayers had started.
Ardern described the incident as one of New Zealand's 'darkest days'. Yesterday, she said: "We New Zealanders were not chosen for this act of violence because we condone this racism, or because we are an enclave of extremism, we were chosen for the very fact that we are none of these things.
An ex-Guantanamo Bay Muslim's powerful message on Christchurch mosques attack, stating who is really to be blamed and how Muslims should react
"I want to send a message to those directly affected… For many this may have not been the place they were born.
For many New Zealand was their choice, a place they actively came to and committed themselves to… It was a place where many came to for their safety. A place where it was safe to practice their culture and religion."

Tributes have been left at the scenes of the attack. Credit: PA
"We represent diversity and compassion, a home for those who share our values, a refuge for those who need it. And those values will not and cannot be shaken by this attack. We are a proud nation of more than 200 ethnicities and 160 languages.
"[This is] the strongest possible condemnation of the ideology of the people who did this."