Masjid al-Aqsa was closed down by Israeli security forces on Friday as for the first time in 17 years Muslims weren't allowed to pray Jummah, Friday prayer inside Islam's 3rd sacred mosque.
Palestinian girl crying, after the Israeli occupation forces prevent her from entering AlAqsa mosque in AlQuds city today. #FreePalestine🇵🇸 pic.twitter.com/YS6iSM9kMH

— Yousef Mema🇵🇸 (@Joo_Gaza) July 16, 2017
On Sunday, the Israeli forces have reopened it and here is a recording of the first adhan, call to prayer, being called out inside the masjid.
However, it's not so easy-going for the Palestinians, as the Israeli forces have now installed new security measures. These include metal detectors and additional CCTV cameras – basically putting more of a prison type feeling to the people.
The is is #Israel.Israeli forces trampling over carpets in #Alaqsa in their boots.The Holy Sanctuary being desecrated over the last 2 days. pic.twitter.com/D10UkKpeCd

— Kamel Hawwash (@kamelhawwash) July 15, 2017
As reported by Al Jazeera, Muslim religious authorities, who administer the compound, are refusing to pray there on Sunday as many still prayed outside the masjid compound. Omar Kiswani, director of Masjid Al-Aqsa said:
"The closure of al-Aqsa Mosque compound, the occupation in itself and the prevention of the call for prayers are all unfair and unjust and constitute a violation to the United Nations resolutions and the international agreements."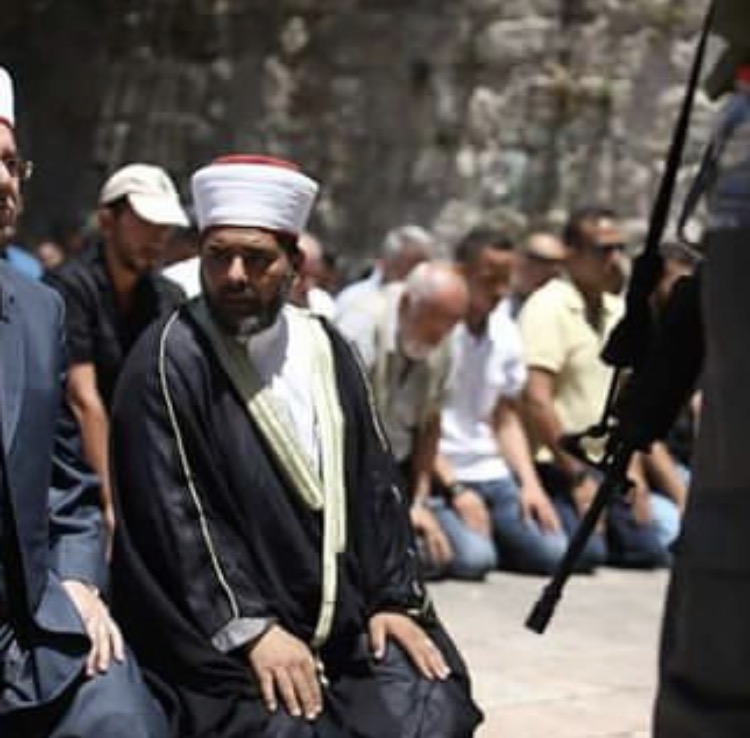 "We hold the Israeli government responsible for the changes they have made in the al-Aqsa Mosque and taking its control away from us. We will stay outside the mosque until we get back the way it was taken from us."
At least two people were reportedly detained after confrontations with Israeli forces, according to reports.
"What happened does not justify this," Abu Mohammed, who works at a small medical clinic inside the compound, told Al Jazeera.
"This is our mosque and we refuse to enter through any electronic gate, this can never be imposed on us."
Israeli occupation forces attack a funeral in front of AlAqsa Mosque, occupied #Jerusalem! #HandsOffAlAqsa pic.twitter.com/fQcm1U66Mk

— eman qasim (@EmanQasim) July 16, 2017
Israeli Prime Minister Benjamin Netanyahu announced the additional security measures on Saturday, saying they gave Israel "almost complete control over what goes on" in the compound, to prevent future attacks.
Netanyahu boasts that the alterations to al-Aqsa Mosque gives him complete control over what goes on there pic.twitter.com/YxN5YvZoiA

— Days of Palestine (@DaysofPalestine) July 16, 2017
Earlier in the day, Kiswani told Voice of Palestine radio station the additional security measures were part of a "dangerous and unprecedented move" by Israeli authorities "to impose control over al-Aqsa Mosque".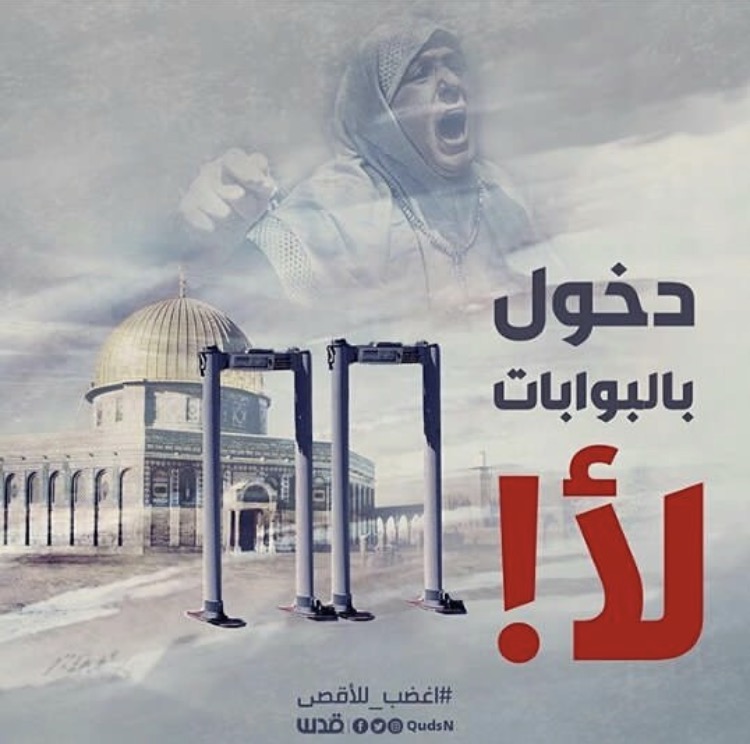 Israel's unilateral decision also triggered anger from authorities in Jordan, the custodian of the holy site.
The Jordanian goverment released a statement on Friday demanding Israel immediately open the mosque and warning against steps that could "change the historic status quo in Jerusalem and the mosque".
Proposals to change security measures at the compound have sparked controversy in the past. Palestinians have long feared what they see as Israeli moves to change the status quo at the holy site.
Daoud Kuttab, columnist at Al Monitor, told Al Jazeera that he expects the tensions to escalate.
"This is a very worrisome change," Kuttab said of Israel's decision not to consult Jordanian authorities of its decision to impose new security measures.
"It sounds like it is going to be troublesome for the days to come."
"Those who killed the soldiers are not from the West Bank or Jerusalem. They came from Israel. They are Israeli citizens. Palestinians are being punished for what Israeli Palestinian citizens of Israel have done."
Daniel Levy, a former Israeli negotiator, told Al Jazeera the attacks are "unacceptable", but Israel's unilateral response is only "exacerbating" the situation.
"But what are you doing with regards to the broader conflict that leads to this situation in the first place," he asked.
"In that respect, what we have is a situation, where for good reason neither the Palestinians or the Jordanians have faith in the Israeli side."
After Israel occupied East Jerusalem in 1967, Israeli authorities have maintained an agreement with the Islamic Endowment that runs the mosque compound. Non-Muslims are allowed to visit the site, but are not allowed to pray.