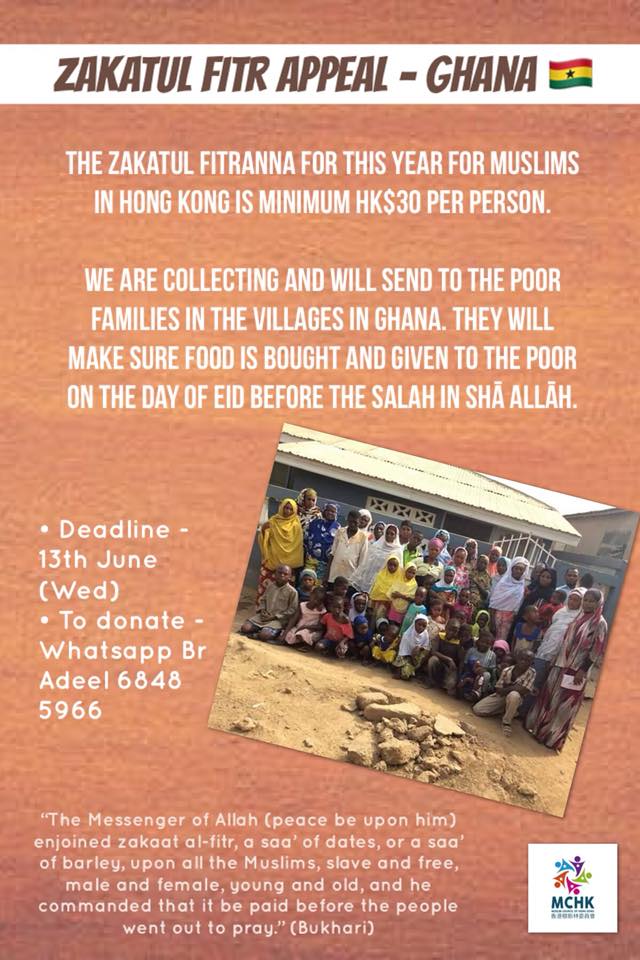 Zakatul Fitr 2018 - Ghana
Muslim Council of Hong Kong

📤 Alhumdulilah the total donated HK$19,250 has been sent to our partners in Ghana.

🍚 They will now buy the food items as give to the poor before their Salatul Eid. That's indeed from the Sunnah. 

🤲 May Allāh Azzawajal accept from all and always guide us to that which is from His book and His Prophet (s).
💝
 Alhumdulilah! Your Zakatul Fitr to MCHK was handled with as per the Sunnah by the mercy of Allah. You donated to us before Eid, we sent the money to our partners inside Ghana before Eid and they managed to buy the food items before Eid to be distributed.
🍚
 From the HK$19,250 collected donation, 60 bags of rice, bottles of oil and some money for the fa
milies to buy bags of onions and other food items were given to 60 families before their Salatul Eid.
Our women especially our mothers, were truly grateful for this support and made lots of duas for those who donated. 



💭

 Kind advice to everyone that for the next Zakatul Fitr, make sure you give as per the Sunnah again and not on Eid day as it's impossible for it to reach the poor before the Eid Salah. May Allah grant us all better understanding of our duties.



🤲

 Rabbana TaqqabAllah Minna Innaka Antas Sameeul Aleem. Oh Allah accept this from us.