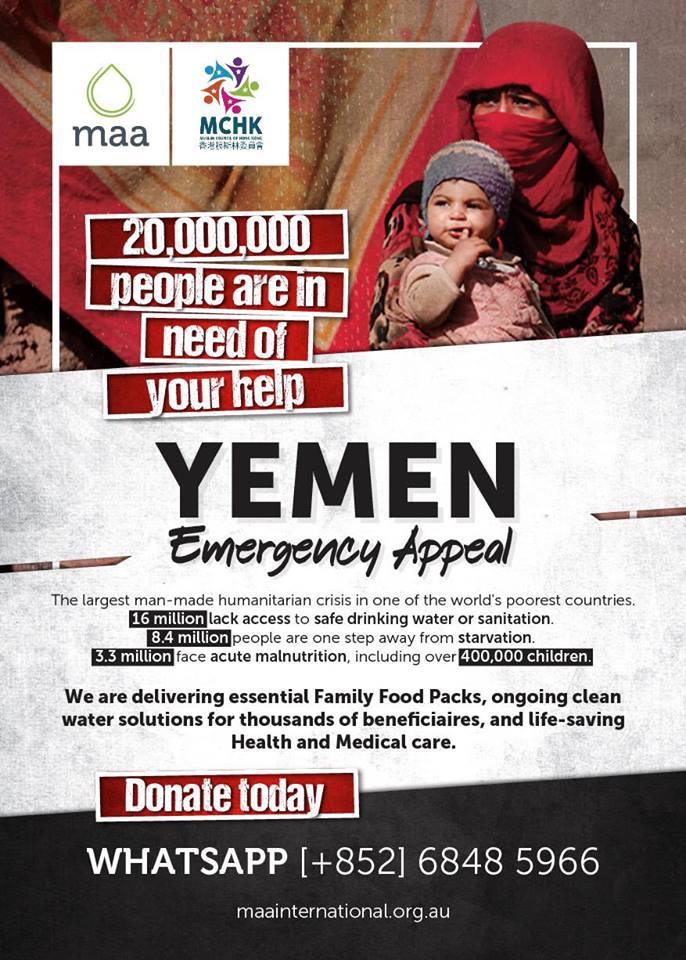 Yemen Emergency Appeal
Muslim Council of Hong Kong
📥 Alhumdulilah more than HK$44,000 has been raised in just over 2 weeks.
🇾🇪 Despite most of us seeing the shocking photos and videos of starving kids and people in Yemen, we are together not doing as much as we can. 
🤝 MCHK are looking to support MAA who have workers inside Yemen and they are running low on funding while looking more support from the Ummah.

✊ MAA have been active for several years in Yemen and now, with our support, they are in sha Allah going to be providing clean water for over 3000 people, food hampers, and health checkups and medicines in Hudeidah, Taiz, Wusab and Amanat Governorates.

🕋 Prophet Muhammad (ﷺ) said:

❝Whoever alleviates the need of a needy person, Allah will alleviate his needs in this world and the Hereafter.❞ 

[Muslim]

🕋 Allah says:

❝And they (the righteous people) give food in spite of love for it to the needy, the orphan, and the captive, [saying], "We feed you only for the countenance of Allah. We wish not from you reward or gratitude.❞ 

[Qur'an 76:8-9]
🔺 100% Donation Policy 
🔺 Zakat and Sadaqa Applicable

🤲 May Allah accept from all who look to help others and ease those who are in need worldwide.