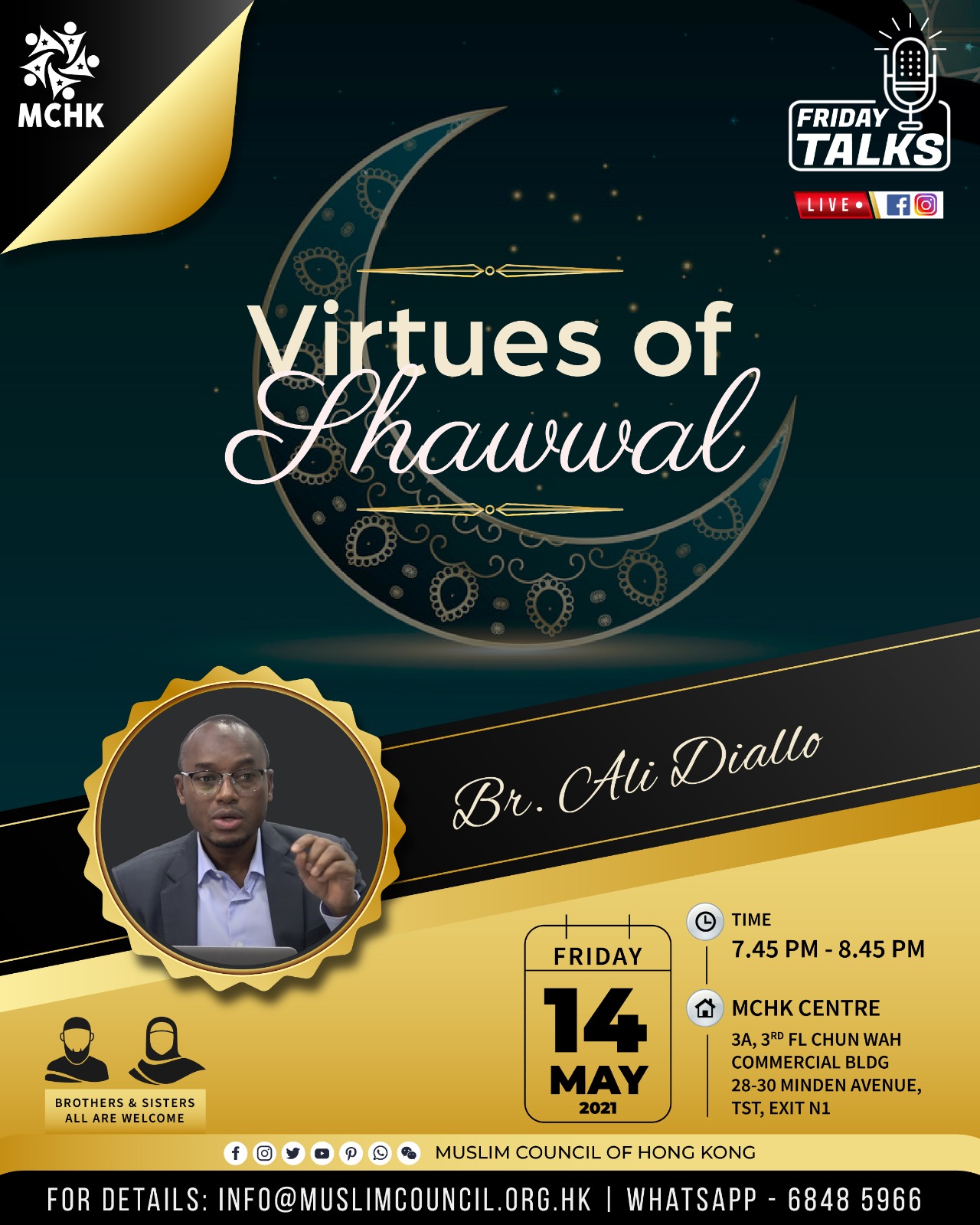 🌙 The beautiful blessing from Allah for His servants who strive for His pleasure is that when one special event ends, there's another one ready to be grabbed.
🌟 With Ramadan ended, Allah and His Prophet ﷺ give us a further opportunity to increase our good deeds bank by observing fasts in the month of Shawwal.
🤝 Muslim Council of Hong Kong humbly invites you all, men and women, Muslims and non-Muslims, to attend this informative talk in person or by watching the live stream on our Facebook, Instagram and Twitter pages in shā Allāh.
👤 Br. Ali Diallo is the president of Hong Kong's African community council. He's a zealous brother who is constantly hungry to seek beneficial knowledge and to spread it.
🕋 Prophet Muhammad ﷺ says: ❝Whoever fasts the month of Ramadan and then follows it with six days of fasting in the month of Shawwal, it will be as if he had fasted the year through.❞ (Sahih Muslim 1163)
✋ So make sure you attend this talk to be part of this gathering of knowledge and remembrance of Allah which is the best of gatherings.
📋 Details in shā Allāh:
🔹 Date: 14-05-2021 (Friday)
🔹 Time: 7.45-8.45pm
🔹 Language: English
🔹 Venue: MCHK Centre, 3A, 3rd Floor Chun Wah Commercial Building, 28-30 Minden Avenue, Tsim Sha Tsui (MTR EXIT N1 or P3)
🔸 Talk will be held at the MCHK centre with social distancing, will also be shown live on MCHK Facebook page (fb.com/muslimcouncilofhk) and uploaded on YouTube channel (https://m.youtube.com/c/MuslimCouncilofHongKong) later in shā Allāh
🔸 Brothers and sisters all welcome for free
🔸 For more info, please whatsapp brother Adeel on +852 6848 5966 or e-mail info@muslimcouncil.org.hk
Attend • Share • Duas