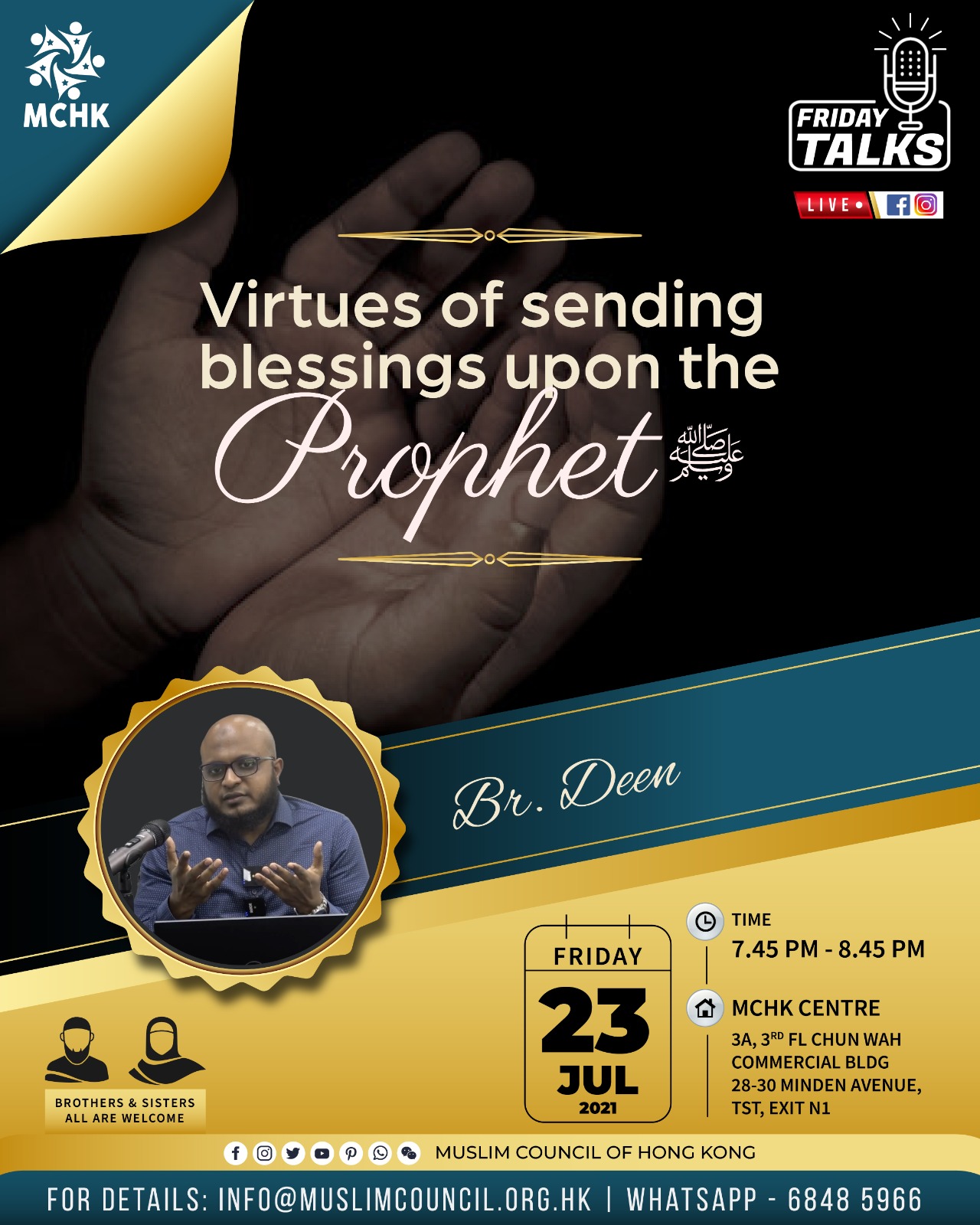 💞 After Allah's remembrance, the most encouraged form of calling a Muslim should be engaged in is sending daroods and salawat upon our beloved Prophet Muhammad ﷺ.
🗣 Muslim Council of Hong Kong wholeheartedly invites you all, men and women, Muslims and non-Muslims, to watch this emaan boosting talk in shā Allāh.
🕋 Above anything, it's a command from Allah as He says:
❝Indeed, Allah showers His blessings upon the Prophet, and His angels pray for him. O believers! Invoke Allah's blessings upon him, and salute him with worthy greetings of peace.❞ [Quran 33:56]
👤 Brother Deen has been involved in the Islamic dawah field in Hong Kong for many years, helping and supporting in whatever capacity he can.
✋ So make sure you attend this talk in person or online to be part of this gathering of knowledge and remembrance of Allah which is the best of gatherings.
📋 Details in shā Allāh:
🔹 Date: 23-07-2021 (Friday)
🔹 Time: 7.45-8.45pm
🔹 Language: English
🔹 Venue: MCHK Centre, 3A, 3rd Floor Chun Wah Commercial Building, 28-30 Minden Avenue, Tsim Sha Tsui (MTR EXIT N1 or P3)
🔸 Talk will be held at the MCHK centre with social distancing, will also be shown live on MCHK Facebook page (fb.com/muslimcouncilofhk) and uploaded on YouTube channel (https://m.youtube.com/c/MuslimCouncilofHongKong) later in shā Allāh
🔸 Brothers and sisters all welcome for free