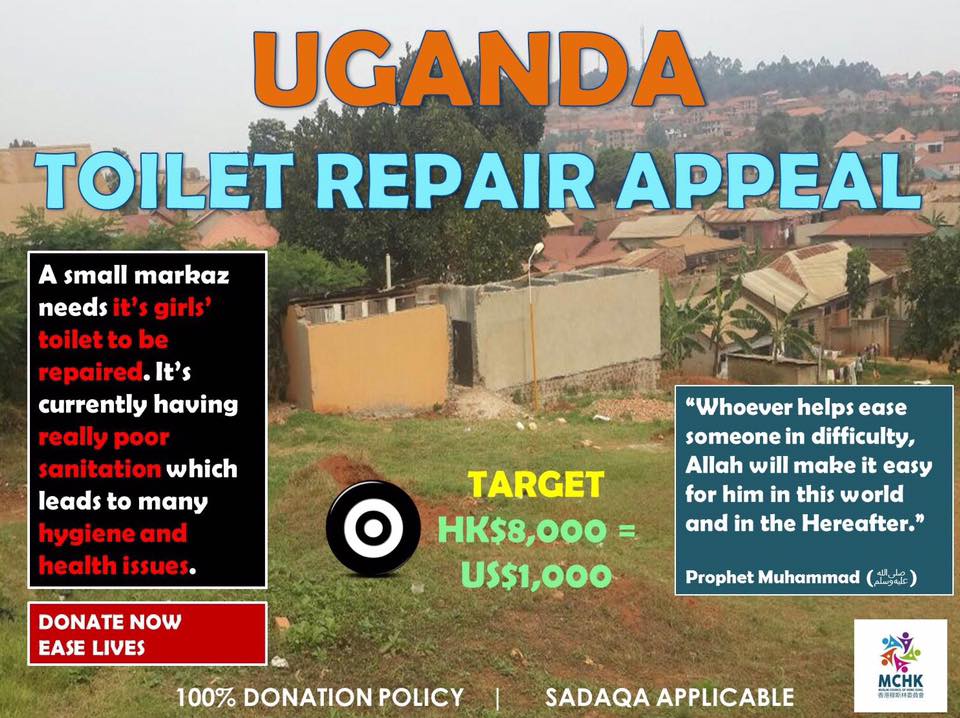 Uganda Toilet Repair Appeal
Muslim Council of Hong Kong
Alhumdulilah! The target of US$1,000 has been reached and now the money is being sent to help those at the Markaz who will use it to repair the girls's toilet of the Markaz in shā Allāh.

Subhan'Allah we don't realise the huge importance of having the right form of sanitation of the toilet. Poor sanitation leads to many health problems including diseases. 

May Allah reward everyone who contributed towards this appeal and all other similar appeals.
🇺🇬 In a small Markaz in Kisassi, Kampala in Uganda, the girls toilet which is used by the Qur'ān studying students and the womenfolk is in a really poor condition. 
〽️Poor sanitation is a root cause for a number of hygiene issues which can cause severe diarrhoea and other health problems. 

🎯 HK$8,000 = US$1,000

🤝 Muslim Council of Hong Kong is appealing to have enough funds to repair the toilet in shā Allāh and this will serve as an excellent form of continuous charity whoever becomes part of it. 

❝Whoever relieves the hardship of a believer in this world, Allah will relieve his hardship on the Day of Resurrection. Whoever helps ease someone in difficulty, Allah will make it easy for him in this world and in the Hereafter.❞ 

[Prophet Muhammad (ﷺ) | Sahih Muslim 2699]
May Allāh Azzawajal accept from you all, make our charity our shade when there's no other and no doubt bring ease to the suffering of the needy around the world.