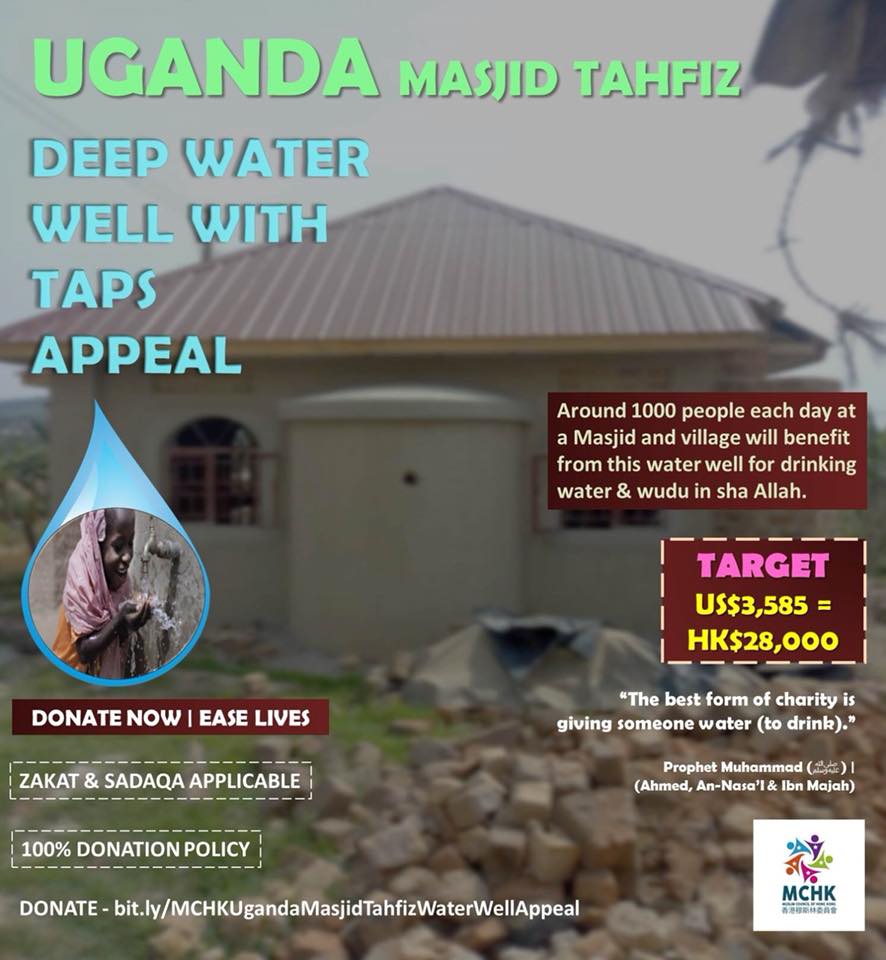 Uganda Masjid Tahfiz Deep Water Well With Taps Appeal
Muslim Council of Hong Kong
Alhumdulilah! The target of HK$28,000 has been reached by the mercy of Allah and then your generous donations! 

Jazak'Allahum Khayr to the donors and we ask Allah to accept this from us like all other good deeds of ours.
🇺🇬 900-1000 people around a masjid in Uganda is in desperate need of a deep water well as the nearest access to water is nearly 2 miles away. 

🤝 Muslim Council of Hong Kong in partnership with the Amikab Community Centre in Uganda are raising to fund building of a borehole deep water well which will connected with two water taps for ease of the 1000 people for drinking and wudu in shā Allāh.
🕋 ❝The best form of charity is giving someone water (to drink).❞ 

[Prophet Muhammad (ﷺ) | Ahmed, An-Nissai and Ibn Majah] 

🗺 The Masjid is located in Kigagga Zone, Wakiso District which is 40 miles from Kampala, the capital city.

🎯 The cost is US$3,585 = HK$28,000

🕋 ❝When a man passes away, his good deeds will also come to an end except for three: Sadaqah Jariyah (ceaseless charity); a knowledge which is beneficial, or a virtuous descendant who prays for him (for the deceased).❞ 

[Prophet Muhammad (ﷺ) | Sahih Muslim]
🔺 This is zakat and sadaqa jariya applicable!

👐 May Allah accept from all, protect the good deeds and ease the suffering of the needy around the world whilst making us the means of their ease.