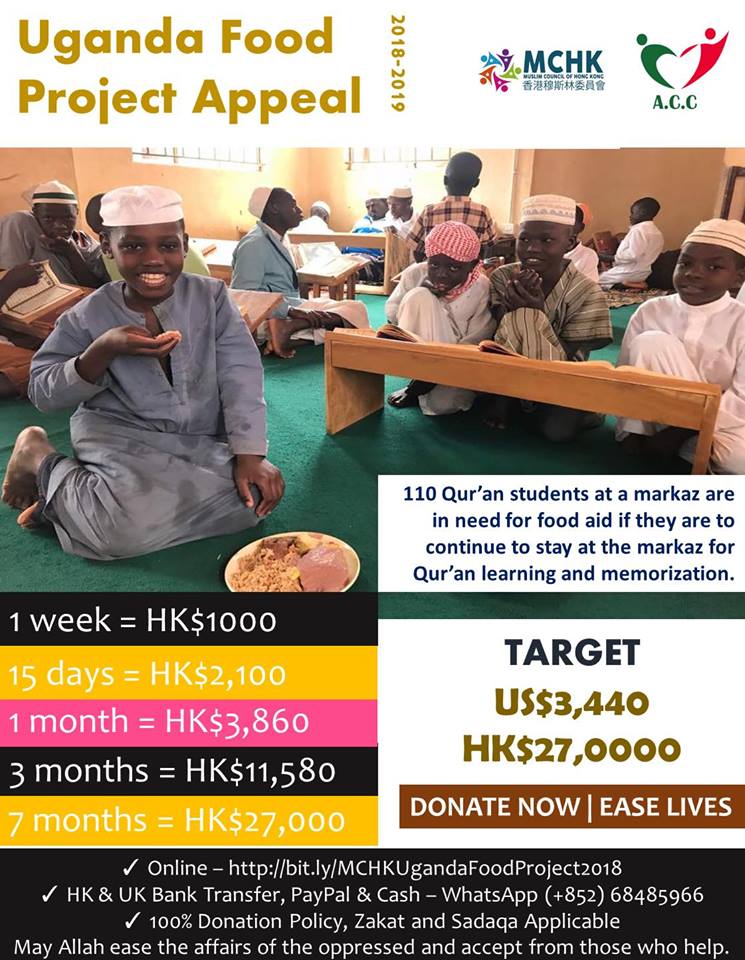 Uganda Food Project Appeal 2018-2019
Muslim Council of Hong Kong
✅ Alhumdulilah the target of HK$27,000 has been reached by the mercy of Allah. 

💸 The total money is now being sent including the charges and in shā Allāh the food will start to be given to the 100 plus students and will last for the next 7 months in shā Allāh.

🤲 May Allāh accept from all who donated and continue to make us people who are yearning to seek His pleasure by doing good deeds.
💭 Alhumdulilah most of us don't have to think twice where our next meal is going to come from. But for many they do wonder...
🤝 Muslim Council of Hong Kong are yet again fundraising to support 110 Qur'ān students at a small Markaz in a village called Mulago Kiwonvu in Kampala, Uganda with basic food for 7 months. It's the same Markaz we supported for last 2 years, during Ramadan and for other projects too Alhumdulilah.

🍚 The total needed to accomplish this project is US$3,440 = HK$27,000. This will provide them with daily rice, flour, maize and little meat to feed the children, including orphans and adults. 

🕋 Prophet Muhammad (ﷺ) said:

❝Whoever alleviates the need of a needy person, Allah will alleviate his needs in this world and the Hereafter.❞ 

[Muslim]

🕋 Allah says:

❝And they (the righteous people) give food in spite of love for it to the needy, the orphan, and the captive, [saying], "We feed you only for the countenance of Allah. We wish not from you reward or gratitude.❞ 

[Qur'an 76:8-9]
🔺

100% Donation Policy 


🔺

 Zakat and Sadaqa Applicable



🙌

 May Allah accept from all who look to help others and ease those who are in need worldwide.