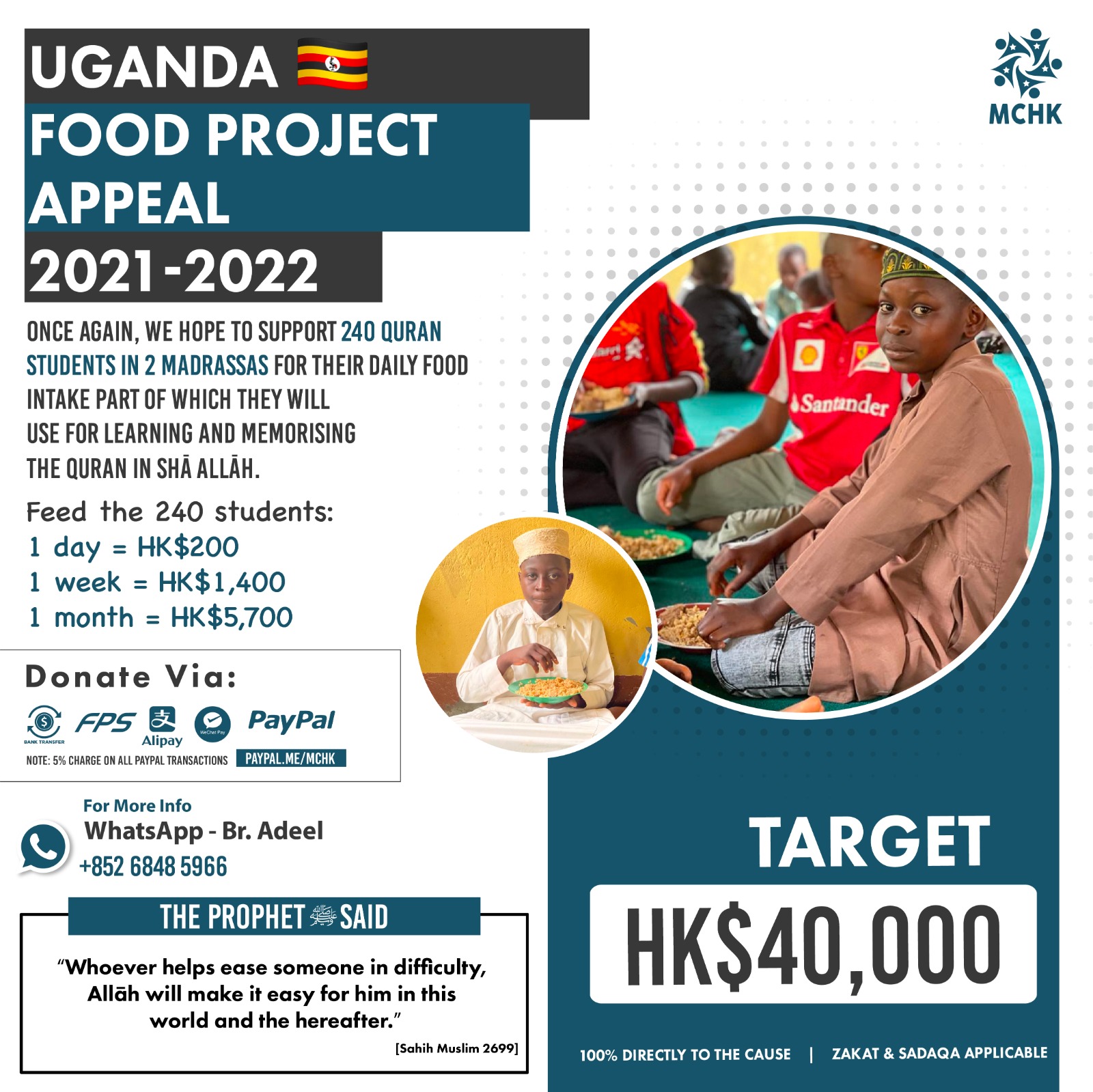 💭 Alhumdulilah most of us don't have to think twice where our next meal is going to come from. But for many they do wonder...
🇺🇬 Once again, Muslim Council of Hong Kong are hoping to support 240 Quran students in 2 madrassas in Uganda for their daily food intake for 7 months which they will use for Quran learning in shā Allāh.
🍚 The total needed to accomplish this project is HK$40,000. This will provide them with daily rice, flour, maize and little meat to feed the children, including orphans and adults.
🕋 Prophet Muhammad (ﷺ) said:
❝Whoever alleviates the need of a needy person, Allah will alleviate his needs in this world and the Hereafter.❞
[Sahih Muslim 2699]
🕋 Allah says:
❝And they (the righteous people) give food in spite of love for it to the needy, the orphan, and the captive, [saying], "We feed you only for the countenance of Allah. We wish not from you reward or gratitude.❞
[Qur'an 76:8-9]
📥 Please support this cause and know your reward is with Allah. Give something on behalf of your parents or other loved ones too.
🤲 May Allah reward everyone who contributes to all types of projects and may He grant ease to those suffering and in need.
📥 You can donate by:
✔️ Bank, FPS, PayMe, WeChat & Alipay Transfer - WhatsApp (+852) 68485966 for more details
✔️ PayPal - paypal.me/mchk
💢 For all bank/PayPal donations, please confirm your donation by sending a WhatsApp message to brother Adeel Malik on (+852) 68485966. And please note there's a 5% charge on all PayPal transactions.
🔹 100% DONATION POLICY
🔹 ZAKAT & SADAQA APPLICABLE