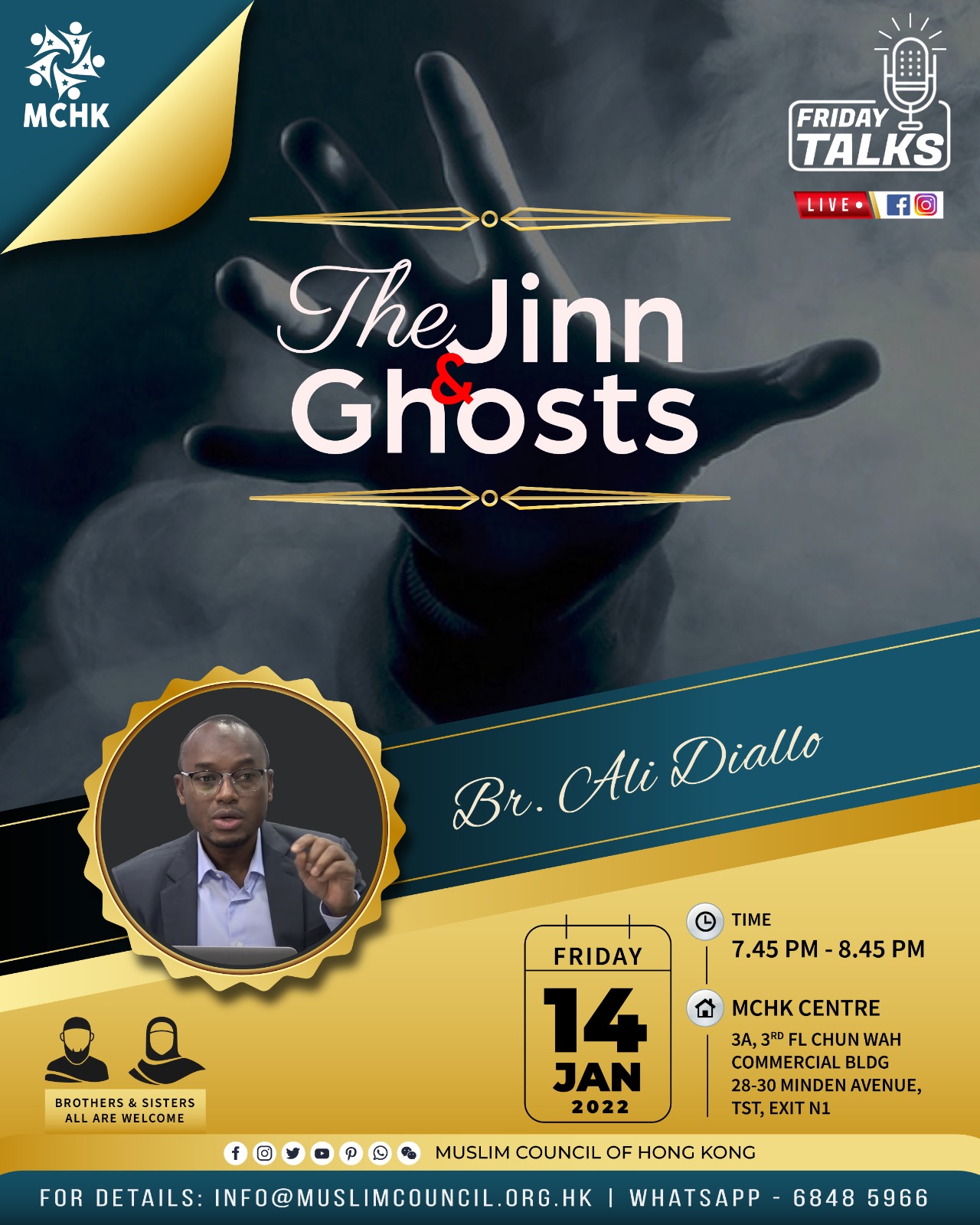 👻 What does Islam says about the existence of ghosts, spirits and demons? And how is all these matters of the unseen to the human eye connected to the beings of Jinn?
🤝 Muslim Council of Hong Kong humbly invites you all, men and women, Muslims and non-Muslims, to attend this informative talk by watching the live stream on our Facebook & Instagram pages in shā Allāh.
🕋 Allah mentioned about Jinn a number of times, here's one: ❝O company of jinn and mankind, did there not come to you messengers from among you, relating to you My verses and warning you of the meeting of this Day of yours?…❞ (Quran 6:130)
👤 Br. Ali Diallo is the president of Hong Kong's African community council. He's a zealous brother who is constantly hungry to seek beneficial knowledge and to spread it.
✋ So make sure you attend this talk to be part of this gathering of knowledge and remembrance of Allah which is the best of gatherings.
📋 Details in shā Allāh:
🔹 Date: 14-01-2022 (Friday)
🔹 Time: 7.45-8.45pm
🔹 Language: English
🔹 Venue: MCHK Centre, 3A, 3rd Floor Chun Wah Commercial Building, 28-30 Minden Avenue, Tsim Sha Tsui (MTR EXIT N1 or P3)
🔸 Talk will be held at the MCHK centre, will be shown live on MCHK Facebook page (fb.com/muslimcouncilofhk) and uploaded on YouTube channel (https://m.youtube.com/c/MuslimCouncilofHongKong) later in shā Allāh
🔸 Brothers and sisters all welcome for free
🔸 For more info, please whatsapp brother Adeel on +852 6848 5966 or e-mail info@muslimcouncil.org.hk
Attend • Share • Duas