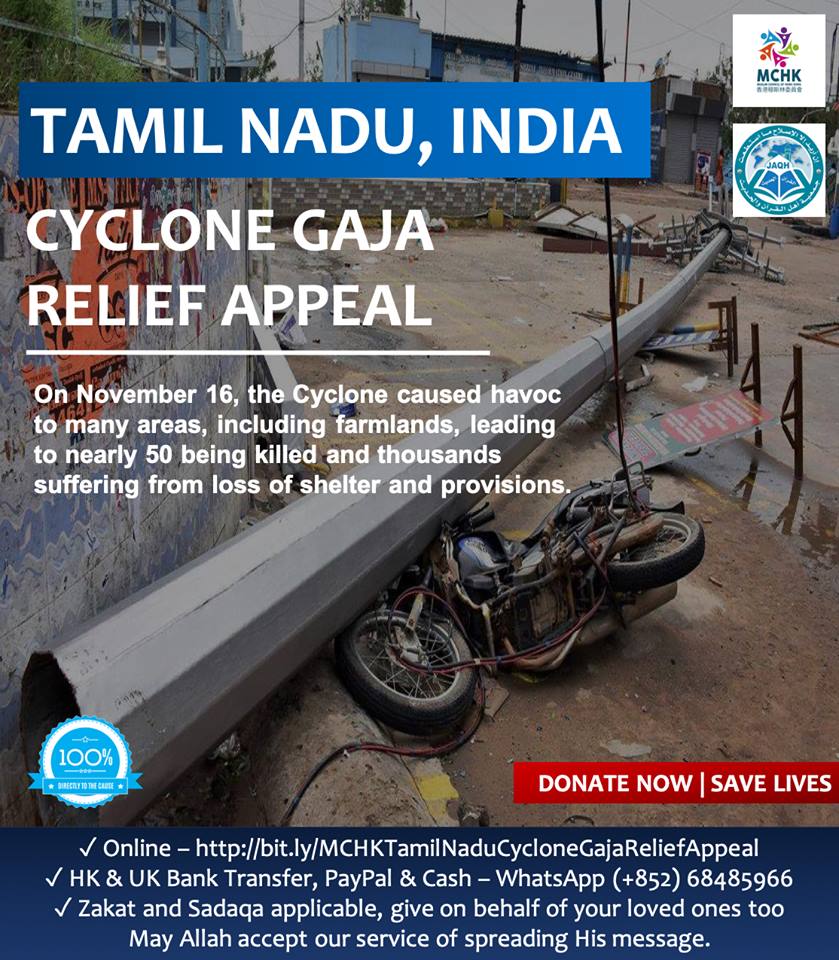 Tamil Nadu Cyclone Gaja Relief Appeal
Muslim Council of Hong Kong
Tamil Nadu Cyclone Gaja Relief Appeal
✊ Alhumdulilah HK$18,000 was raised over the course of a week to ten days.

⚠ A major cyclone caused havoc more than 10 days ago to India's region of Tamil Nadu. It has led to deaths and thousands being affected with their health, food, homes and livelihood. 
🤝 Muslim Council of Hong Kong are looking to work together with a registered charity organisation Jamiyyathu Ahli Quran val Hadees (JAQH) to provide emergency aid to those suffering inside various regions in Tamil Nadu in shā Allāh.

🍚 Most badly affected are agricultural and farm lands, leading to farmers loosing their crops and are being affected emotionally with shocking cases of suicides unfolding too due to their depression state.

🕋 Prophet Muhammad (ﷺ) said:

❝Whoever alleviates the need of a needy person, Allah will alleviate his needs in this world and the Hereafter.❞ 

[Muslim]

🕋 Allah says:

❝And they (the righteous people) give food in spite of love for it to the needy, the orphan, and the captive, [saying], "We feed you only for the countenance of Allah. We wish not from you reward or gratitude.❞ 

[Qur'an 76:8-9]
🔺 100% Donation Policy 
🔺 Zakat and Sadaqa Applicable

🤲 May Allah accept from all who look to help others and ease those who are in need worldwide.