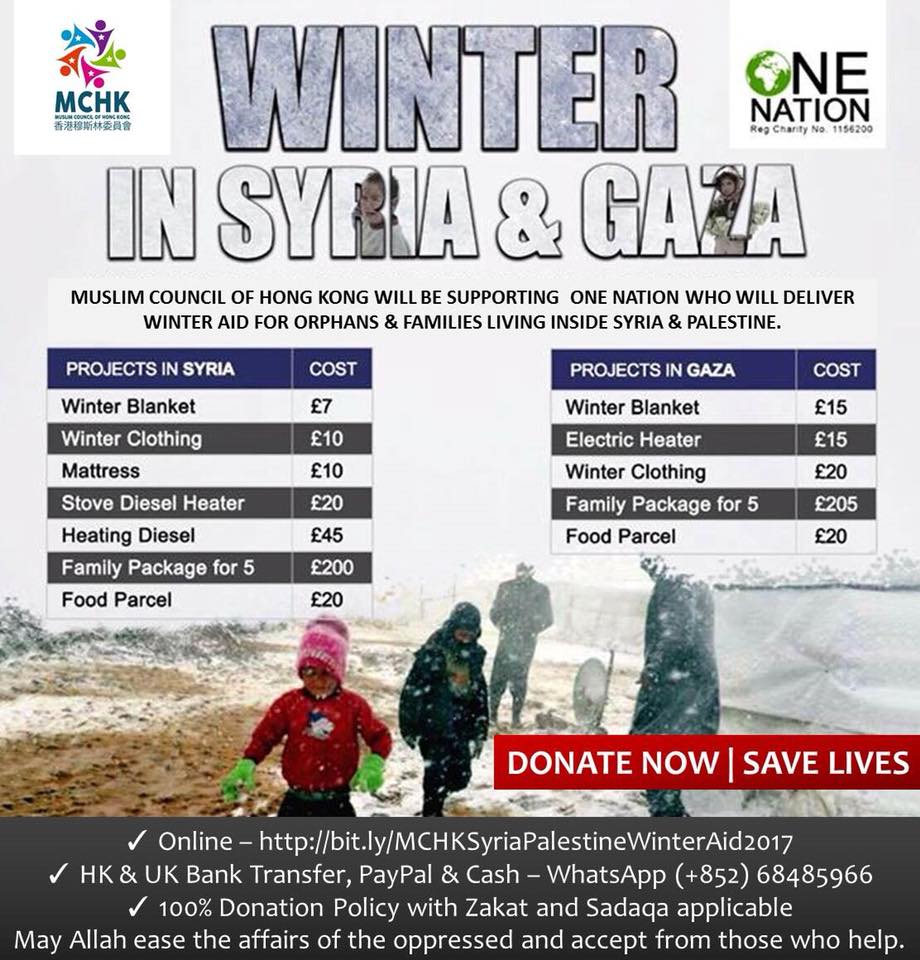 Syria & Palestine Winter Aid Appeal 2017-2018
Muslim Council of Hong Kong
❄️ Winter is approaching and it means thousands of poor people will be in danger of suffering from the low temperatures, especially the people of Syria and Palestine.
🤝 Muslim Council of Hong Kong are yet again partnering with One Nation to provide winter aid to orphans, women and families on the whole living inside Syria and Palestine. 

📥 Your donations will help us to provide the people this winter with 

- warm blanket = HK$70 - HK$150
- warm clothing = HK$100 - HK$200
- mattress = HK$100 
- stove diesel heater = HK$200
- heating diesel = HK$450
- family package for 5 = HK$2,000
- food parcel = HK$200

💪 This is your chance to ease the affairs for those who will suffer and potentially even save their lives.

🕋 Prophet Muhammad (ﷺ) said:

❝Whoever alleviates the need of a needy person, Allah will alleviate his needs in this world and the Hereafter.❞

[Muslim]

🕋 Allah says:

❝And whoever saves one - it is as if he had saved mankind entirely.❞

[Qur'an 5:32]
🔺

100% Donation Policy


🔺

 Zakat and Sadaqa Applicable



👐

 May Allah accept from all who look to help others and ease those who are in need worldwide.