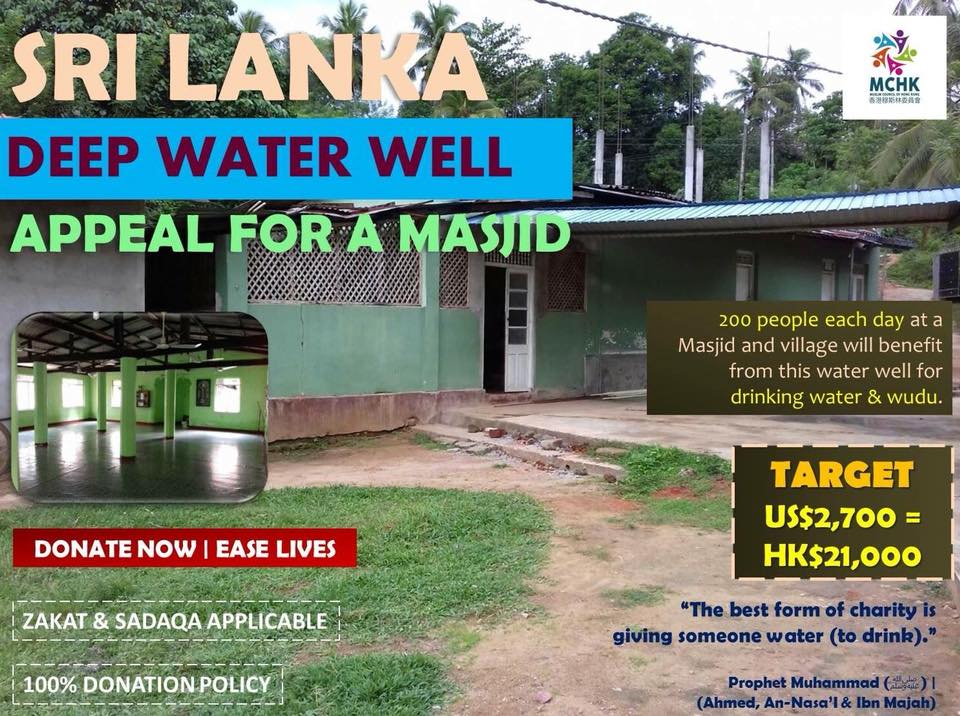 Sri Lanka Masjid Deep Water Well Appeal
Muslim Council of Hong Kong
Alhamdullilah. Target reached. 

May Allah accept from all those who donated and put in their book as a reward each time somebody drinks or does wudu from this 💦 well.


🇱🇰 A masjid in Sri Lanka is in desperate need of a deep water well as the drought and famine is affecting the village and the people in it.

🤝 Muslim Council of Hong Kong in partnership with the Hudha Welfare Association Sri Lanka are raising to fund building of a borehole deep water well from which on average 200 people each day will benefit from for wudu and drinking.
🕋 ❝The best form of charity is giving someone water (to drink).❞ 

[Prophet Muhammad (ﷺ) | Ahmed, An-Nissai and Ibn Majah] 

🎯 The cost is US$2,700 = HK$21,000

🕋 ❝When a man passes away, his good deeds will also come to an end except for three: Sadaqah Jariyah (ceaseless charity); a knowledge which is beneficial, or a virtuous descendant who prays for him (for the deceased).❞ 

[Prophet Muhammad (ﷺ) | Sahih Muslim]
🔺 This is zakat and sadaqa jariya applicable!

👐 May Allah accept from all, protect the good deeds and ease the suffering of the needy around the world whilst making us the means of their ease