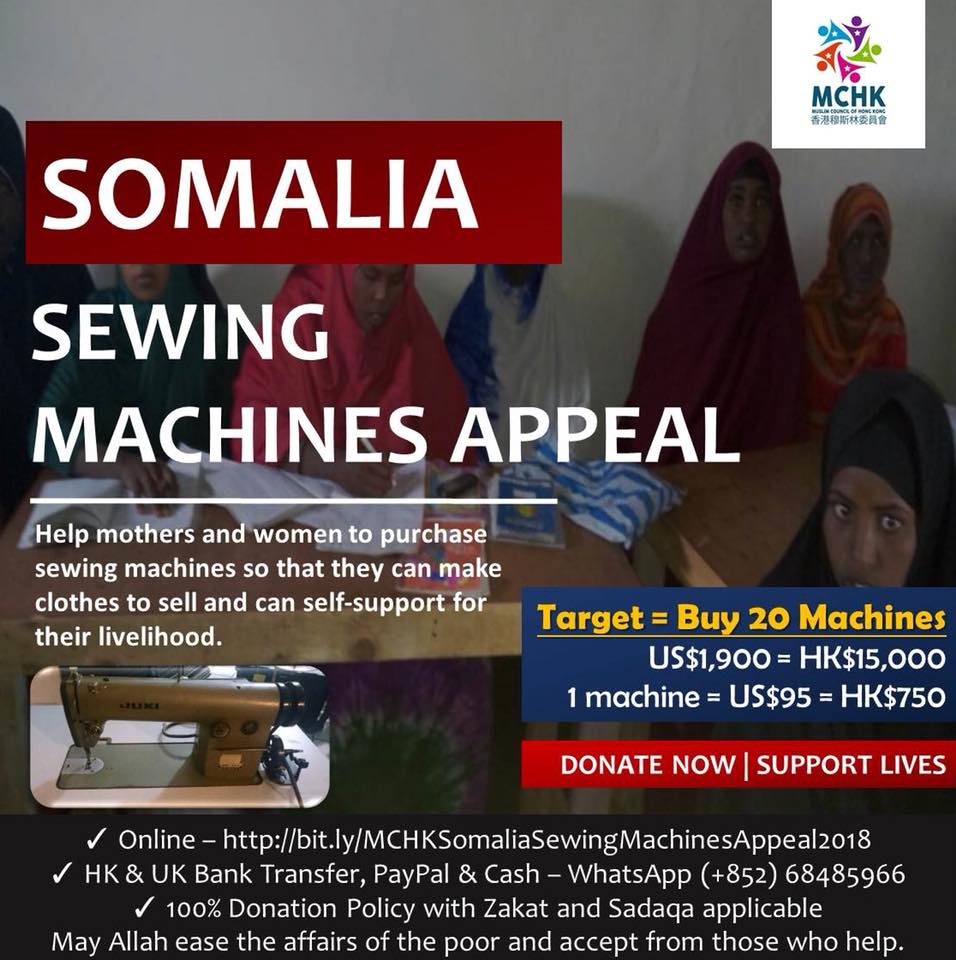 Somalia Sewing Machines Appeal
Muslim Council of Hong Kong
Alhumdulilah! 

✊ The target of raising HK$15,000 to fund 20 sewing machines for our mothers and sisters in Somalia has been reached! 

🤲 May Allah accept from all and bring ease to those in need.
🇸🇴 Our mothers and sisters in Somalia are in real need to purchase sewing machines so that they can self-support themselves of their livelihood. Each cloth sown can be sold for U$S0.50 in shā Allāh.

🤝 Muslim Council of Hong Kong will get again partner with Hikma charity foundation somalia are looking to raise funds to buy at least 20 sewing machines for the women in the region of Garowe, Puntland. Each machine has a life guarantee of up to 7 years.
🕋 ❝Whoever relieves the hardship of a believer in this world, Allah will relieve his hardship on the Day of Resurrection.❞ 

[Prophet Muhammad (ﷺ) | Sahih Muslim 2699] 

🎯 The cost for one machine is US$95 = HK$750. We hope to raise US$1,900 = HK$15,000 which will allow us to purchase 20 sewing machines.

🕋 ❝When a man passes away, his good deeds will also come to an end except for three: Sadaqah Jariyah (ceaseless charity); a knowledge which is beneficial, or a virtuous descendant who prays for him (for the deceased).❞ 

[Prophet Muhammad (ﷺ) | Sahih Muslim]
🔺

 This is zakat and sadaqa jariya applicable!



👐

 May Allah accept from all, protect the good deeds and ease the suffering of the needy around the world whilst making us the means of their ease.