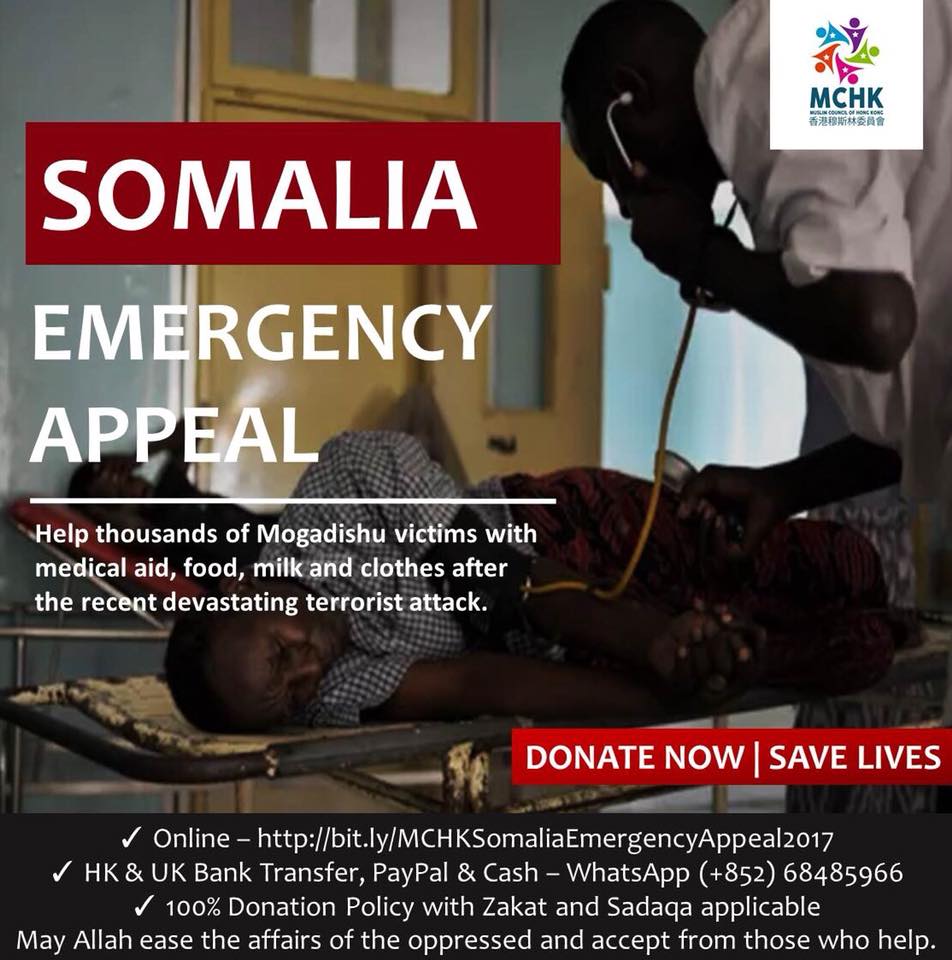 Somalia Emergency Appeal 2017
Muslim Council of Hong Kong
⛔️ In October, a devastating terrorist truck attack took the lives of more than 300 people along with many being injured in Mogadishu, Somalia.

🤝 Muslim Council of Hong Kong fundraised to support the victims and the families in November. Alhumdulilah we raised HK$30,000 and sent to our partners on the ground, Hikma charity foundation somalia.

✊ The donation money helped to provide cash aid to 60 families in order to rebuild their lives including the young people.

🤲 May Allāh Azzawajal accept from all and ease the suffering of the needy people. 

📥 Do YOU want to be part of the goodness we at MCHK are trying to implement? Then, become our monthly donor please! You can give any amount per month, HK$100, HK$200, HK$500 or whatever and know for every $ donated your reward remains with Allah and the money will be put towards the expenses of running the centre and other Dawah work in shā Allāh! Get in touch with us!
🚨 On 14th October, Somalia's busy city of Mogadishu was attacked by terrorists who used truck bombing which led to at least 300 people dead and thousands injured including little children, women and elderly.
🤝 Muslim Council of Hong Kong are partnering with Somalia's HIKMA Charity Foundation who are looking to help one of the busiest hospitals, Madina Hospital which is flooded with most of the victims. 

📥 The doctors are in desperate need of medicines, food, milk and clothes for those affected by the blast. Your donations will not just bring some ease to the poverty stricken and now violence stricken people, but also potentially save lives in sha Allah. 

🕋 Prophet Muhammad (ﷺ) said:

❝Whoever alleviates the need of a needy person, Allah will alleviate his needs in this world and the Hereafter.❞

[Muslim]

🕋 Allah says:

❝And whoever saves one - it is as if he had saved mankind entirely.❞

[Qur'an 5:32]
🔺

100% Donation Policy


🔺

 Zakat and Sadaqa Applicable



👐

 May Allah accept from all who look to help others and ease those who are in need worldwide.