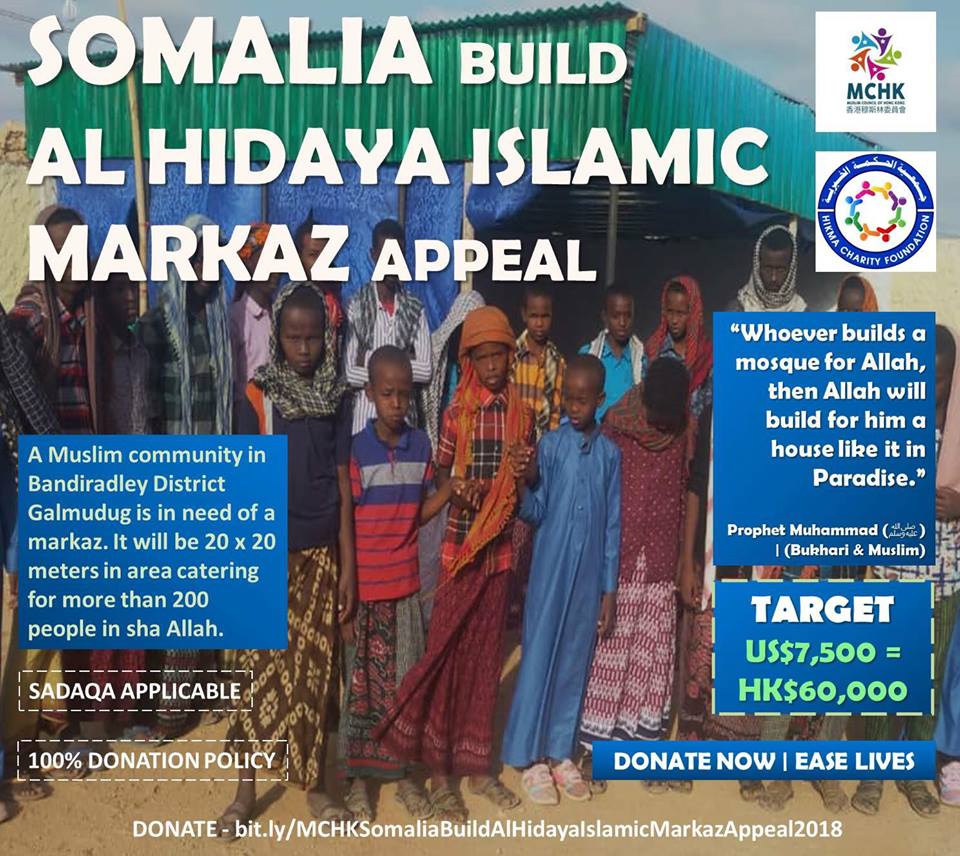 Somalia Build Al Hidaya Islamic #Markaz Appeal
Muslim Council of Hong Kong
Alhumdulilah target reached! ☺️

May Allah accept from all who gave for His sake no matter what amount and bring ease to those in need.
🇸🇴 For a small Muslim community in Bandiradley District Galmudug is in need of a markaz for their children to learn the book of Allah, have their salah prayed in and learn about Islamic teachings.
🤝 Muslim Council of Hong Kong are yet again going to work together with Hikma charity foundation somalia, a registered NGO inside Somalia, to fundraise for a makraz with an area of 20 x 20 meters, which will in sha Allah cater nearly 200 people, including children and adults. 

✊ With your donations, we hope to provide this community a secure and safe place where the salah can be prayed in jammah, children and adults can learn the Quran, including memorization and topics such as aqeedah, seerah, fiqh and arabic language are taught as per the teachings of the Quran and the authentic Sunnah upon the practice of the early righteous Muslims.

❝Whoever guides someone to goodness will have a similar reward.❞ 

[Prophet Muhammad (peace be upon him) | Sahih Muslim 1893] 
🔺

 Sadaqa jariya applicable! 



👐

 May Allah enable us to be quick to spend in His path, protect our good deeds and bring ease to those in need.