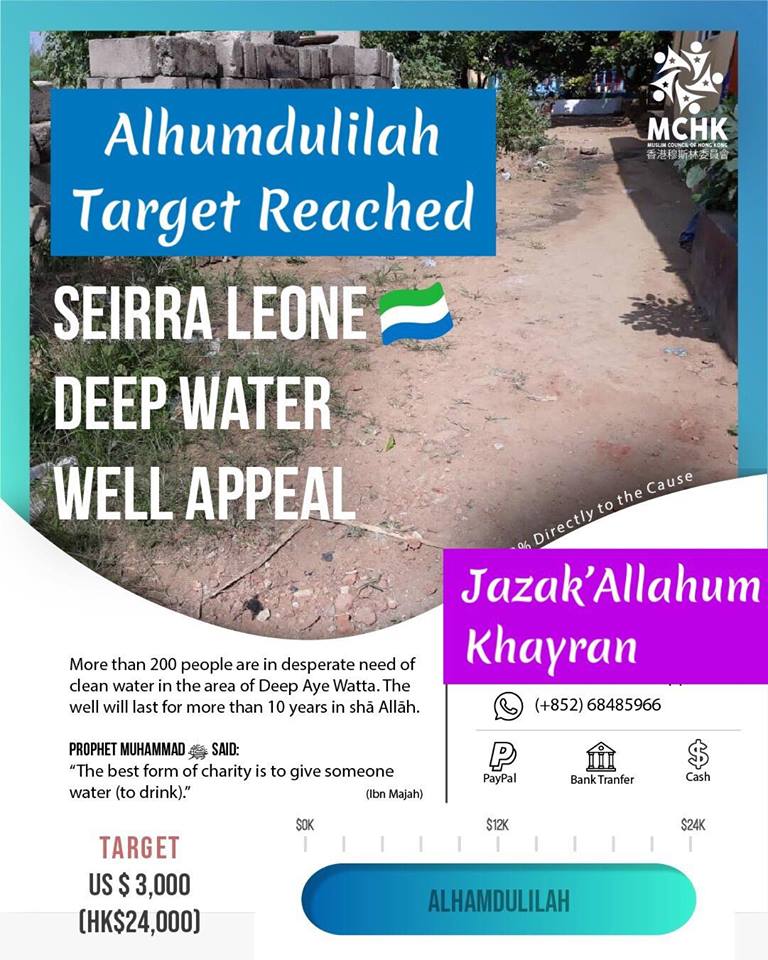 Sierra Leone Water Well Appeal
Muslim Council of Hong Kong
Sierra Leone 🇸🇱 Water Well Appeal

Alhumdulilah! HK$24,000 raised in 5 days. Alhumdulilah! 

May Allah Azzawajal accept from all and make this a means of ease for all being in need.
🇸🇱 More than 200 people are in desperate need of access to clean water without travelling too far in the area of Deep Aye Watta. 
🤝 Muslim Council of Hong Kong in partnership with a local registered charity organisation are raising to fund building of a deep water well which will last for more than 10 years in shā Allāh used for wudu and drinking.

💦 ❝The best form of charity is giving someone water (to drink).❞ 

[Prophet Muhammad (ﷺ) | Ahmed, An-Nissai and Ibn Majah] 

🎯 The cost is US$3,000 = HK$24,000

🌱 ❝When a man passes away, his good deeds will also come to an end except for three: Sadaqah Jariyah (ceaseless charity); a knowledge which is beneficial, or a virtuous descendant who prays for him (for the deceased).❞ 

[Prophet Muhammad (ﷺ) | Sahih Muslim]

💝 So, don't think twice, give some of your wealth for the sake of Allah and know it can be your sadaqa jariyah even after your death. Donate even on behalf of your parents or other loved ones.