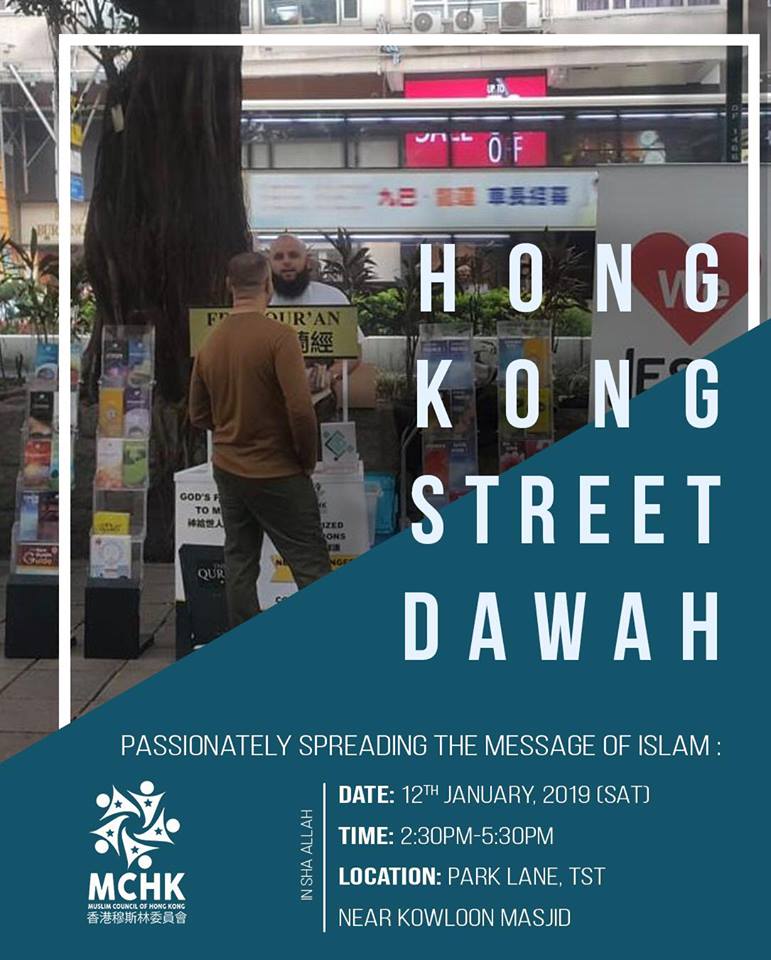 From 14:30 until 17:30
At Park Lane Shopper's Boulevard, Tsim Sha Tsui
✊ One of the biggest challenges is to keep a project going on and on in a busy city like Hong Kong, but Alhumdulilah we are being able to do that.
⠀⠀⠀⠀⠀⠀⠀⠀⠀⠀⠀⠀
🤝 Alhumdulilah 7 brothers invested 1-2 hours of their time from their weekend to join the Islamic stall and spread the message of Islam with smiles, passionate and good body language. 

📚 By the mercy of Allah, we managed to give out more than 15 copies of the Quran in Chinese and English translations to local Hong Kong, mainland Chinese and other ethnic people including Muslims. 

🌟 The highlight of the day was having conversations with one elderly Chinese man who didn't believe there needs to be religion and an elderly Arab woman who was aggressive towards our dawah saying we are not Arabs so we are brainwashed and that Islam is the anti-Messiah. Alhumdulilah we kept our cool and did our best to clear their misconceptions.

✊ We continue to do Street Dawah every Saturday, being supported by various Islamic organisations and individuals locally and internationally. Alhumdulilah for all the support we are getting for this precious work.

🤲 May Allah guide all those who got the message from us, accept our little sincere efforts and continue to use us for His work.