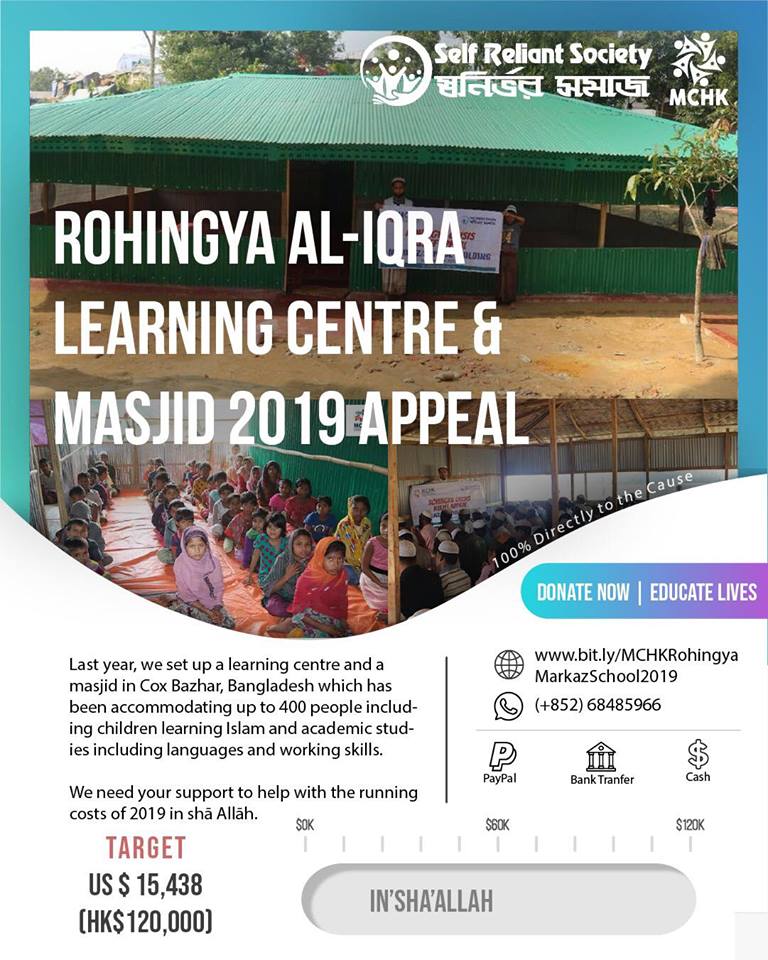 Rohingya Al-Iqra Markaz & Learning Centre Appeal 2019
🇧🇩 Last year, by the mercy of Allah and then your generous donations, we managed to set up a learning centre and a masjid which has been accommodating up to 400 people including children learning about Islam and academic studies comprising of languages and working skills.
🤝 Muslim Council of Hong Kong together with Self Reliant Society, a local registered charity organisation in Bangladesh are looking for your help to continue with this centre and markaz for one of the most suffering ethnic minorities in the world, the Rohingya. Target Needed = US$15,438 = HK$120,000
📋 Here is a breakdown of how this amount will be used in shā Allāh: One time expenses
🔸 US$2,500 = Books for students
🔸 US$1,250 = School bags for students Overall monthly expenses
🔹 US$3,000 = 1 year salary for Imam teaching Islamic studies based upon Quran and authentic ahadeeth only and academic teacher focusing especially on language abilities and other useful skills
🔹 US$7,488 = 1 year cost for exercise books, stationary and other educational materials for students
🔹 US$1,200 = 1 year transportation cost for teachers
✊️ MCHK has been helping the Rohingya refugees with food, water wells, home shelters, medical aid and better sanitation systems Alhumdulilah. Now it's time we continue to look after educating our young Ummah.
💌 Please brothers and sisters, keep helping them with your #duas and #donations so that we can continue to help the hundreds and thousands of the needy.
🕋 Prophet Muhammad (peace be upon him) having said for those who help others in need: ❝Whoever helps ease someone in difficulty, Allah will make it easy for him in this world and in the Hereafter.❞ [Sahih Muslim 2699]
💰 You can donate by:
✔️ Direct - http://bit.ly/MCHKRohingyaMarkazSchool2019
✔️ PayPal - paypal.me/mchk
✔️ Bank Transfer - WhatsApp (+852) 68485966 for more details
✔️ WeChat Transfer - muslimcouncilhk
🔺 100% donation policy
🔺 Sadaqa jariyah applicable
👐 May Allāh Azzawajal accept from all who are involved in such priceless projects and bring ease to all who are suffering from poverty and oppression worldwide. — in Cox's Bazar, Bangladesh.