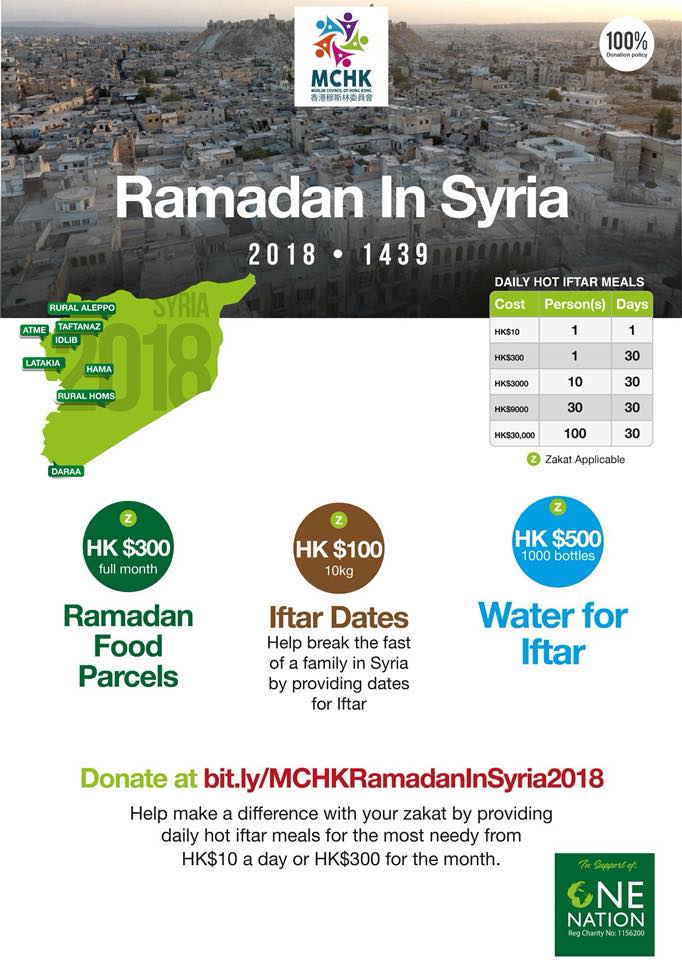 Ramadan in Syria Appeal 2018
Muslim Council of Hong Kong
🍃 The most blessed month is almost near, and while most of us won't have much issue in having enough food for suhoor and iftar, however there are those who won't, especially in places like Syria.
🤝 Muslim Council of Hong Kong are yet again partnering with One Nation who have been aiding the people of Syria for many years and will continue to do so along with other charity organisations. 

✊ With your donations, we hope to provide daily hot food for Iftar, food parcels, flour for fresh bread, clean water and much more for the people in areas such as Idlib, Rural Aleppo, Hama, Lattakia and Rural Homs throughout Ramadan in sha Allah. 

❝Whoever feeds a person breaking his fast will earn the same reward as him without anything being lessened from the reward of the fasting person.❞

[Prophet Muhammad (peace be upon him) 
| Sunan al-Tirmidhi 807]

🥘 From HK$10 per person for 1 day to HK$300.00 which will provide a fasting persons iftar for the whole month alhumdullilah.

Food Parcels

HK$300 for 1 food parcel for the month of Ramadan

🍞 Flour for Fresh Bread

HK$150 for 50kg - Feeds 60 families

HK$1500 for 500kg - Feeds 600 families

🌴 Dates for Iftar 

Help break the fast of a Syrian family this Ramadan by providing dates.

HK$100 for 10kg

HK$1000 for 100kg

🥔 Potatoes for Syria

HK$50 for 20kg

HK$2400 for 1 ton

HK$60,000 for 1 full truck

💦 Water for Iftar

HK$100 for 200 Bottles

HK$500 for 1000 Bottles

HK$5000 for 10,000 Bottles

❝Whoever relieves the hardship of a believer in this world, Allah will relieve his hardship on the Day of Resurrection.❞ 

[Prophet Muhammad (peace be upon him) | Sahih Muslim 2699]
🔺 This is zakat and sadaqa jariya applicable! 

👐 May Allah accept from all, protect the good deeds and ease the suffering of the needy around the world whilst continously making us the means of their ease.