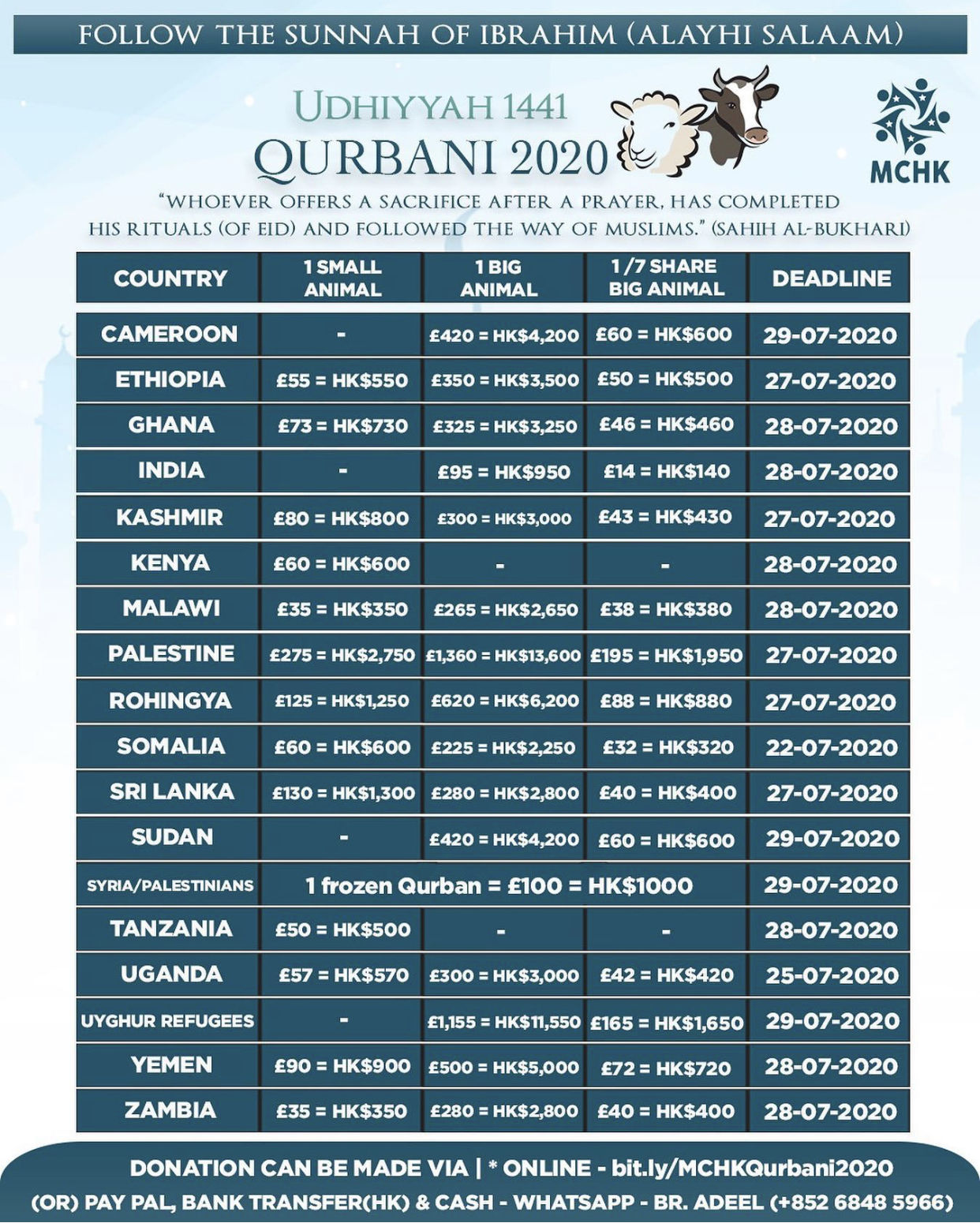 Your #Udhiya / #Qurbani means more than just meat...
🐑 This #Eid-ul-Adha, share your blessings of Qurbani with those Muslims of the Ummah most in need around the world.
💰 Donate - bit.ly/MCHKQurbani2020
🤝Muslim Council of Hong Kong is once again partnering with international registered charity organisations to provide poor Muslims the blessing of the Qurbani for this year in sha Allah.
✊Alhumdulilah last year, YOU donated HK$100,000 towards our Qurbani appeal. This year, we pray we can do the same or better in shā Allāh, all for the pleasure of Allah.
🕋 Prophet Muhammad (s) said in 2 famous ahadeeth about the importance and virtues of doing sacrificing an animal for the sake of Allah during 10th of Dhul Hijjah:
❝Whoever offers a sacrifice after the prayer has completed his rituals (of Eid) and has followed the way of the Muslims.❞
[Bukhari 5545]
❝For every hair of the Qurbani you will receive a reward from Allah, and for every strand of its wool you will receive a reward.❞
[Tirmidhi]
🙌 Donations will be collected and sent to the various countries on specified dates. As per the Sunnah, once they receive the money, they will only offer the Qurbani once they have prayed Salatul Eid.
📖 Allah says:
❝It is neither their meat nor their blood that reaches Allah, but it is piety from you that reaches Him. Thus have We made them subject to you that you may magnify Allah for His Guidance to you. And give glad tidings to the Muhsinun (doers of good).❞
[Quran 22:37]
📥Please support them and know your reward is with Allah. You will be supporting children, widows, orphans, elderly, unemployed and above all those who believe in Allah and His Rasool (s).
💰 You can donate by:
✔️ Direct -
bit.ly/MCHKQurbani2020
✔️ Bank transfer, PayPal, Wechat, Alipay, FPS, PayMe - WhatsApp (+852) 68485966 for more details.
🤲 May Allah accept from all, protect the good deeds and ease the suffering of the needy around the world whilst making us the means of their ease.