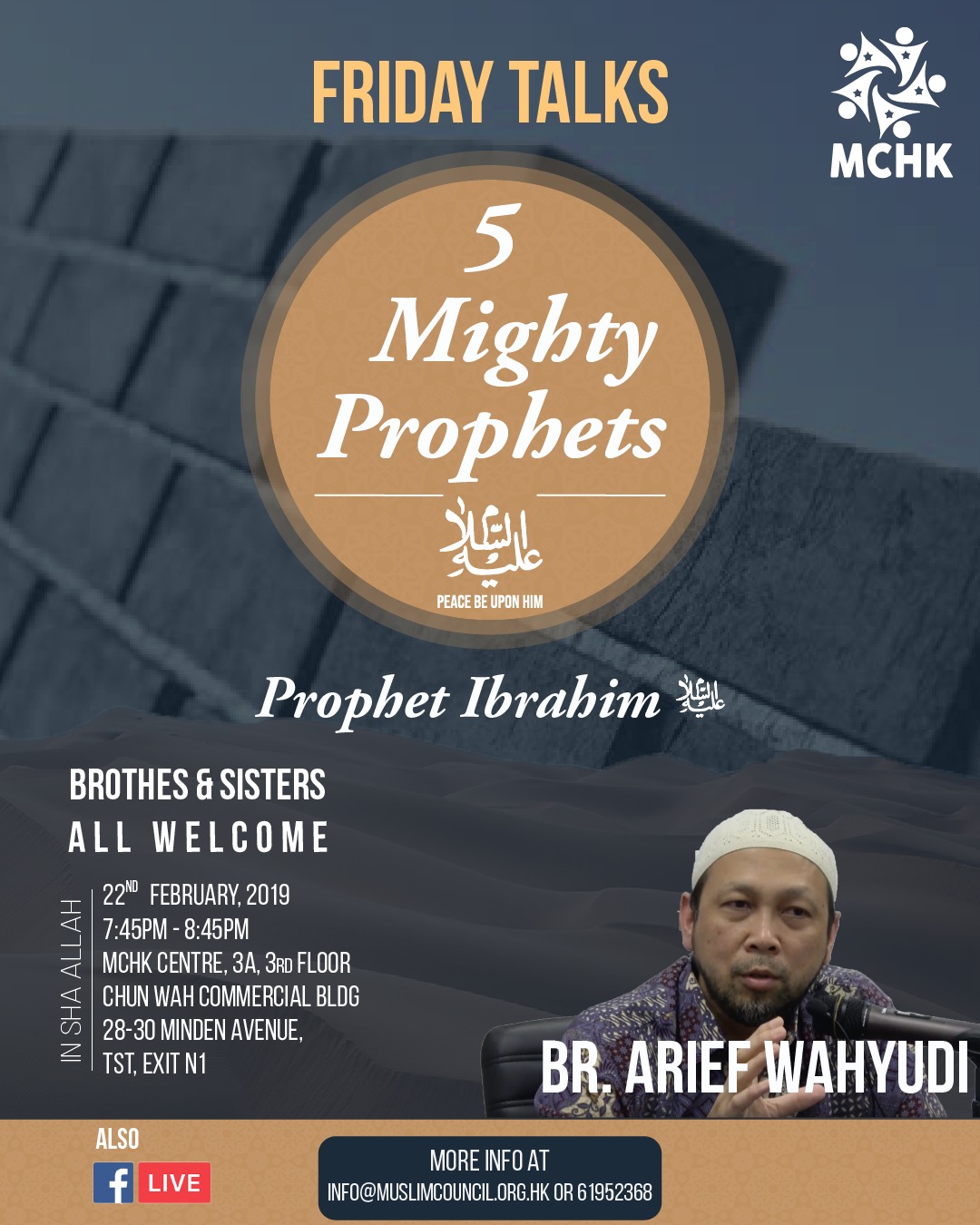 From 19:45 until 20:45
The 5 Mighty #Prophets (عليه السلام) - Prophet #Ibrahim (عليه السلام) | Br. Arief Wahyudi
🌟 In a time when morally righteous role models are almost none, we have to go back and learn from those who were given their high ranks by Allah.
🎥 This is the 2nd part of the series. Watch all - https://www.youtube.com/playlist?list=PLUsw6l8z0AKfvQiSHQY6mC2zSTrfJ57Am
🗂 This is a 5 part series on the 5 highly noble and inspiring Prophets of Allah, the Ulul'azm Anbiya. We have heard their names, even know their stories, but a believer needs reminding and rechecking our affairs as per their ways.
🗣 Muslim Council of Hong Kong earnestly invites you all to attend this talk to be aspired by some of the events that took place in the blessed life of Prophet Ibrahim (عليه السلام).
👤 Brother Arief Wahyudi is a passionate and charismatic speaker who has been a seeker of knowledge for years and delivering lectures and talks esepcially to his community.
🕋 Allāh declared the five, though all Prophets and Messengers are of high character:
❝He (Allah) has ordained for you the same religion (Islam) which He ordained for Nuh (Noah), and that which We have inspired in you (O Muhammad SAW), and that which We ordained for Ibrahim (Abraham), Musa (Moses) and 'Iesa (Jesus) saying you should establish religion (i.e. to do what it orders you to do practically), and make no divisions in it (religion) (i.e. various sects in religion)...❞
[Qur'an 42:13]
✋ So make sure you attend this talk preferably in person as the angels who make dua for us are present in such gatherings or at least online to be part of this gathering of knowledge and remembrance of Allah which is best of gatherings.
📋 Details in shā Allāh:
🔹 Date: 22-02-2019 (Friday)
🔹 Time: 7.45-8.45pm
🔹 Venue: MCHK Centre, 3A, 3rd Floor Chun Wah Commercial Building, 28-30 Minden Avenue, Tsim Sha Tsui (MTR EXIT N1 or P3)
🔸 Talk will be shown live on MCHK Facebook page and uploaded on YouTube channel later in shā Allāh
🔸 Brothers and sisters all welcome for free
🔸 Light refreshments provided
🔸 For more info, please whatsapp brother Ridwan on +852 6195 2368 or e-mail info@muslimcouncil.org.hk
Attend | Share | Duas