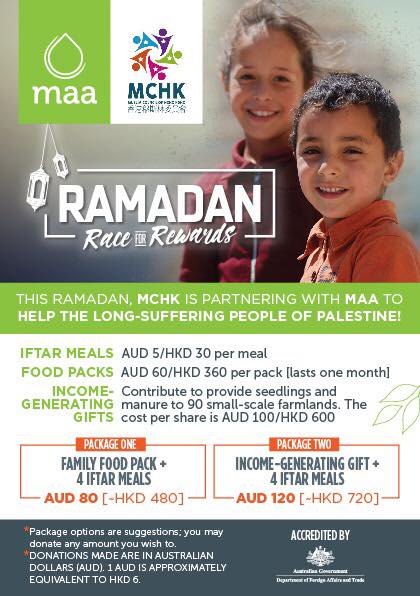 Palestine Ramadan Appeal
Muslim Council of Hong Kong
🇵🇸 Your generous donations to help the blessed people of Palestine during the blessed month of#Ramadan allowed us to distribute food to the people in a unique way. 

✊ Muslim Council of Hong Kong managed to raise more than HKD100,000 for this appeal and our partner Muslim Aid Australia (MAA) arranged a dignified way of the people to collect free food. Alhumdulilah. They arranged a supermarket style collect of the food. 

🛒 The people were given food vouchers and were told to use a trolley to get whatever they are able to from the market set up. This allowed them to firstly get what they feel they want and secondly gave them the experience of a shopping which most may not have done before.

💞 As it can be imagined, the brothers and sisters were extremely grateful. They made plenty of duas for the donors and fittingly for the organizers. 

🤲 Oh Allah, this is all to seek Your pleasure and we ask You to accept from all while bringing ease to the people struggling worldwide.
⚠️ Denied freedom of movement and many human rights, more than 1.7 million Palestinians are stuck in limbo, unable to enter or leave the Gaza Strip. As a result, they lack access to nutritious food, adequate medical care, and the ability to work and pursue education.
🤝 Muslim Council of Hong Kong are partnering once again with Muslim Aid Australia MAA. For many years, MAA has been working on the ground to provide ongoing support through food aid, winter aid distributions, orphan aid support, livelihood provisions, and education.

✋ HOW YOU CAN HELP:

🔹 Iftar Meals: AUD 5 [approximately HKD 30 per meal]

🔹 Family Food Packs that last a month: AUD 60 [approximately HKD 360 per pack]

🔹 Income-generating Gifts: Contribute to provide seedlings and manure to 90 small-scale farmlands. The cost per share is AUD 100 [~HKD 600 per share]

📥 To make it easy for you, we've put together two packages below:

🔸 Package 1: For AUD 80 [~HKD 480], donate 1 Family Food Pack + 4 Iftar Meals

🔸 Package 2: For AUD 120 [~HKD 720], donate 1 share of Income-generating Gift + 4 Iftar Meals

💪 This Ramadan, with your support, we can help the long-suffering people of Palestine!

🕋 Prophet Muhammad (peace be upon him) having said for those who help others who fast:

❝Whoever feeds a person who is breaking his fast will earn the same reward as him without anything being lessened from the reward of the fasting person.❞

[Sunan At-Tirmidhi 807]
🤲 May Allah reward everyone who contributes to this project and every other similar project and may He grant ease to those who wishes to keep fasts.

🔺 100% DONATION POLICY (after the PayPal and sending charges)

🔺 ZAKAT/SADAQA APPLICABLE