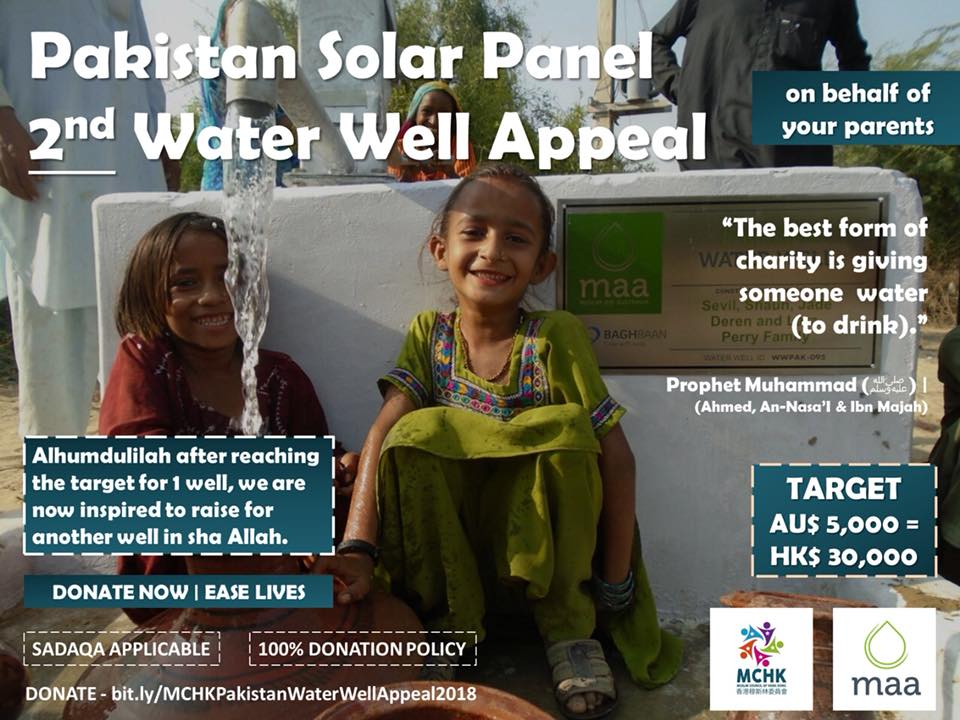 Pakistan Solar Panel 2nd Water Well Appeal
Muslim Council of Hong Kong

💓 Alhumdulilah! The second water well target reached! Yes, again, this is due to Allah's mercy and then YOU wonderful and generous people! Subhan'Allah this Ummah is just awesome! 

🤲 May Allah accept from each and every donor and make this a long long sadaqa jariyah for all involved.

✊ There's still 2-3 days in Ramadan, so we intend to launch a 3rd water well in shā Allāh!
💦 After the success of raising for one well, here we are raising for the second one during these precious remaining days and nights. 

🌟 It's the night of 27th Ramadan. Make sure brothers and sisters you give something, anything, in charity especially to one which provides water to drink and is a continuous charity like this. By Allah, if it's Laylutal Qadr + Jummah, major rewards up for grabs in shā Allāh!

🍂 No matter what we do on behalf of our beloved parents, it can never be enough to repay for their sacrifices and care of us as their precious children. 

🤲 But still, we ought to do whatever we can to show our gratefulness and appreciation for them and above to Allah for granting us these awesome parents. So yes, giving in charity for them is one of the best things we can do in the hope Allah raises their status in Jannah in sha Allah. 

🤝 MCHK once again in partnership with MAA is raising HKD 30,000 (~AUD 5,000) to fund a solar-powered water well in Pakistan that will help approximately 100 families in drought-hit areas. 

☀️ Solar-powered water wells use energy generated by sunlight to provide communities with water in a way that protects the environment and is cost-effective. 

🇵🇰 With Pakistan blessed with over 300 days of sunshine every year, this is a SMART way to provide water for the daily needs of the community, and for agriculture and farming.

🌱 THIS IS A SADAQAH JARIYAH PROJECT!

Sadaqah Jariyah: A continuous charity which will provide you with rewards for as long as people benefit from your good deeds. The Prophet (peace be upon him) said:

❝When a man passes away, his good deeds will also come to an end except for three: Sadaqah Jariyah (ceaseless charity); a knowledge which is beneficial, or a virtuous child who prays for him (for the deceased).❞ 

[Narrated by Abu Hurairah (ra) | Sahih Muslim]
🔹

100% DONATION POLICY!


🔹

SADAQA APPLICABLE! 


🔹

NOTE - DONATIONS MADE ARE IN AUSTRALIAN DOLLARS (AUD). 1 AUD IS APPROXIMATELY EQUIVALENT TO HKD 6. 



🤲

 May Allah accept from the donors, the organisers and all who are working towards bringing ease to those suffering worldwide.