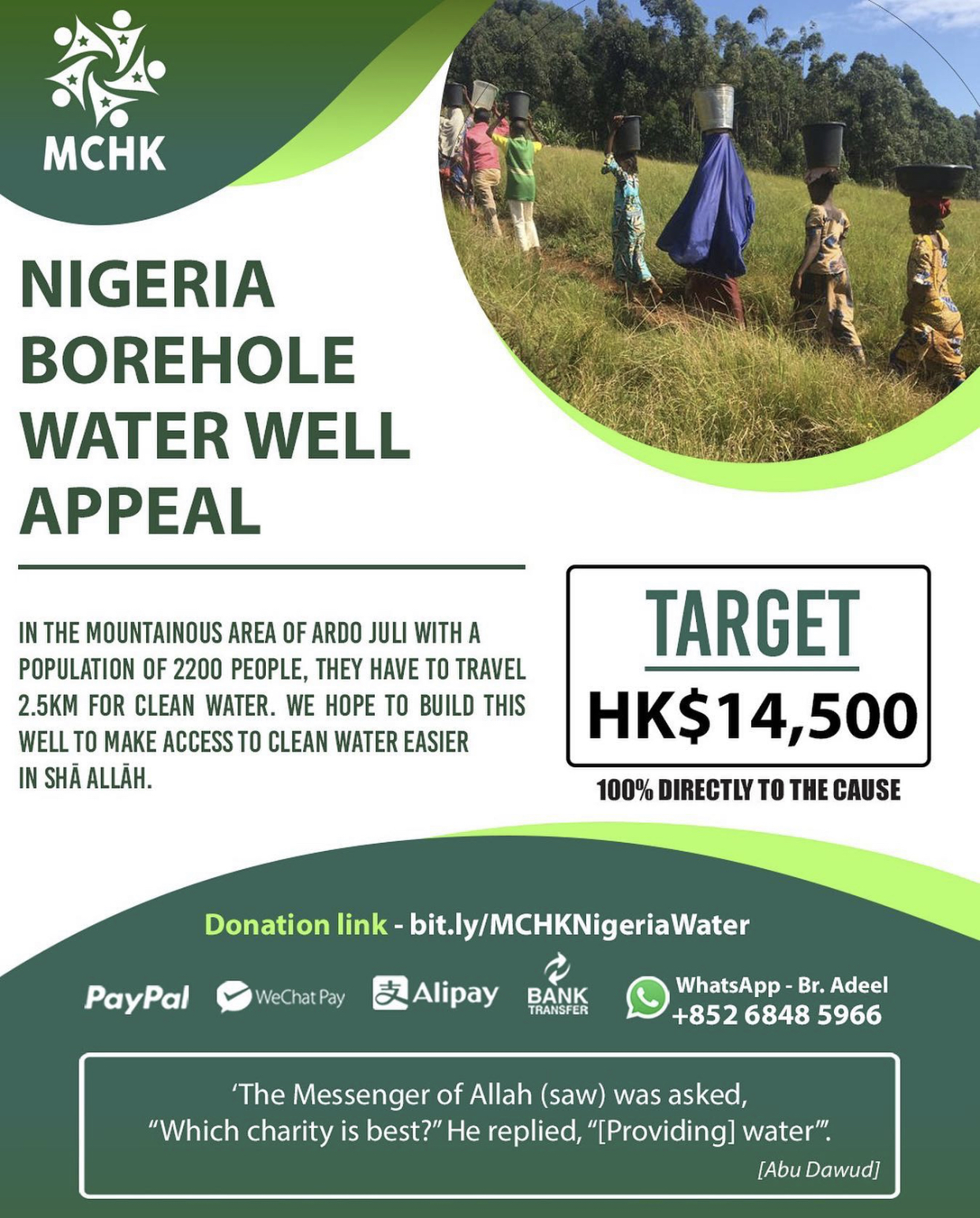 Nigeria 🇳🇬 Borehole Water Well 2020 Appeal
😧 Imagine you had to walk 2.5km to get access to clean water, each and every day? Subhan'Allah how we take the huge blessing of getting water from a turn of a tap for granted...
🤝 Muslim Council of Hong Kong are partnering with SRF to build a borehole water well in order to provide clean water for one of the forgotten communities, 2200 people of Mambilla Plateau, the highest region in Nigeria!
⛰ Mambilla Plateau has an average elevation of about 1,600 metres above sea level, that is higher than Ben Nevis 1345m (the highest mountain in the UK)!
💧 Sa'd ibn 'Ubadah reported: I said, "O Messenger of Allah, my mother has died. Shall I give charity on her behalf?" The Prophet, peace and blessings be upon him, said, "Yes." I said, "Which charity is best?" The Prophet said, "A drink of water."
[Sunan al-Nasā'ī 3664 Hasan (Al-Albani)]
🚰 These communities are often forgotten because they are so high up and it is very expensive to send drillers up to build water wells.
🕋 The Prophet (peace be upon him) said:
❝When a man passes away, his good deeds will also come to an end except for three: Sadaqah Jariyah (ceaseless charity); a knowledge which is beneficial, or a virtuous child who prays for him (for the deceased).❞
[Narrated by Abu Hurairah (ra) Sahih Muslim]
📥 Please support this cause and know your reward is with Allah. Give something on behalf of your parents or other loved ones too.
✊ You will be supporting children, widows, orphans, elderly, unemployed and above all those who believe in Allah and His Rasool (s).
💰 You can donate by:
✔️ Direct: bit.ly/MCHKNigeriaWater
✔️ Bank transfer, PayPal, Wechat, Alipay, FPS, PayMe - WhatsApp (+852) 68485966 for more details.
🤲 May Allah accept from all, protect the good deeds and ease the suffering of the needy around the world whilst making us the means of their ease.