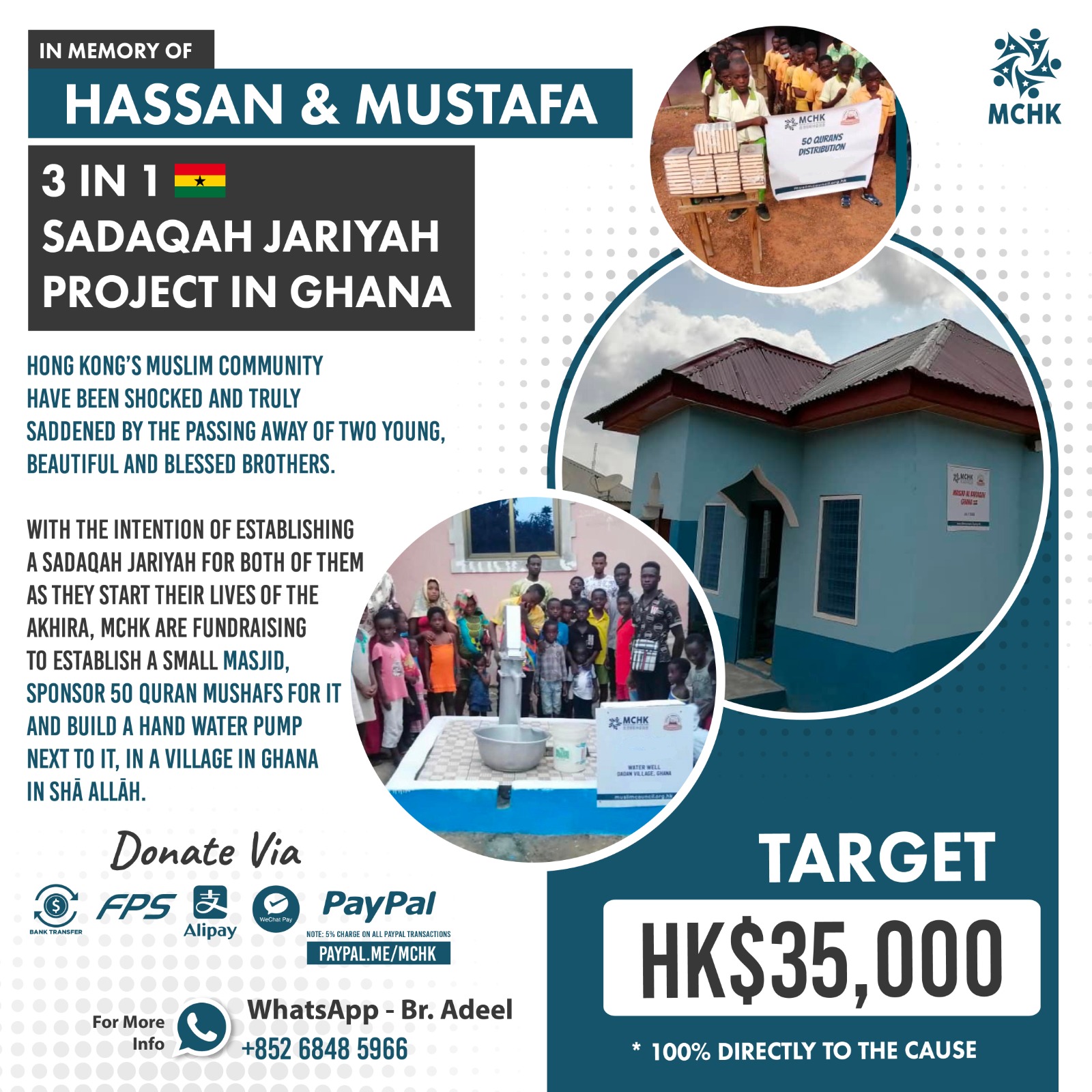 🍃 Other than duas, the best we can do for those who pass away is to do sadaqah work on their behalf, and here we are giving you all the opportunity to do so for the 2 blessed boys who tragically passed away recently from drowning. Innā lillāhi wa innā ilayhi rāji'ūn.
🤝 Muslim Council of Hong Kong are partnering with a locally registered charity organisation for this multi project which will in shā Allāh include:
🕌 A small masjid of 6m x 6m, in which around 80 people can pray at one time and will have wudu area, amplifier and speakers
📖 50 Quran mushafs for the Masjid's students to learn and adults to read
💦 A hand water pump with up to 35 feet able to help up to 120 people including children, widows and elderly people.
🕋 The Prophet (peace be upon him) said:
❝When a man passes away, his good deeds will also come to an end except for three: Sadaqah Jariyah (ceaseless charity); a knowledge which is beneficial, or a virtuous child who prays for him (for the deceased).❞
[Sahih Muslim]
📥 Please support this cause and know your reward is with Allah. Give something on behalf of your parents or other loved ones too.
🤲 May Allah reward everyone who contributes to all types of projects and may He grant ease to those suffering and in need.
📥 You can donate by:
✔️ Bank, FPS, PayMe, WeChat & Alipay Transfer - WhatsApp (+852) 68485966 for more details
✔️ PayPal - paypal.me/mchk
💢 For all bank/PayPal donations, please confirm your donation by sending a WhatsApp message to brother Adeel Malik on (+852) 68485966. And please note there's a 5% charge on all PayPal transactions.
🔹 100% DONATION POLICY
🔹 SADAQA APPLICABLE