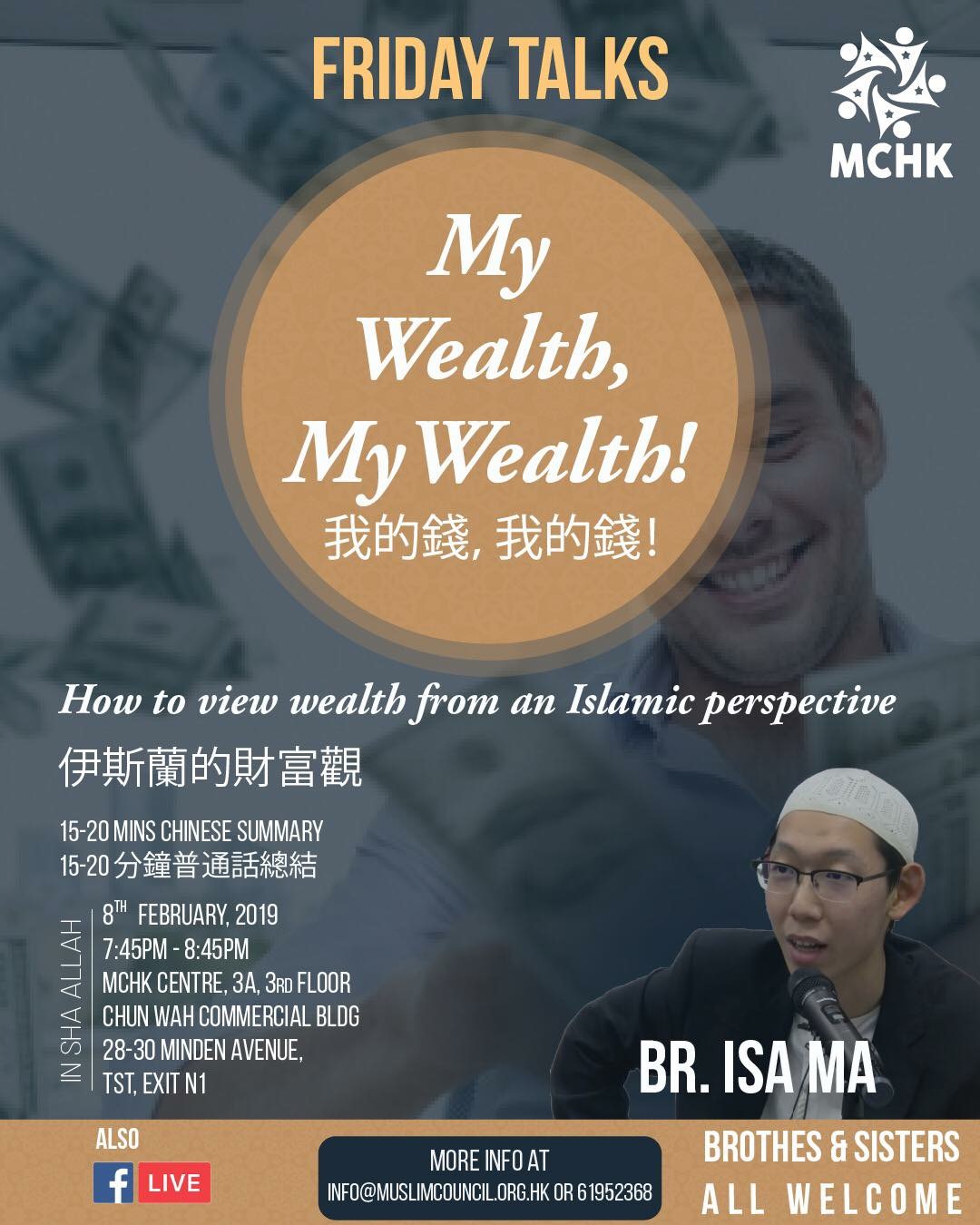 From 19:45 until 20:45
My Wealth, My Wealth! | Br. Isa Ma
💰 One of the biggest challenges and tests of this temporary world is that of #wealth. We all need it, but how is it viewed from the Islamic perspective? What's too much? What's greed? What's just enough? 
🗣 Muslim Council of Hong Kong humbly invites you all, men and women, Muslims and non-Muslims, attend this enlightening talk on a topic which can make or break our dunya and akhira.
👤 Brother Isa Ma is a young and charismatic individual who is eager to improve his knowledge base while sharing what he has learned in a self-reflecting way. 
🕋 Prophet Muhammad (peace be upon him) said:
❝The son of Adam (i.e. man) grows old and so also two desires grow old with him; love for wealth and a wish for a long life.❞ 
[Bukhari: Book 8: Volume 76: Hadith 430]
✋ So why not join this class to be in the gathering of the angels and increase your #knowledge about Allah's religion.
📋 Details in shā Allāh: 
🔹 Date: 08-02-2018 (Friday)
🔹 Time: 7.45-8.45pm
🔹 Language: English with 15 mins summary in Chinese
🔹 Venue: MCHK Centre, 3A, 3rd Floor Chun Wah Commercial Building, 28-30 Minden Avenue, Tsim Sha Tsui (MTR EXIT N4 or P3) 
🔸 Talk will be shown live on MCHK Facebook page and uploaded on YouTube channel later in shā Allāh 
🔸 Brothers and sisters all welcome for free
🔸 Light refreshments provided
🔸 For more info, please whatsapp brother Ridwan on +852 6195 2368 or e-mail info@muslimcouncil.org.hk
Attend | Share | Duas