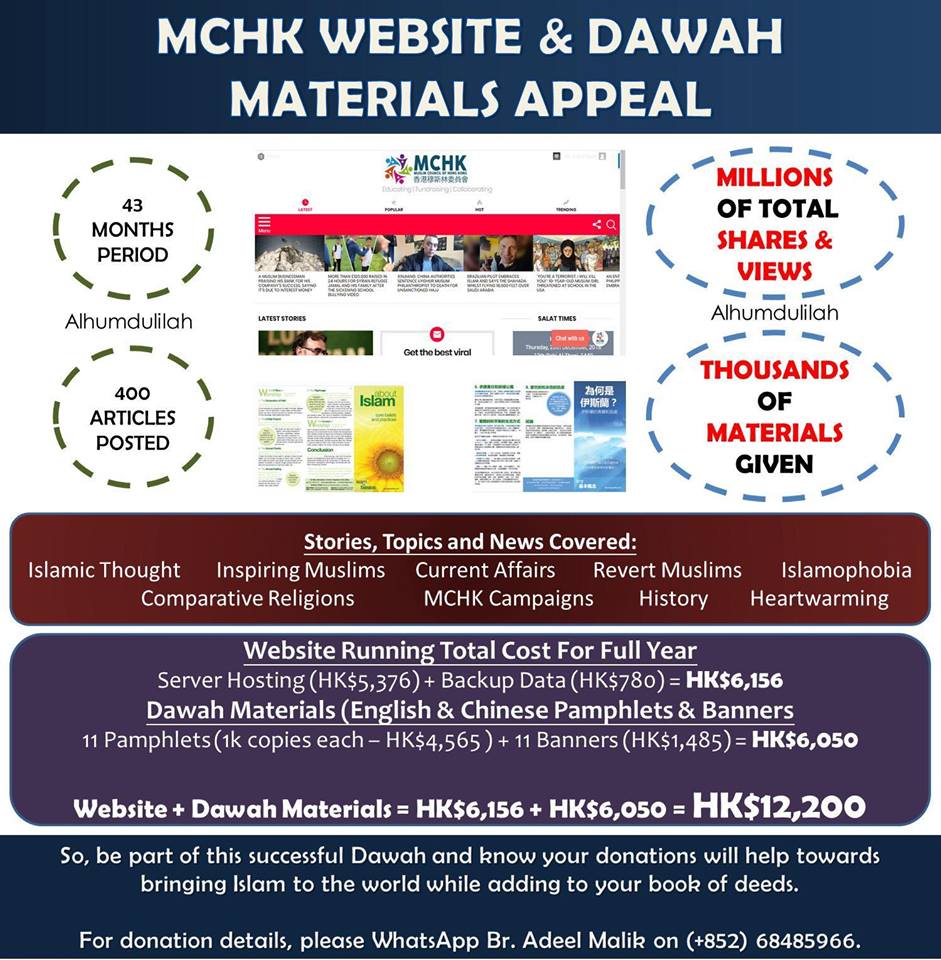 MCHK Website & Dawah Materials Appeal
Muslim Council of Hong Kong
Alhumdulilah! HK$12,454 raised. Jazak'Allahu Khayr oh Muslims! May Allah accept from all.
MCHK #Website & Dawah Materials Appeal

🌐 In June 2015, Muslim Council of Hong Kong set up their official website - muslimcouncil.org.hk. 43 months from then and we have experienced a great growth all by the mercy of Allah. Alhumdulilah. 

🔹 400 articles posted (avg. 10 per month)
🔹 Millions of total shares
🔹 Millions of total views

🗒 Topics covered ranged from #Islamic thoughts,#inspiring Muslims stories, Hong Kong stories, general heartwarming stories, #reverts to Islam stories, #Islamophobic news, clearing#misconceptions articles and much much more. 

📈 With the shares and views for some articles going viral , from time to time with few even reaching 100,000 Alhumdulilah, the website had to have a high level hosting server to make sure there's stablitty. After all it is for the sake of Allah to spread His decreed way of life.

📚 And since June 2015, Alhumdulilah we have been doing active and consistent dawah locally and internationally. Through these materials, Allah has enabled us to:

🔹 Thousands of dawah materials given
🔹 Covering topics such as About Islam, Jesus, Misconceptions of Islam, Science, Atheism and many others 
🔹 Plenty of conversations undertaken
🔹 Shahadas & New Muslims support 

Prophet Muhammad (ﷺ) said:

❝When a person dies all his good deeds cease except for three: a continuous charity, beneficial knowledge, and a righteous son who supplicates for him.❞

[Muslim]
💰 Total Cost = HK$6,156 website full year including cost + HK$6,060 dawah materials cost = HK$12,200
🔺 100% donation policy
🔺 Sadaqa jariyah applicable

🤲 May Allah accept this service from all that are part of such priceless websites and reward those who support such initiatives.