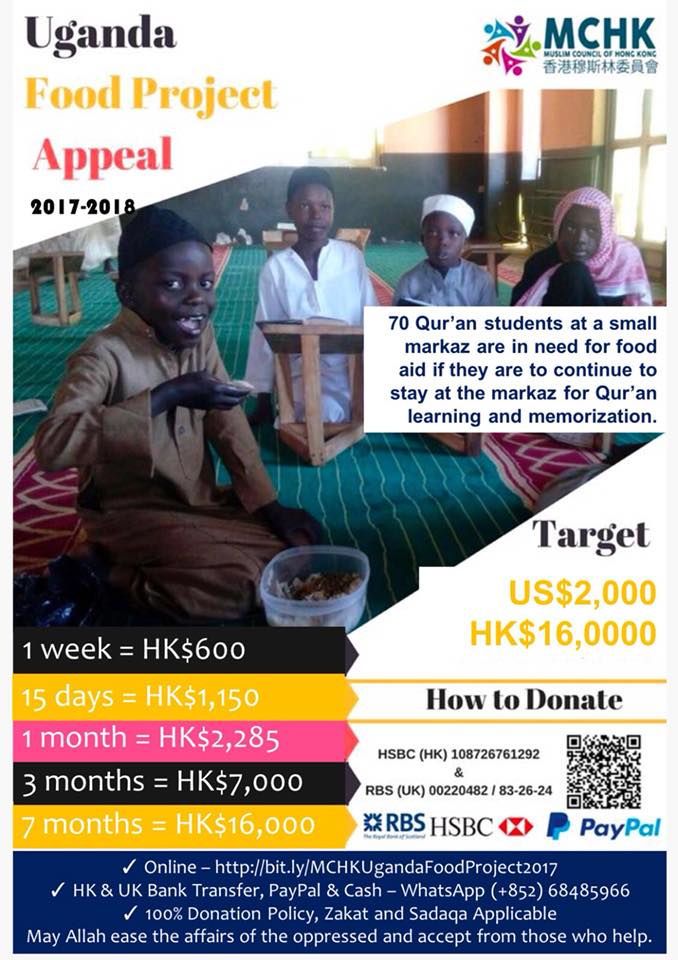 MCHK Uganda Food Project Appeal 2017-2018
Muslim Council of Hong Kong
💞 Alhumdulilah! The full total of HK$16,000 has been sent to the help the 70 Quran students with their food supply for the next 7 months until the next Ramadan in shā Allāh. 

✊️ Muslim Council of Hong Kong continue to maintain a 100% donation policy as we treat each donation as a huge trust from the donors.

👐 May Allah accept this service from us all, reared the donors abundantly and ease the situation of the needy.
💭 Most of us don't have to think twice where our next meal is going to come from. But for many they do wonder.
🤝 Muslim Council of Hong Kong are yet again fundraising to support 70 Qur'ān students at a small Markaz in Kampala, Uganda with basic food until the next Ramadan. So that's 7 months of food. It's the same Markaz we supported for last year, during Ramadan and for other projects too Alhumdulilah.

🍚 The total needed to accomplish this project is US$2000 = HK$16,000. This will provide them with daily rice and flour to feed the children, including orphans and adults. 

🕋 Prophet Muhammad (ﷺ) said:

❝Whoever alleviates the need of a needy person, Allah will alleviate his needs in this world and the Hereafter.❞ 

[Muslim]

🕋 Allah says:

❝And they (the righteous people) give food in spite of love for it to the needy, the orphan, and the captive, [saying], "We feed you only for the countenance of Allah. We wish not from you reward or gratitude.❞ 

[Qur'an 76:8-9]
🔺

100% Donation Policy 


🔺

 Zakat and Sadaqa Applicable



🙌

 May Allah accept from all who look to help others and ease those who are in need worldwide.