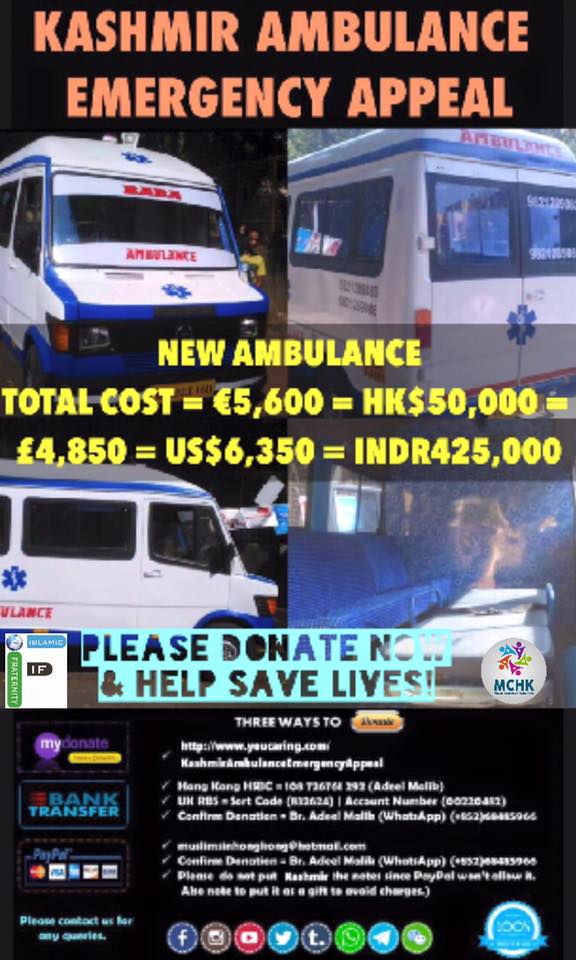 MCHK Kashmir Ambulance Emergency Appeal
Muslim Council of Hong Kong
Allahu Akbar! 

Alhumdulilah! Alhumdulilah! Alhumdulilah! 

Another project target reached. HK$50,000 raised in 3 months. The new ambulance will be bought in India and then delivered to Kashmir to help take any sick or injured to hospitals.

May it be a means of Jannah for the all the donors and ease for the people of Kashmir
Civilians inside Kashmir have been under assault by the Indian police forces for some time and it has led to many deaths along with a number of people injured, some very severely. 
The life of Muslims inside Kashmir has become quite similar to that of Palestinians - a prison. So just like we sincerely and passionately provide financial help to the Palestinians, the Syrians and the like, the people of Kashmir deserve our support too. 

Muslim Council of Hong Kong are fundraising to buy a new ambulance which will be used by Islamic Fraternity in Kashmir. Islamic Fraternity is a non-profit humanitarian organisation which aims to provide emergency aid to those in need inside Jammu and Kashmir. Sadly, there current ambulances have been damaged and are in desperate in need of a new one if they are to help the injured and save lives by the will of Allah. 
The ambulance will cater to help all inside Kashmir regardless of race, colour or background, Muslims and Non-Muslims. The target money is 5,600 EUROS which go towards the cost of the ambulance in India and sending it to inside Kashmir.

Please, brothers and sisters, let's help our oppressed brothers and sisters inside Kashmir with this appeal. It's not only helping them in their time of need but imagine the reward you will get for helping the sick, the injured and possibly saving lives by the will of Allah. 
"Whosoever alleviates [the lot of] a needy person, Allah will alleviate [his lot] in this world and the next."

[Prophet Muhammad (peace be upon him) | Sahîh Muslim (4867)]
May Allah help the oppressed and use us as a means for their ease