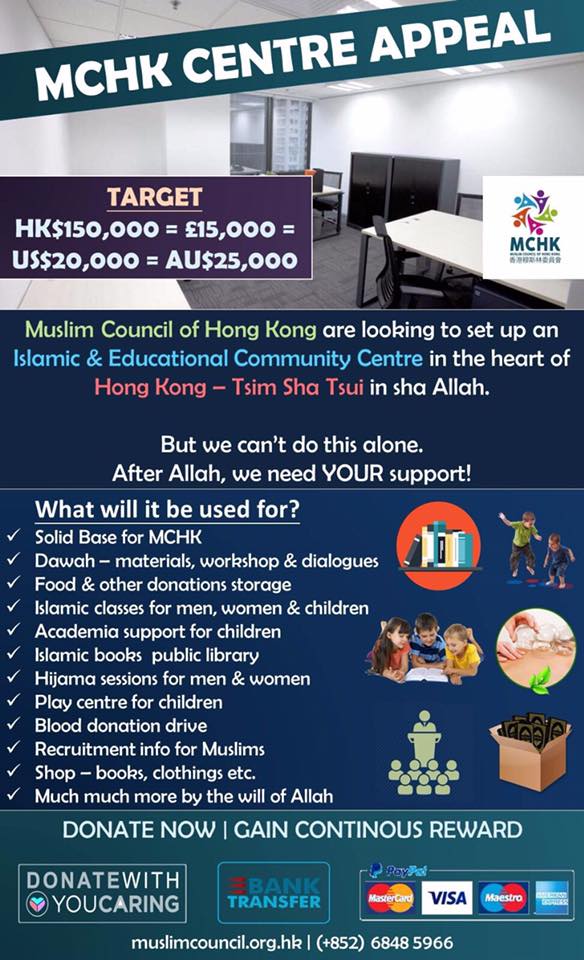 MCHK Centre Appeal
Muslim Council of Hong Kong
☝️ TAKBEER! ALLAHU AKBAR! 

✔️ Alhumdulilah! Alhumdulilah! Alhumdulilah! We have reached our target 🎯 of HK$150,000! Subhan'Allah! We started the centre's appeal on 14th July, 2017 and with just over a month, by the mercy of Allah and YOUR remarkable contributions, we have smashed the target! 

💌 Donations came from Muslims in Hong Kong to Muslims worldwide. From the young including students to elders included retired. From brothers and to sisters. Simply amazing how we have achieved this big target! 

🤝 Every single $ will towards the initial 1 month rental + 2 months deposit + furniture + fittings + construction + books + children games + printing of Quran copies & other Dawah materials In Sha Allah. 

😭 We at Muslim Council of Hong Kong are honestly astonished at how Allah has opened the doors of goodness for us as we hope to set up this centre which will be for Dawah + charity + children + library + much much more In Sha Allah. 

💝 We would like to thank every single donor from the bottom of our hearts for putting their trust in our cause and In Sha Allah by the mercy of Allah and no doubt your continuous support and duas we will put the centre to good use.

👐 May Allah accept this service from us all and make this a means of continuous reward for all who took part in and will take part in the future. 

✋️ We are now looking for people to become our monthly patrons, our monthly donors. To keep the centre running In Sha Allah, we would need HK$25,000 per month which will go towards the monthly rental + management fees + government rates + utility bills. 
🏙 Muslim Council of Hong Kong are looking to set up an Islamic & Educational Centre in the heart of Hong Kong - Tsim Sha Tsui in sha Allah.
🗓 When MCHK was established as a registered society in Hong Kong, the main aim was and continues to be to educate, fundraise and collaborate locally and internationally. 

✊️ Alhumdulilah since April 2015 until now, MCHK has, by the mercy of Allah, accomplished a number of campaigns which revolved around helping people understand the correct message of Islam whilst aiding the needy people worldwide with donations given by generous people. 

💪 Now, we are looking to take the next big step, to have a centre through which we aim to:

✔️ have a solid base for MCHK
✔️ keep Dawah materials 
✔️ conduct Dawah workshops 
✔️ engage in inter-faith dialogues 
✔️ provide space for food & other donations
✔️ hold Islamic classes 
✔️ give academia support to students
✔️ have a small Islamic public library 
✔️ provide hijama sessions 
✔️ enable play area for children 
✔️ support blood donation drive 
✔️ provide recruitment info for halal jobs
✔️ have an Islamic merchandise shop 
✔️ much much more in sha Allah 

🙌 But, as always, after putting our reliance upon Allah, we are turning to the Ummah of Muhammad (ﷺ) to help us to make this a reality. The people behind this organisation are passionate, consistent and dedicated. 

🎯 HK$150,000 = US$20,000 = £15,000 = AU$25,000

🎁 The amount needed to kick start this centre will be used for:

✔️ initial 3 months rental & deposit 
✔️ furniture & equipments 
✔️ fittings, construction & refurbishments
✔️ books & materials 
✔️ printing Quran copies 

🕋 ❝When a man passes away, his good deeds will also come to an end except for three: Sadaqah Jariyah (ceaseless charity); a knowledge which is beneficial, or a virtuous descendant who prays for him (for the deceased).❞ 

[Prophet Muhammad (ﷺ) | Sahih Muslim]

💯 For those who know our appeals, we maintain a high level of transparency and clarity in how the donation money is used. 

💌 So, we ask you to give some of your wealth towards this amazing sadaqa jariyah, continuous wealth and know any goodness that comes out of this centre, you will have the good deed recorded in your book of deeds In Sha Allah. 

🕋 ❝Allah, His angels and all those in the Heavens and on Earth, even ants in their ant-hills and fish in the water, call down blessings on those who instruct others in beneficial knowledge.❞

[Prophet Muhammad (ﷺ) | Tirmidhi 2685]

👐 May Allah accept from all, protect the good deeds and ease the suffering of the needy around the world whilst making us the means of their ease.