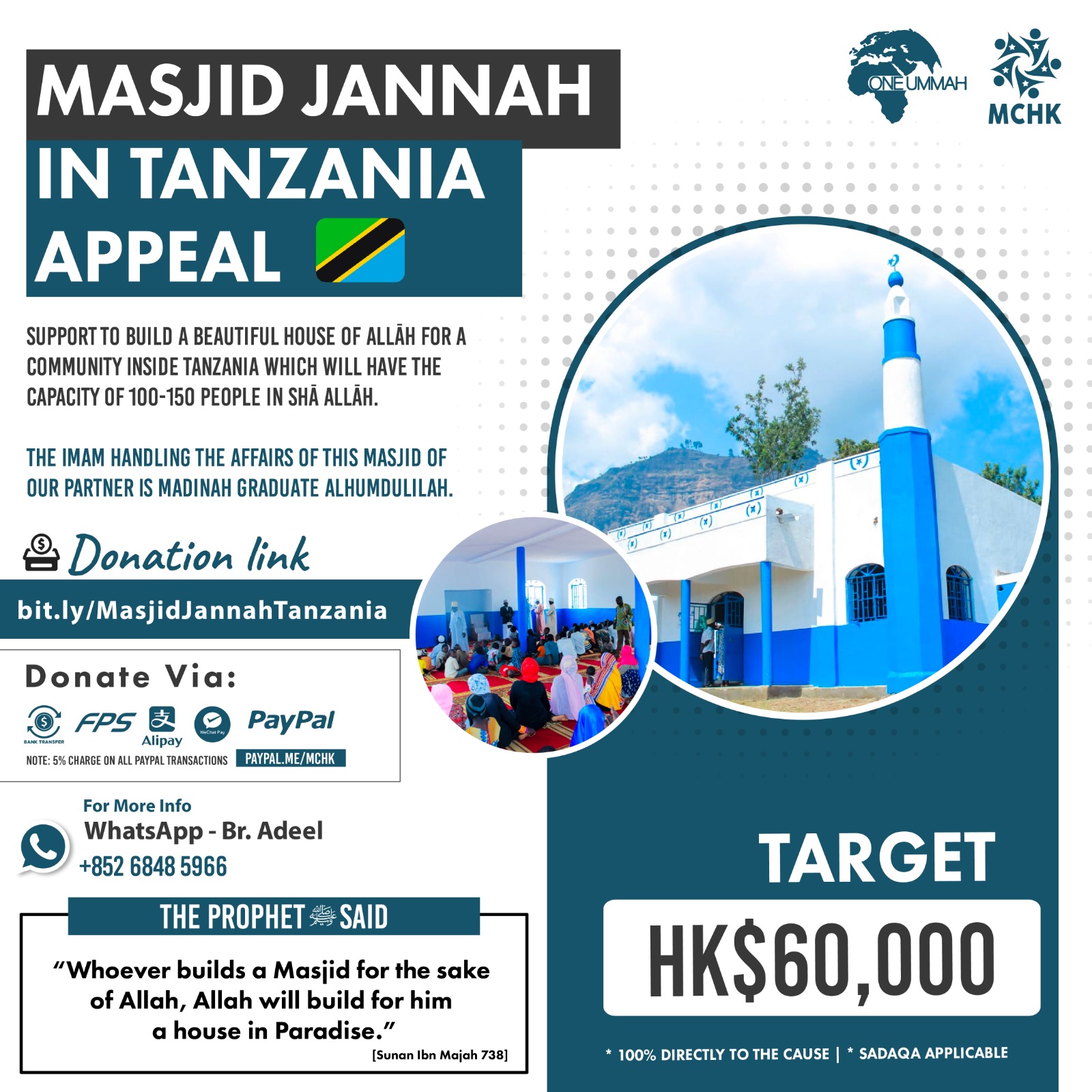 🕌 Bismillah. Another masjid building appeal. Another chance for us to invest in our akhira with such sadaqah jariyah in shā Allāh.
🇹🇿 Support a community in Tanzania with this masjid which will be able to cater for 100-150 people for salah at one time in shā Allāh.
🤝 Muslim Council of Hong Kong is partnering with One Ummah Charity @oneummahcharity once again for this project and they informed us the Imam overseeing these masjids in Tanzania is a Madinah university graduate.
🕋 Prophet Muhammad (ﷺ) said:
❝Whoever builds a mosque for Allah, Allah will build for him a house like it in Paradise.❞
[Sahih Bukhari 450 & Sahih Muslim 533]
📥 Please support this cause and know your reward is with Allah. Give something on behalf of your parents or other loved ones too.
🤲 May Allah reward everyone who contributes to all types of projects and may He grant ease to those suffering and in need.
📥 You can donate by:
✔️ Direct: bit.ly/MasjidJannahTanzania
✔️ Bank, FPS, PayMe, WeChat & Alipay Transfer - WhatsApp (+852) 68485966 for more details
✔️ PayPal - paypal.me/mchk
💢 For all bank/PayPal donations, please confirm your donation by sending a WhatsApp message to brother Adeel Malik on (+852) 68485966. And please note there's a 5% charge on all PayPal transactions.
🔹 100% DONATION POLICY
🔹 SADAQA APPLICABLE