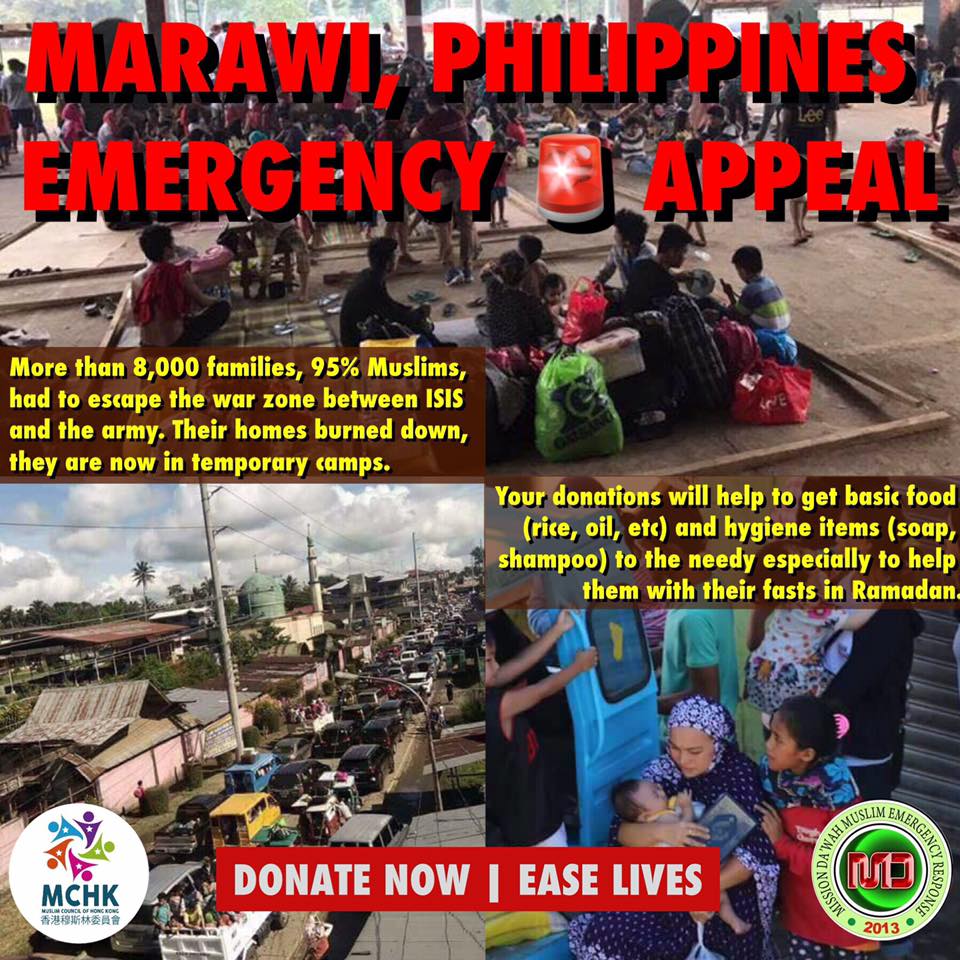 Marawi, Philippines Emergency Appeal
⚠️ Since Tuesday, the 200,000 populated city of Marawi, where 95% are Muslims, have been under attack by ISIS militants who have burned down homes and many innocent people have died, with the cruel aim of establishing their base.
 The Philippines army is fighting back, but due to the conflict, more than 8,000 families have had to evacuate their homes and are now in various temporary camps around Mindanao, Lanao Del Sur, Lanao Del Norte, Iligan City and Cagayan De Oro City. 

🤝 Muslim Council of Hong Kong are partnering with Mission Da'wah Muslim Emergency Response Team Philippines to provide emergency aid to those who have lost their homes, their livelihood and even family members. 
📥 Grab your chance to #feed those in need in this merciful month of #Ramadan. Your donations will help to buy food items such as rice, noodles, etc and also hygiene items such as soap and shampoo. 

🕋 Prophet Muhammad (peace be upon him) having said for those who help others in need:

❝Whoever helps ease someone in difficulty, Allah will make it easy for him in this world and in the Hereafter.❞

[Sahih Muslim 2699]
👐

 May Allah reward everyone who contributes to this project and every other similar project and may He grant ease to those who wishes to keep fasts.



🔺

 100% DONATION POLICY (MCHK will cover the charges that YouCaring website and PayPal will incur.)



🔺

 ZAKAT/SADAQA APPLICABLE