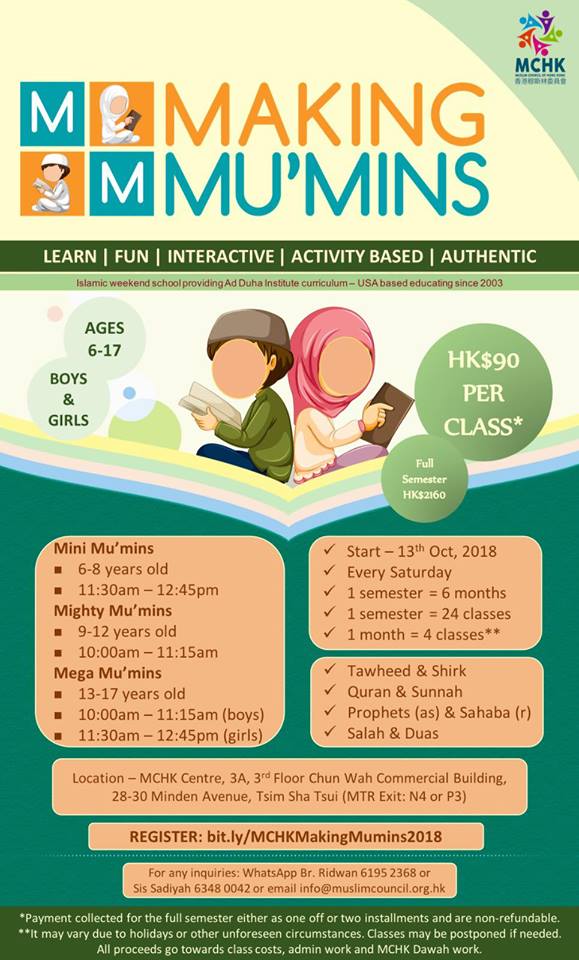 Making Mu'mins | Saturday Islamic School
Muslim Council of Hong Kong
🇭🇰 In a hustling and bustling city of Hong Kong, where time is the most valuable asset, would we want our children to get lost in it and not know their religion?
🎉 Muslim Council of Hong Kong are super excited to announce its first ever weekend Islamic school!

🕋 Prophet Muhammad (s) said clearly about the importance of being strong physically, intellectually and spiritually:

❝The strong believer is more beloved to Allah than the weak believer, but there is goodness in both of them.❞ 

(Sahih Muslim 2664)

🤝 We are humbled to work together with Ad Duha Institute, who are based in the USA and operating since 2003 providing high quality and authentic Islamic education to all age groups. 

👨‍🏫 We have teachers who are incredibly professional, creative and above all passionate in conducting this precious duty. 

👦🏻👧🏻 The classes are categorized by age (6-17 years old) into 4 groups (Mini, Mighty, Mega Boys and Mega Girls) in order to make sure each group is properly catered for in terms of the content taught and the exciting activities. 

📚 The teaching material will equip the children with core Islamic teachings such as Tawheed, Shirk, Quran, Sunnah, Prophets (as), Sahaba (r), Salah and Duas.

🗓 Starting from 13th October, 2018 in shā Allāh and every Saturday respectively unless there's a public holiday or other unforeseen circumstances.

💵 HK$90 per class. 24 classes. HK$2,160 for full semester. Payment can be made as one lump sump or in 2 instalments. HK$180 for the book. All proceeds go to class costs, admin work and MCHK dawah work.

✋ As parents, you will not be disappointed and will be making a vital investment not just for your children but for your own book of deeds too in shā Allāh. 
🤲 May Allah enable us to fulfil our duties as shepherds of our children by providing them with a good overall education.