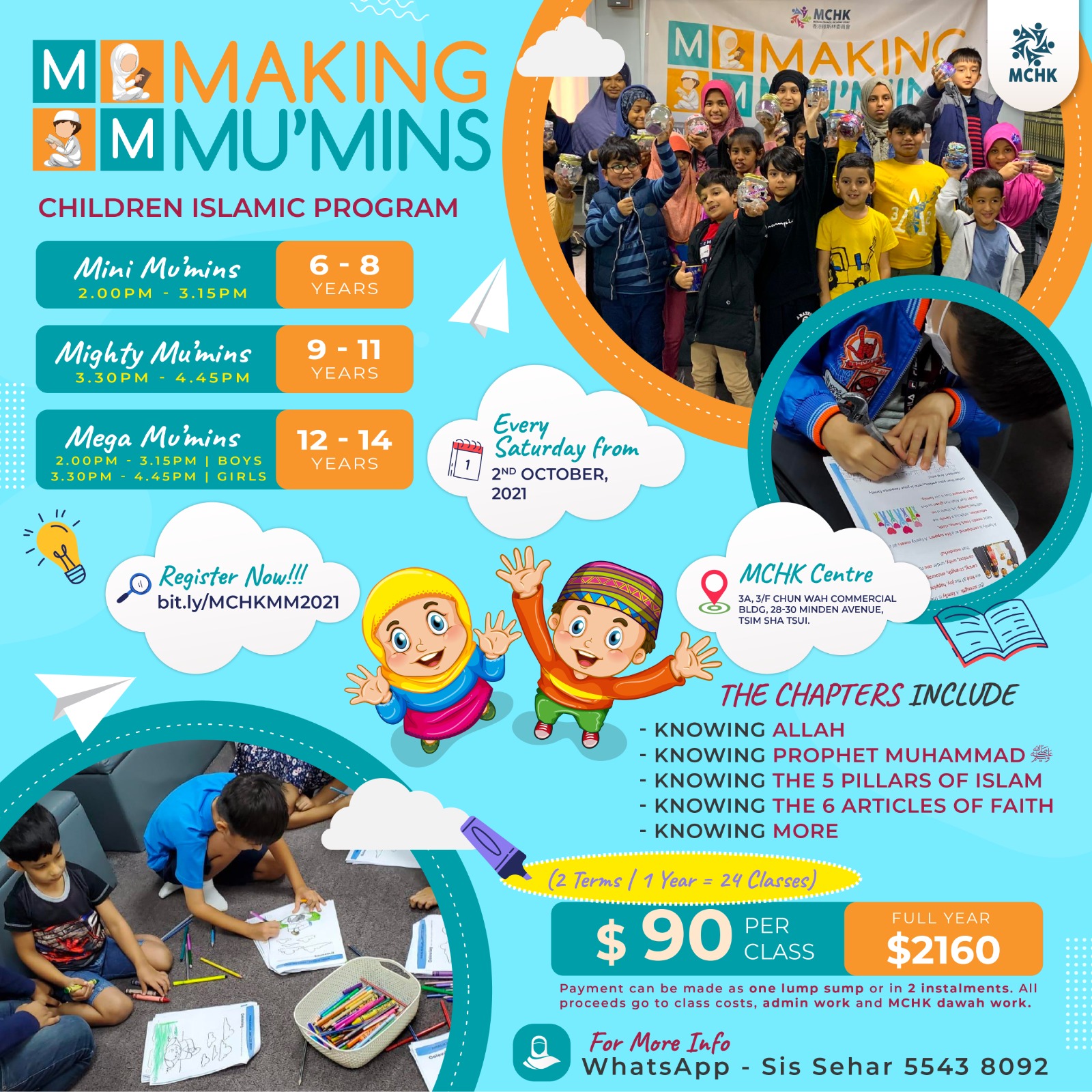 🇭🇰 In the hustling and bustling city of Hong Kong, where time is the most valuable asset, would we want our children to get lost in it and not know their religion, especially in these times of great fitna?
📲 Register now - bit.ly/mm20212022
🎉 Muslim Council of Hong Kong is super excited to announce it is back for the 4th year with its Saturday Islamic Children Program.
🕋 Prophet Muhammad (s) said clearly about the importance of being strong physically, intellectually, and spiritually:
❝The strong believer is more beloved to Allah than the weak believer, but there is goodness in both of them.❞
(Sahih Muslim 2664)
🤝 Alhumdulilah with a combined teaching experience of more than 20 years, we have put together a curriculum that will include 5 chapters for each level spanning across 3 years.
💫 Each year the content will be different for each chapter, making sure each topic is given its due justice and each level has the appropriate difficulty level.
📚 The chapters include:
1⃣ Knowing Allah
2⃣ Knowing Prophet Muhammad ﷺ
3⃣ Knowing The 5 Pillars of Islam
4⃣ Knowing The 6 Articles of Faith
5⃣ Knowing More
👨‍🏫 We have teachers who are professional, creative, and above all passionate about conducting this precious duty. They will use each lesson to teach the content via worksheets, PowerPoint slides, videos, quizzes, and even arts and crafts.
👦🏻👧🏻 The classes are categorized by age (6-17 years old) into 4 groups (Mini, Mighty, Mega Boys, and Mega Girls) in order to make sure each group is properly catered for in terms of the content taught and the exciting activities.
🗓 Starting from 2nd October 2021 in shā Allāh and every Saturday respectively unless there's a public holiday or other unforeseen circumstances.
💵 HK$90 per class. 24 classes. HK$2,160 for a full semester. Payment can be made as one lump sum or in 2 installments. All proceeds go to class costs, admin work, and MCHK dawah work.
✋ As parents, you will not be disappointed and will be making a vital investment not just for your children but for your own book of deeds too in shā Allāh.
📲 Register now - bit.ly/mm20212022
💬 For any inquiries, please WhatsApp: brothers 6848 5966 and sisters 5543 8092.
🤲 May Allah enable us to fulfill our duties as shepherds of our children by providing them with a good overall education.