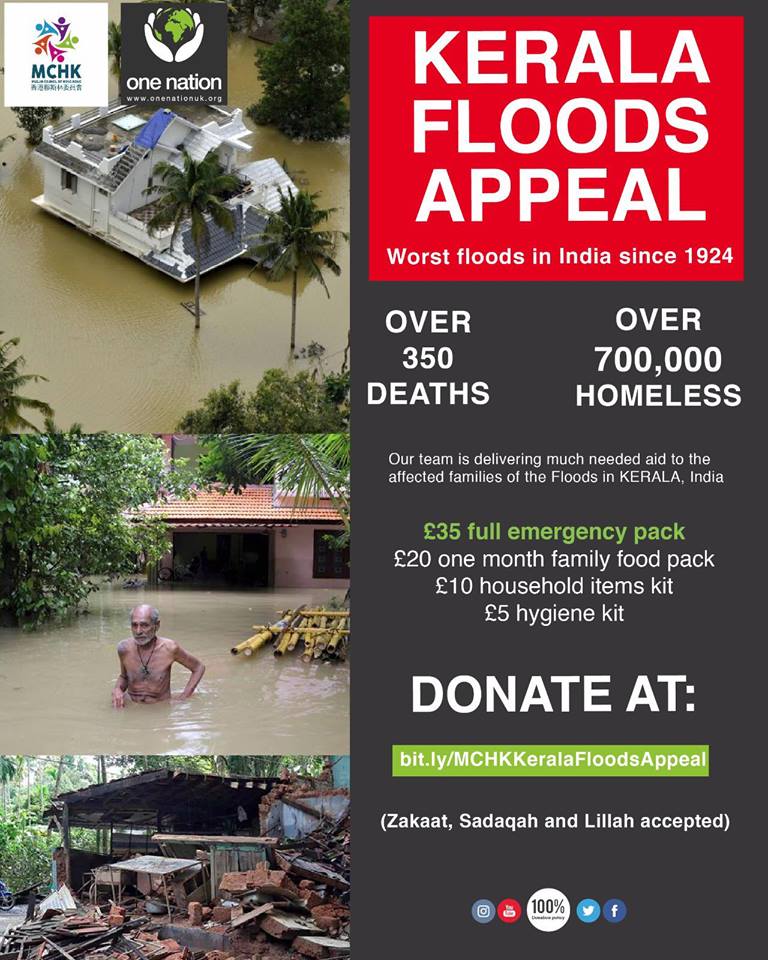 KERALA FLOODS APPEAL
Muslim Council of Hong Kong
🇮🇳 Alhumdulilah more than HK$20,000 has been raised so far.
🇮🇳 Last week in the city of Kerala, the worst flooding in India since 1924 has caused major devastation to lives and properties with over 400 deaths and nearly 1 million homeless. 
🤝 Muslim Council of Hong Kong are partnering up with One Nation who has a team delivering much needed aid to the affected families inside Kerala.

🕋 Prophet Muhammad (peace be upon him) said:

❝ Whoever removes a grief from a believer from amongst the sorrows of this life, Allah will remove a grief from him amongst the sorrows of the Day of Resurrection. 

Whoever brings ease to one in difficulty, Allah will make it easy for him in this life and the Hereafter.❞ [Sahih Muslim]


📋 Further details of aid support:

🔹£35 (HK$350) - Full Emergency kit

£20 (HK$200) - 1 Month family food pack 
£10 (HK$100) - Household items kit 
£5 (HK$50) - Hygiene kit

🏠 Household items kit contains: 

-Bucket and mug 
-Lungi and nighty 
-Slippers 
-Stove and gas cylinder 
-Cooking and service pots 

🥘 Food kit includes:

-Rice 
-Lentils 
-Spices 
-Sugar 
-Coconut powder 
-Powder milk 

🚿 Hygiene kit includes:

-Mosquito repellent
-Sanitary pads
-Comb 
-Hair Oil 
-Shampoo 
-Bathing Soap 
-Detergent 
-Cleaning bleach 
-Broom
🔹

100% DONATION POLICY!


🔹

ZAKAT & SADAQA APPLICABLE!



🤲

 May Allah accept from you all, ease the suffering of the needy and shower His mercy upon the entire Ummah especially our children and elderly.