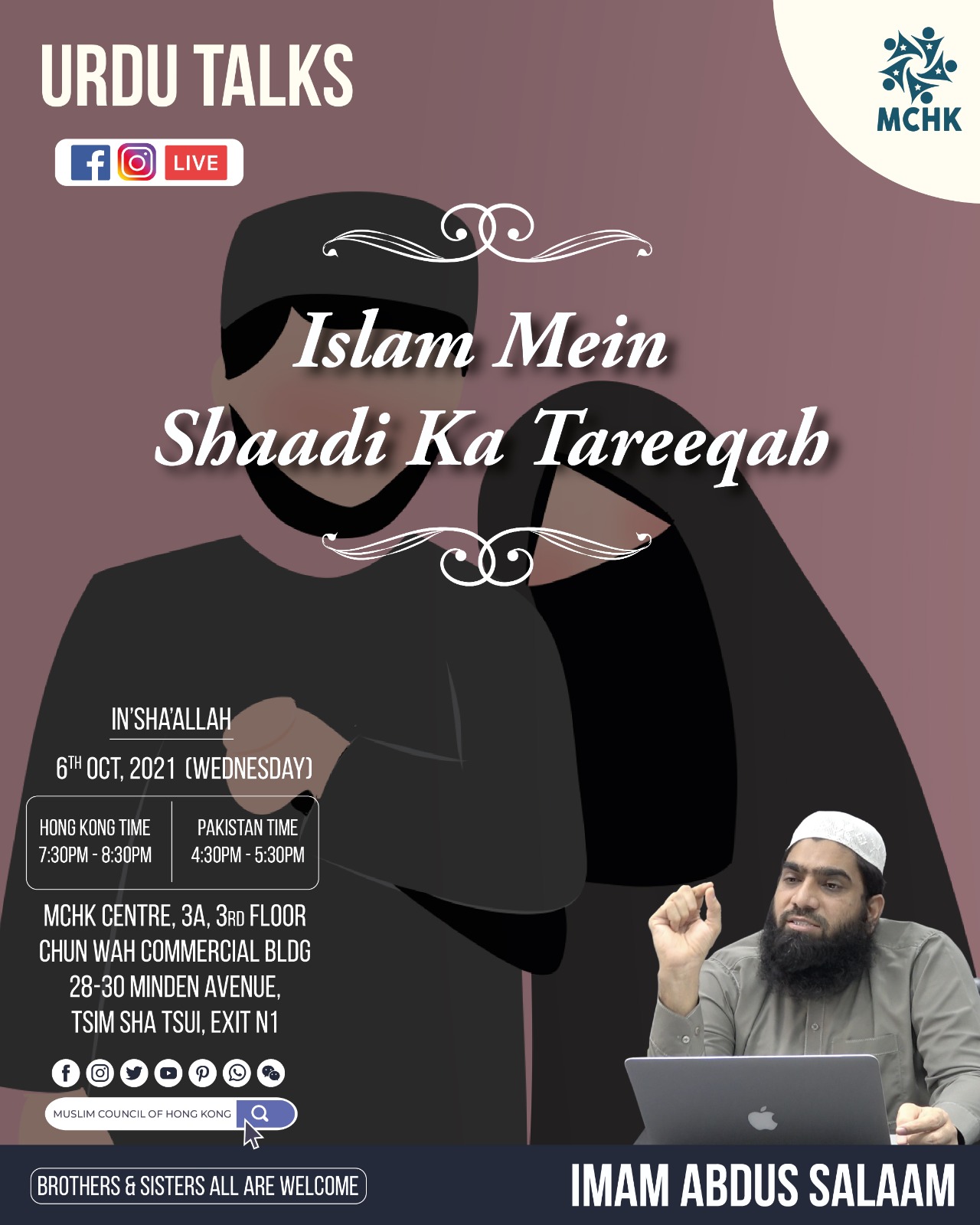 💞 What are the dos and don'ts at a wedding day according to the Quran and the Sunnah.
🤝 Muslim Council of Hong Kong humbly invites you all, men and women, Muslims and non-Muslims, to attend this informative talk in person or by watching the live stream on our Facebook & Instagram pages in shā Allāh.
🕋 Prophet Muhammad ﷺ said: ❝Marriage is part of my sunnah, and whoever does not follow my sunnah has nothing to do with me. Get married, for I will boast of your great numbers before the nations.
Whoever has the means, let him get married, and whoever does not, then he should fast for it will diminish his desire. ❞ (Sunan Ibn Majah 1846, Hasan)
👤 Imam Abdus Salaam is currently the official Imam of Markaz at-Tawheed was-Sunnah delivering regular talks and eager to be involved in dawah work.
📋 Details in shā Allāh:
🔹 Date: 06-10-2021 (Wednesday)
🔹 Time: 7.30-8.30pm
🔹 Language: Urdu
🔹 Venue: MCHK Centre, 3A, 3rd Floor Chun Wah Commercial Building, 28-30 Minden Avenue, Tsim Sha Tsui (MTR EXIT N1 or P3)
🔸 Talk will be held at the MCHK centre with social distancing, will also shown live on MCHK Facebook page (fb.com/muslimcouncilofhk) and uploaded on YouTube channel (https://m.youtube.com/c/MuslimCouncilofHongKong) later in shā Allāh
🔸 Brothers and sisters all welcome for free
🔸 For more info, please whatsapp brother Adeel on +852 6848 5966 or e-mail info@muslimcouncil.org.hk
Attend • Share • Duas