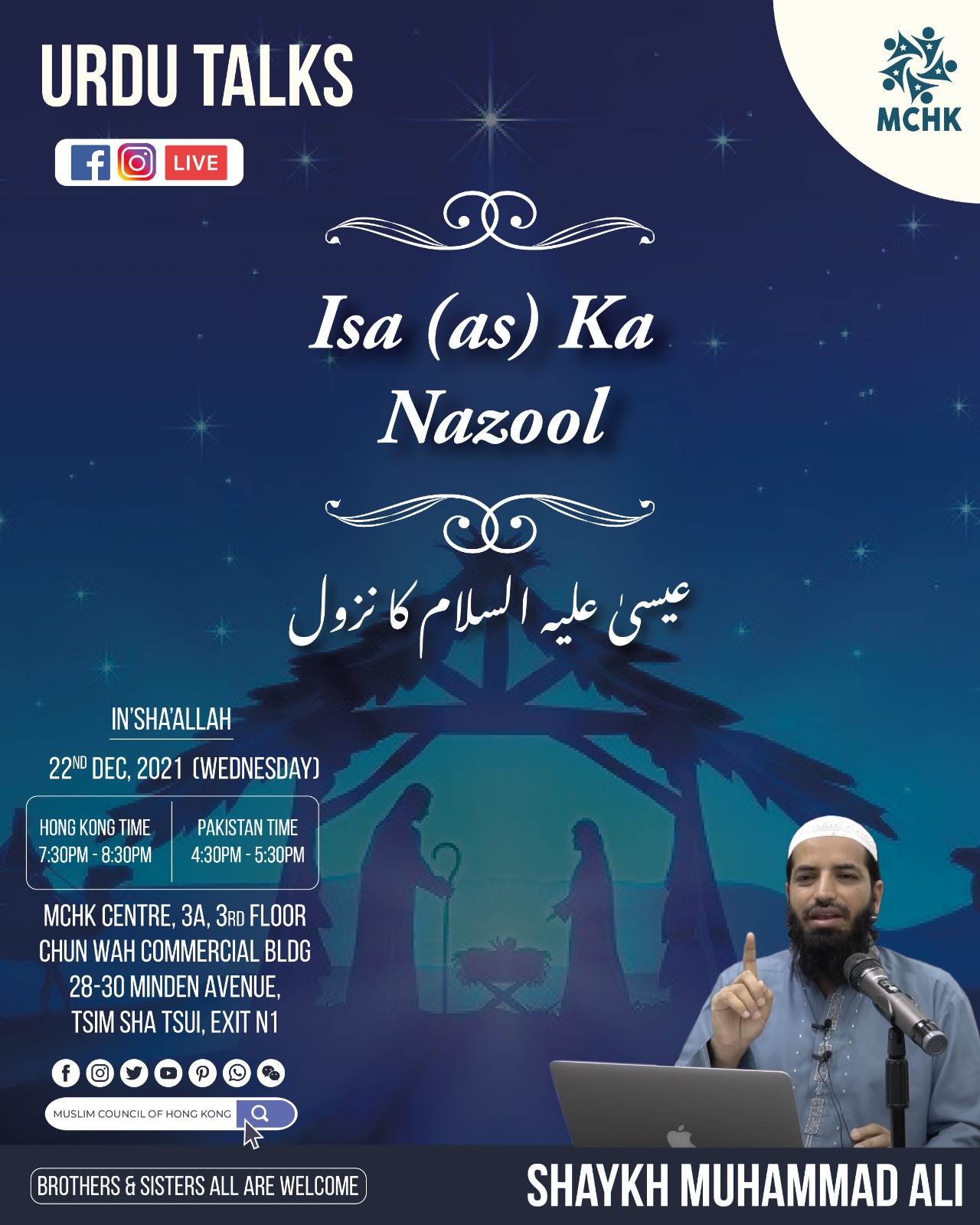 💫 As #Jesus (as) is in the minds of many once again, here we have a talk for you from the Islamic perspective on the return of Isa (as) near the end of times in shā Allāh.
🤝 Muslim Council of Hong Kong humbly invites you all, men and women, Muslims and non-Muslims, to attend this informative talk in person or by watching the live stream on our Facebook & Instagram pages in shā Allāh.
🕋 Here's one teaching from Prophet Muhammad ﷺ:
❝By the One in Whose hand is my soul! The son of Mary is about to come back as a just ruler who will break the cross, kill the swine, and cancel the tribute, and money will be so great in amount that no one will be in need of it, and one act of prostration will be more lovable to a person than the whole world and everything in it.❞ (Al-Bukhari)
👤 Shaykh Muhamamd Ali is a Madinah University graduate and is currently the official Imam of Markaz At-Taqwa delivering regular talks and passionate to be involved in dawah work.
📋 Details in shā Allāh:
🔹 Date: 22-12-2021 (Wednesday)
🔹 Time: 7.30-8.30pm
🔹 Language: Urdu
🔹 Venue: MCHK Centre, 3A, 3rd Floor Chun Wah Commercial Building, 28-30 Minden Avenue, Tsim Sha Tsui (MTR EXIT N1 or P3)
🔸 Talk will be held at the MCHK centre with social distancing, will also shown live on MCHK Facebook page (fb.com/muslimcouncilofhk) and uploaded on YouTube channel (https://m.youtube.com/c/MuslimCouncilofHongKong) later in shā Allāh
🔸 Brothers and sisters all welcome for free
🔸 For more info, please whatsapp brother Adeel on +852 6848 5966 or e-mail info@muslimcouncil.org.hk
Attend • Share • Duas