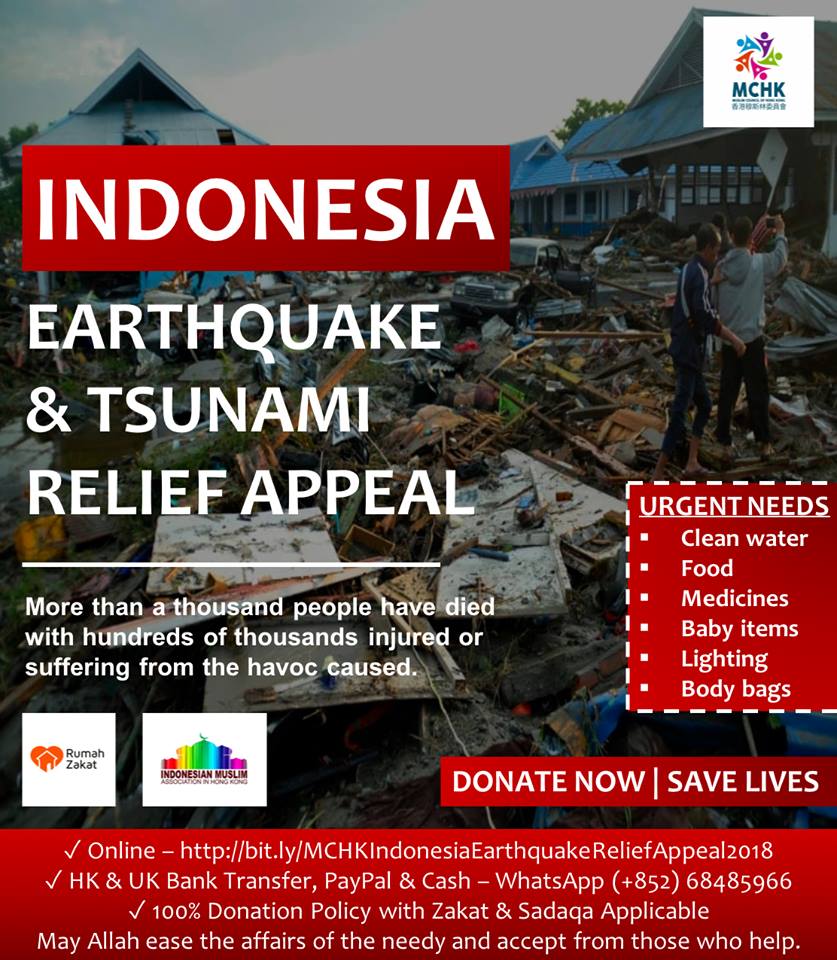 Indonesia Earthquake & Tsunami Relief Appeal
Muslim Council of Hong Kong
Appeal Closed. Alhamdulilah HK$ 60,000 raised. 
⚠️ A magnitude 7.7 earthquake struck at dusk Friday and generated a tsunami said to have been as high as 20 feet in places leading to nearly a thousand dead and hundreds of thousands left homeless and badly suffering.
🤝 Muslim Council of Hong Kong are working together with two Indonesian organisations Rumah Zakat and IMAH to provide emergency aid to those suffering inside #Palu and #Donggala in shā Allāh.

🍚 Urgently needed items after such a tragedy are access to clean water, cooked food, medicine, tents, lighting equipment, baby items, body bags and others. 

🕋 Prophet Muhammad (ﷺ) said:

❝Whoever alleviates the need of a needy person, Allah will alleviate his needs in this world and the Hereafter.❞ 

[Muslim]

🕋 Allah says:

❝And they (the righteous people) give food in spite of love for it to the needy, the orphan, and the captive, [saying], "We feed you only for the countenance of Allah. We wish not from you reward or gratitude.❞ 

[Qur'an 76:8-9]
🔺

 100% Donation Policy 


🔺

 Zakat and Sadaqa Applicable



🤲

 May Allah accept from all who look to help others and ease those who are in need worldwide.