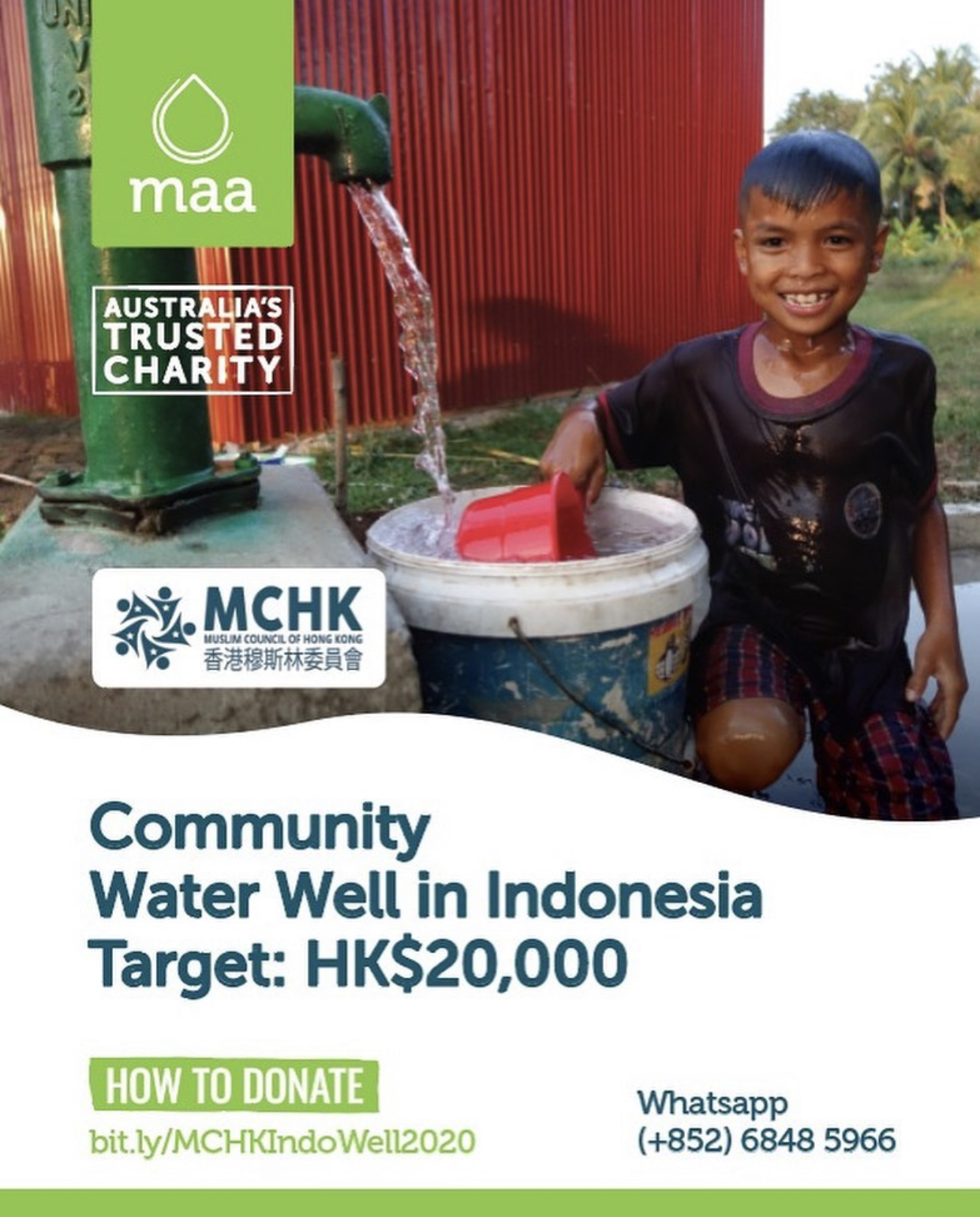 Indonesia Community Water Well 2020 Appeal
🇮🇩 Two years ago, Alhumdulilah we raised and managed to build a community water well for a group of poor families in Indonesia, now we hope to do another one with your help in shā Allāh.
📥 Donate - bit.ly/MCHKIndoWell2020 (link in bio)
🤝Muslim Council of Hong Kong once again in partnership with MAA (Muslim Aid Australia) is raising to put this project into action. If anyone wants to fund another community water well as such, they may contact us for that too.
🕋 Sa'd ibn 'Ubadah reported: I said, "O Messenger of Allah, my mother has died. Shall I give charity on her behalf?" The Prophet, peace and blessings be upon him, said, "Yes." I said, "Which charity is best?" The Prophet said, "A drink of water."
[Sunan al-Nasā'ī 3664 Hasan (Al-Albani)]
💦 Through MAA, we can build a community water well in rural drought-stricken areas to help combat the water shortages. All water wells will have a depth of between 20-40m depending on the area. The water well dispenses the water to the community by using either solar powered or electric pumps.
🌱 THIS IS A SADAQAH JARIYAH PROJECT!
Sadaqah Jariyah: A continuous charity which will provide you with rewards for as long as people benefit from your good deeds.
🕋 The Prophet (peace be upon him) said:
❝When a man passes away, his good deeds will also come to an end except for three: Sadaqah Jariyah (ceaseless charity); a knowledge which is beneficial, or a virtuous child who prays for him (for the deceased).❞
[Narrated by Abu Hurairah (ra) Sahih Muslim]
📥Please support them and know your reward is with Allah. You will be supporting children, widows, orphans, elderly, unemployed and above all those who believe in Allah and His Rasool (s).
💰 You can donate by:
✔️ Direct: bit.ly/MCHKIndoWell2020 (money sent in AU$)
✔️ Bank transfer, PayPal, Wechat, Alipay, FPS, PayMe - WhatsApp (+852) 68485966 for more details.
🤲 May Allah accept from all, protect the good deeds and ease the suffering of the needy around the world whilst making us the means of their ease.