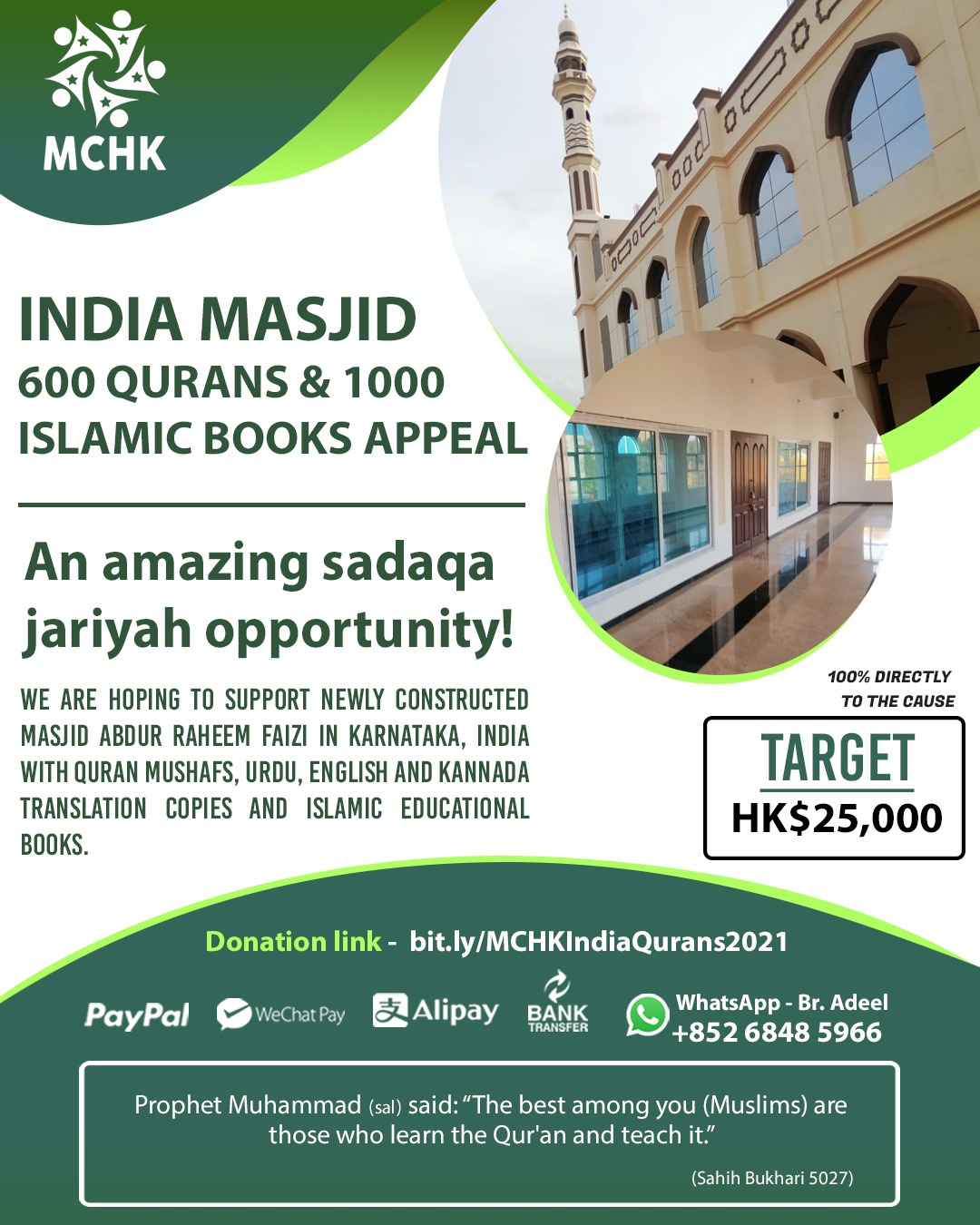 #INDIA 600 QURANS & 1000 ISLAMIC BOOKS APPEAL
📖 One of the ways the #Quran continues to be preserved by Allah is to make sure it's taught from generation to generation and at MCHK, we want to continue to be part of this legacy.
💰 Donate - bit.ly/MCHKIndiaQurans2021
🇮🇳 We are hoping to support newly constructed Masjid Abdur Raheem Faizi in Karnataka, India with Quran mushafs, Urdu, English and Kannada translation copies and Islamic educational books.
🕋 Prophet Muhammad (peace be upon him) said:
❝The best among you (Muslims) are those who learn the Qur'an and teach it.❞ [Sahih Bukhari 5027]
🤝 Muslim Council of Hong Kong alongside a registered charity organisation inside India, are looking to fundraise the cost for sponsoring the Quran mushafs and the Islamic books which will be kept in their library and used by scholars, teachers and students in shā Allāh.
💸 The amount raised will include the printing of the books, the transportation charges, the money sending charges and the banner printing.
🎯 Target = HK$25,000
😍 Imagine each time someone reads the copies of the Quran you will get the reward in your book of deeds too, it's a priceless form of sadaqa jariyah for you and even on behalf of your loved ones especially your parents.
🕋 Prophet Muhammad (Sallallahu Alayhi Wa'sallam) said:
❝When a man passes away, his good deeds will also come to an end except for three: Sadaqah Jariyah (ceaseless charity); a knowledge which is beneficial, or a virtuous child who prays for him (for the deceased).❞ [Sahih Muslim]
💰 You can donate by:
✔️ Direct - bit.ly/MCHKIndiaQurans2021
✔️ PayPal - paypal.me/mchk
✔️ Bank, FPS, PayMe, WeChat & Alipay Transfer - WhatsApp (+852) 68485966 for more details
📲 For all bank/PayPal donations, please confirm your donation by sending a WhatsApp message to brother Adeel Malik on (+852) 68485966. And please note there's a 5% charge on all PayPal transactions.
🤲 May Allah reward everyone who contributes to this project and every other similar project and may He grant ease to those who are in need worldwide.
🔹100% DONATION POLICY
🔹SADAQA APPLICABLE
DONATE • SHARE