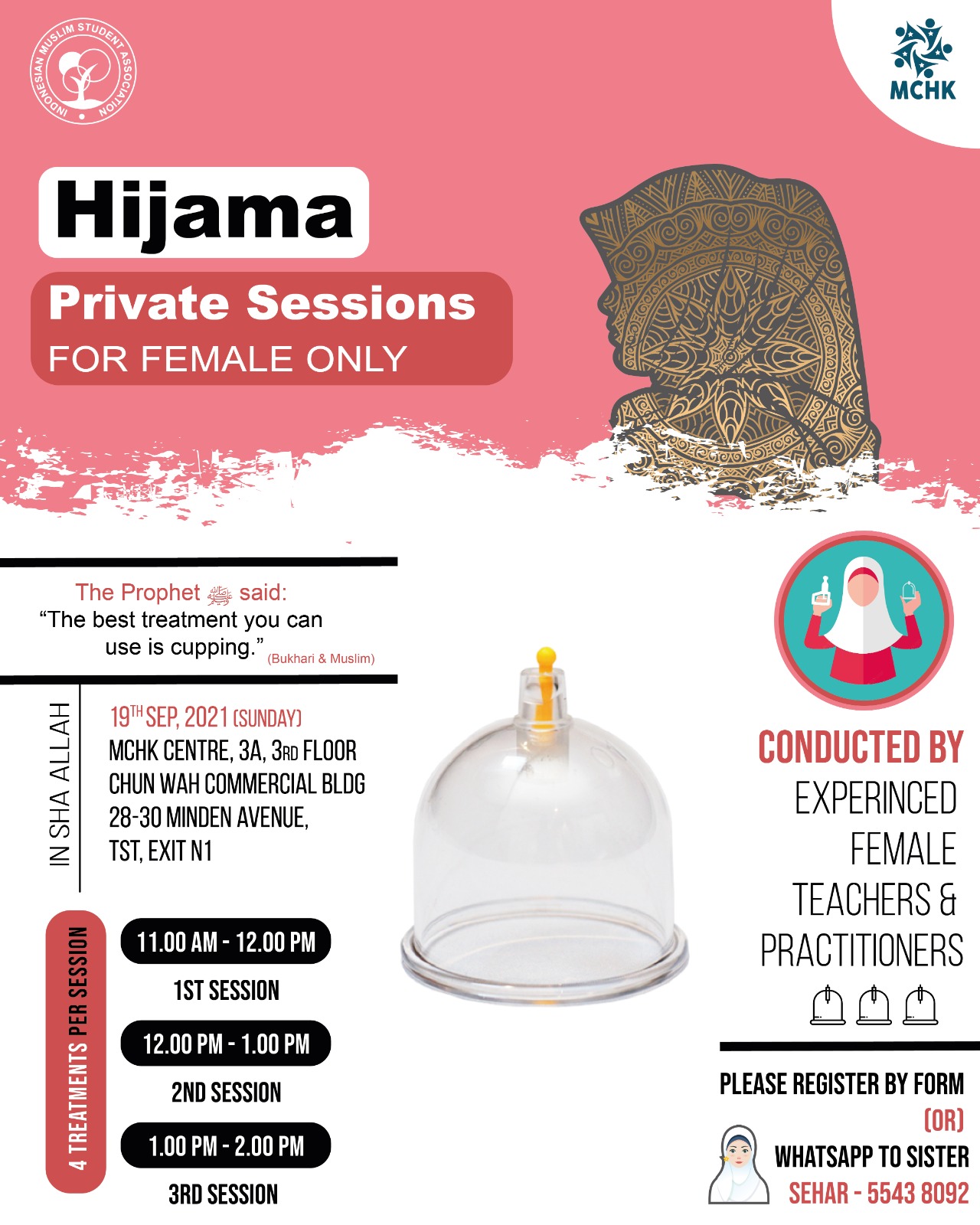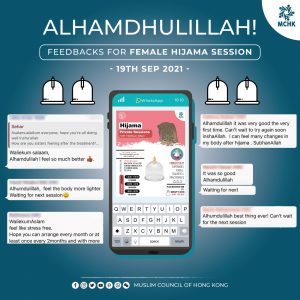 🥰 Though, no doubt, we strive to do good acts for the pleasure of Allah, getting such heartwarming feedback from those whom we provided a service to is always inspiring.
🌺 Alhumdulilah, these are a group of sisters who got their hijama done at the MCHK centre last Sunday, mentioning how they feel and as usual want more!
✊ Before you ask, we try our best to arrange group hijama sessions for brothers once every 2 months and likewise for sisters. So, hopefully next month should be for brothers again in shā Allāh.
🤲 May Allah accept this healthy Sunnah from us, give shifa to all who are suffering physically and make this a household practice.



📣 MCHK is once again back with one of the most popular requests by Hong Kong Muslims which is to have a safe place to have hijama, wet #cupping done, and importantly learning how to do it.
📲 To register, please fill this form - bit.ly/hijamasis0921
🤝 Muslim Council of Hong Kong with Indonesian Muslim Students Association bring to the sisters for private group treatment opportunity where our sisters can learn the benefits of this treatment and get treated in a safe environment.
🕋 There are several ahadeeth talking about this practice, one is when Prophet Muhammad (peace be upon him) said:
❝According to a hadeeth narrated by Anas ibn Maalik, may Allah be pleased with him, the Prophet (pbuh) said: "I did not pass by any group on the night when I was taken on the Night Journey (Isra'), but they said to me, 'O Muhammad, tell your ummah to do cupping.''❞ (Ibn Maajah)
📋 Workshop Full Details
🔹 Date: 19th September, 2021 (Sunday)
🔹 Location: MCHK Centre, Flat 3A, 3rd floor Chun Wah Commercial Building, 28-30 Minden Avenue, Tsim Sha Tsui
🔹 3 Time Slots with 4 people max each: 11-12pm, 12-1pm, 1-2pm
🔹 Language: English
📲 To register, please fill this form - bit.ly/hijamasis0921
For inquiries WhatsApp Sis ‭Sehar 5543 8092
⭕ PLEASE NOTE:
🔸 Make sure you are in good health
🔸 Bring your Hijama equipment set if you have the complete set from the previous session(s)
🔸 If you don't have a Hijama set, then you must buy a complete Hijama equipment set from the centre for HK$250, which can be reused.
🔸 For a treatment session, it will be first register first treated basis. HK$150 for treatment.
🔸 All money goes towards the equipment and MCHK dawah work
🔸 Check with a doctor or a medical expert if you have any medical condition that may cause adverse reactions from this treatment.
🔹 MCHK does not encourage anyone to do this treatment by themselves at home or elsewhere without enough learning and professional training.